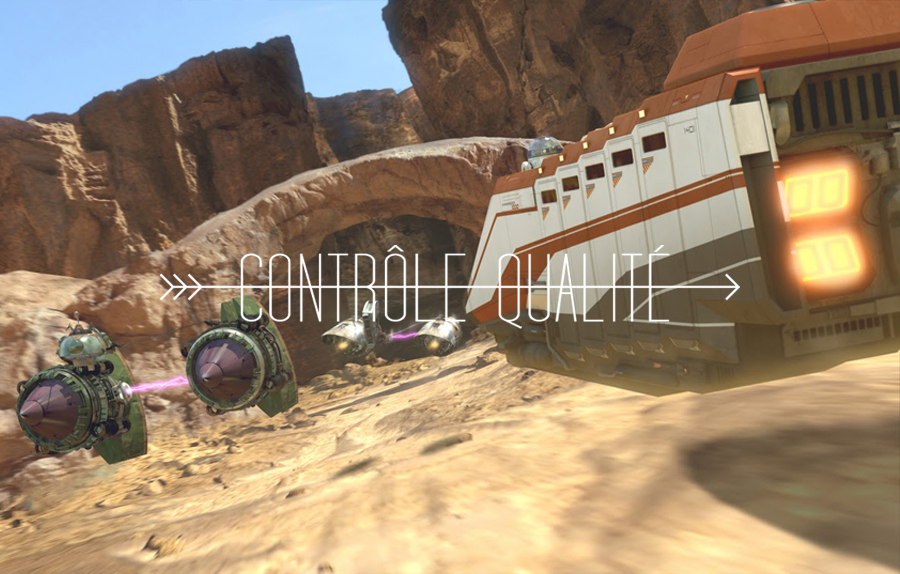 Ce dont tout le monde parle depuis une semaine, c'est bien sûr de Star Tours – The Adventures Continue qui vient d'ouvrir à Walt Disney World. Il faut dire que la sphère Disney spécule sur une mise à jour de l'attraction depuis la sortie en salles de Star Wars Episode I, soit quasiment 10 ans.
Plusieurs remarques à ce sujet :
1. le Disneyfan est intarissable et peut aisément remplir des pages et des pages de forum sur un sujet dont on a aucune info officielle pendant des années.
2. Le Disneyfan est patient.
3. Le Disneyfan n'a pas vraiment le choix.
Mais le Disneyfan a eu raison d'être patient parce que l'attente s'avère payante d'après les premiers échos.
Tout d'abord, les équipes de Walt disney Imagineering ont réparé ce que je considère comme une grosse une erreur de Star Tours 1. En effet, je n'ai jamais compris pourquoi on y retrouve si peu de personnages et lieux d'une licence aussi riche que la saga Star Wars originale.
Dans la nouvelle version de l'attraction vous tomberez entre autres et de façon aléatoire sur Darth Vader, un bataillon de Stormtroopers, Princesse Leia, Ackbar, Yoda, et vous découvrirez les accueillantes contrées de Tatooine, Kashyyyk, Hoth, Coruscant, Naboo, ou Death Star. Vous serez en outre accompagnés de R2-D2 et C3-PO dans votre périple.
Bref, c'est quasiment tout le casting de Star Wars qui vous donne rendez-vous sur quasiment tous les lieux où se déroule la saga complète. Ce qui hérissera quelques poils aux puristes de la série qui ne comprendront pas comment tout ceci peut se passer en l'espace de 5 minutes. Personnellement, je pense que c'est très bien vu et que le spectateur lambda sera comblé de retrouver une large palette de personnages.
Au vu de quelques vidéos, on remarque une légère baisse en qualité au niveau des images de synthèse comparé aux longs métrages de la saga, c'est un peu dommage. Cela étant, l'ensemble semble très qualitatif dans la réalisation.
On notera aussi la présence de quelques gags qui ne manqueront pas de faire glousser le StarSpeeder 1000.
Oui oui, ce n'est pas une erreur, ce sont bien des StarSpeeder 1000 qui prennent le relais des StarSpeeder 3000 de Star Tours 1. La raison est scénaristique : la nouvelle version de l'attraction est un prélude à l'ancienne, et s'intercale dans le temps entre les deux trilogies. La file d'attente regorge de détails sur l'ancienne storyline, ainsi qu'une foultitude de clins d'œil assez sympa sur l'univers de Disney: parcs, films etc. à voir en détail dans ce photo report très complet de l'inauguration proposé par WDWnewstoday et dans la vidéo qui suit.
Mais alors, est-ce qu'on veut nous aussi Star Tours – The Adventures Continue à Disneyland Paris ? Bien sûr que oui ! Mais est-ce qu'on a vraiment envie que les budgets ultra limités de DLP soient utilisés à une upgrade de Star Tours, au nez et à la barbe de (parmi tant d'autres) Splash Mountain, Pooh's Hunny Hunt ou Indiana Jones Adventure ? Bien sûr que non !
Avec tout ça, on oublierait presque que le film projeté dans les cabines est en 3D. Pensez donc à ressortir votre legging et vos Converse so 80s… Ah mince, c'est aussi la tenue des années 2000. Bon alors munissez-vous de quelques sacs en papier parce qu'un simulateur + des lunettes 3D = des litres de pur plaisir.
Enjoy the ride !
*Jingle Star Tours*
Photos : le site anexe de Disney and more où vous saurez et verez tout sur Star Tours 2. et Miceage.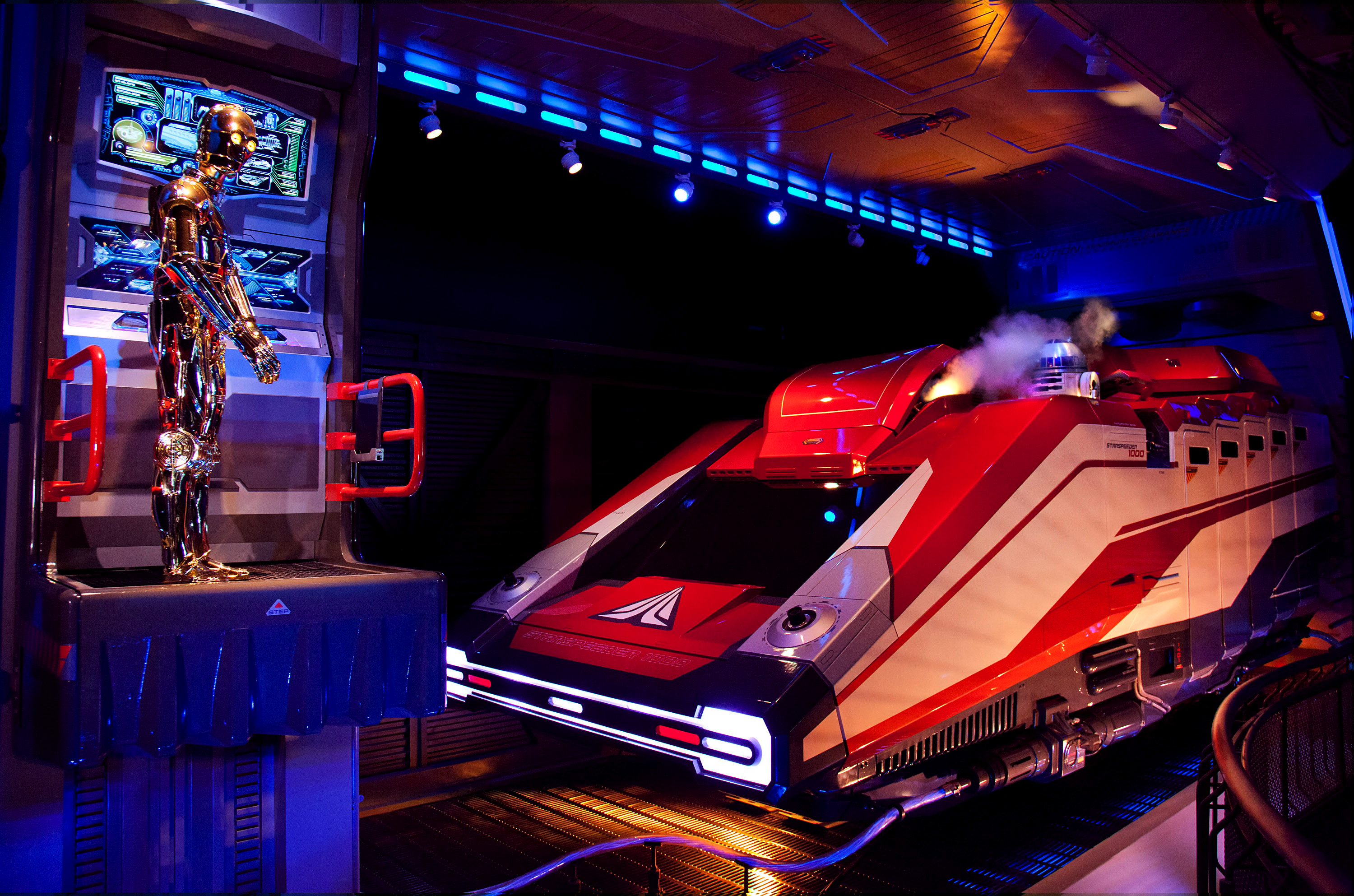 If there is one topic everybody's talking about, it is definitely the opening of Star Tours – The Adventures Continue at Walt Disney World. It must be said that the entire Disney community speculates on an update of the attraction since the opening night of Star Wars Episode I, which is nearly 10 years from now.
I've got several toughts about that :
1. The Disneyfan can easily fill hundreds of forum pages on a subject with no official news.
2. The Disneyfan is patient.
3. The Disneyfan just has to deal with it anyway.
But the Disneyfan was right to be patient because it seems that it's worth the wait according to the first feedbacks.
First, Walt Disney Imagineering fixed what I call a big failure from the original Star Tours. I never understood why there was so few famous characters and places for an attraction based on such a rich saga as Star Wars.
In this new version,  you'll meet -randomly and among others- Darth Vader, a Stormtroopers battalion, Princess Leia, Ackbar, Yoda, and you'll discover the cozy countries of Tatooine, Kashyyyk, Hoth, Coruscant, Naboo, ou Death Star.
Also, you will be accompanied by R2-D2 and C3-PO in your journey.
In short, it's nearly the complete cast of Star Wars who meets you on nearly all places of the complete saga. Which may annoy Star Wars purists that won't understand how all this stuff can happen in just 5 minutes. By my side, I think it's very well played, and the average audience will be pleased to face all these characters.
Judging on several videos, I noticed a slight decline in quality in terms of CGI compare to the original movies. However, the overall seems very qualitative.
I also note a few gags who are sure to giggle the Starspeeder 1000.
No, it's not a mistake, new Starspeeder 1000 will replace the old Starspeeder 3000 of Star Tours 1. This is actually part of the scenario since this new version is a prequel to the original, and takes place between both movie trilogies. The queue line is full of details from the previous storyline, in addition to LOTS of nice gimmicks about Disney parks and movies as you can see on this huge photo report of the grand opening, via WDWnewstoday and on the following video.

http://www.youtube.com/watch?v=qf7HMyW49XI

So do we want Star Tours – The Adventures Continue at Disneyland Paris ? Of course we do ! But do we really want the very limited budgets of DLP to be used for an upgrade of star Tours instead of (among others) Splash Mountain, Pooh's Hunny Hunt or Indiana Jones Adventure ? Of course we don't !
Anyway, with all these new features, we could almost forget that the movies played inside the cabins are in 3D. So don't forget to wear your leggings or your Converse from the 80's… Oh wait, this is also the dress code of the 2000s. Well, then just equip yourself with several paper bags because a simulator + 3D glasses = liters of pure pleasure.
Enjoy the ride!
*Star Tours jingle*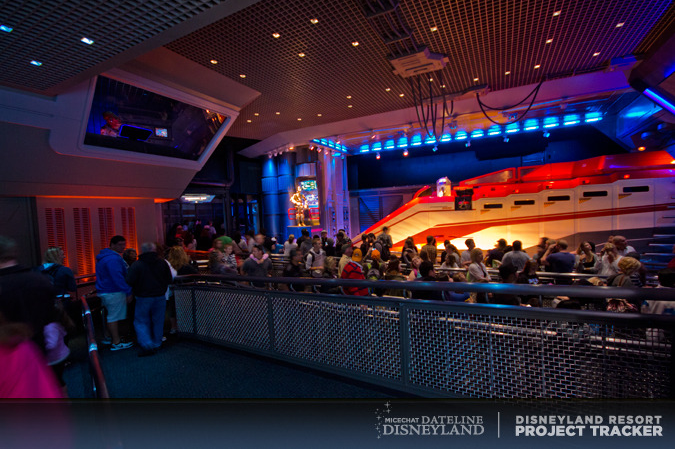 Photos : the special section of Disney and more where you'll know and see everything about star tours 2 and Miceage.