In english Below.
En 2009, je vous avais parlé du roller coaster le plus ennuyeux du monde, en Suisse, et plus récemment du coaster qui tue ses passagers. Afin de rivaliser, la ville de Duisburg en Allemagne inaugure cette année le coaster le plus fatiguant du monde. Et pour cause, il n'y a pas de trains. En fait il n'y a pas vraiment de rails non plus. Cette montagne russe, vous la faites à pied. Ca vous fera faire un peu d'exercice, feignasse !
Vous vous en doutez, cette invention n'est rien d'autre qu'une nouvelle fantaisie d'artiste. Si vous voulez la même dans votre jardin, sachez que le 'Tiger & Turtle – Magic Mountain' (c'est le nom qu'ils ont trouvé) coûte la rondelette somme de 2,7 millions de Dollar. Merci mais non merci.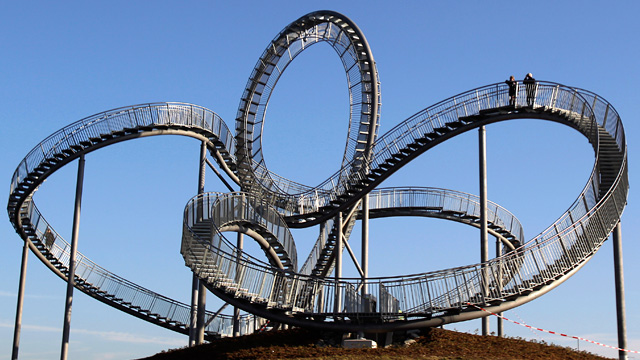 In 2009, I told you about the world's most boring roller coaster ever created, located in Switzerland, and lately about this coaster that kills people. In order to compete, german city of Duisburg opens this year the world's most exhausting roller coaster. Probably because there is no train on the track. Actually there is no track at all. Just steps. Yes you'll have to walk on it, you lazy!
Of course, this is nothing else than an artist fantasy. And if you want the same in your backyard, this 'Tiger & Turtle – Magic Mountain' (that's the name they came up with) will cost you $2.7 million. Thanks but no thanks.
_____________________________________________________________________________ 
Cet article vous a plu? Suivez le Parc-O-Rama sur Facebook , Twitter  et Google + ou via notre fil RSS pour ne manquer aucun article!
Did you like this post? Follow Parc-O-Rama on Facebook , Twitter and Google + or our RSS feed to not miss any post!