À l'aube des 20 ans de Disneyland Paris, on finirait presque par oublier que 2012 sera aussi l'année des 10 ans de ces pauvres Walt Disney Studios.
En 10 ans, le second parc de DLP a amélioré son offre, c'est indéniable. Même s'il reste encore énormément à faire avant que le parc soit enfin digne des standards Disney. Mais si on fait l'impasse sur le fait d'avoir volontairement opté pour des attractions ayant une capacité horaire catastrophique (ce qui s'avère cependant bien pratique pour étirer virtuellement la journée des visiteurs dans le parc et les maintenir dedans plus longtemps), il faut bien reconnaître que les nouvelles attractions des WDS sont de bonne facture.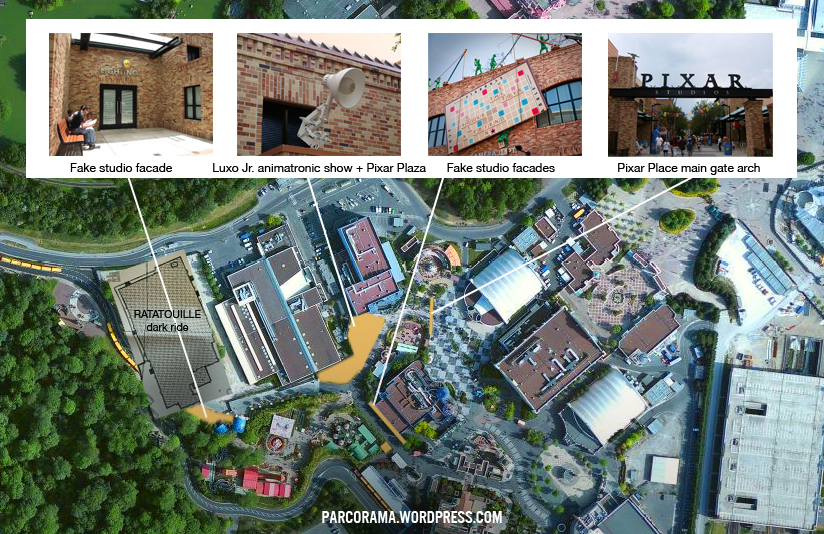 Il n'en reste pas moins un grand, gros, grave problème de cohérence et de vision globale à long terme. Ces dernières années, la majorité des investissements se sont agglutinés dans la partie droite du parc, formant un cul de sac rempli d'attractions Pixar. Crush's Coaster, Cars Quatre Roues Rallye et une demi portion de mur façon toon formant Toon Studio ; Toy Story Playland et ses trois attractions ; et bien sûr ce grand dark ride sur Ratatouille qui est, dit-on, toujours dans les cartons. Le tout étant englobé dans la zone animation Courtyard dont aucun visiteur ne soupçonne l'existence.
Chers amis de Walt Disney Imagineering, pourquoi ne tireriez-vous pas cette embêtante configuration à votre avantage en englobant ces attractions sous un thème Pixar Place, comme vous l'avez si joliment fait en Floride, là où vous n'avez pourtant qu'une seule attraction labélisée Pixar (Toy Story Mania)?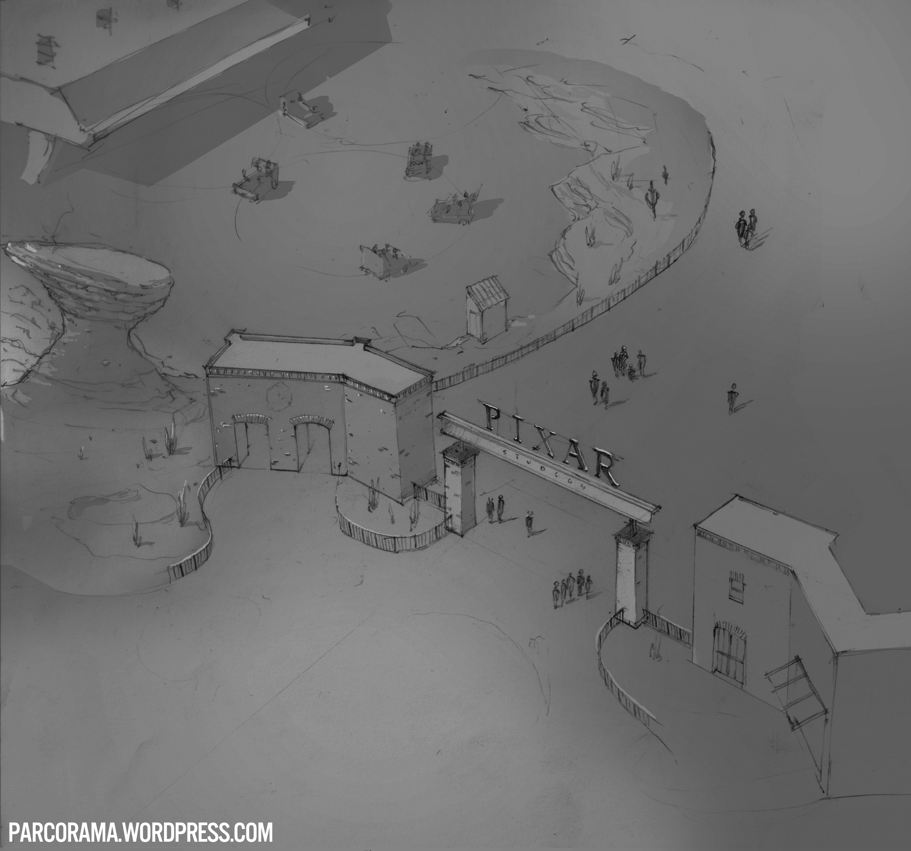 Il suffirait d'intercaler quelques aménagements (porche, facades, show animatronique de Luxo Jr. …) inspirés de l'architecture du studio Pixar d'Emeryville entre les zones existantes et le tour est joué. En oubliant pas bien sûr de virer au passage ce thème Toon Studio cheap et baclé sorti d'on ne sait où et qui ne sert quand-même qu'à accueillir des meet'n'greets de personnages Pixar…
De plus, si les visiteurs de Disneyland sont très vite familiers avec des termes comme Frontierland, avez-vous déjà entendu un visiteur des WDS se rendre à « Animation Courtyard » ou « Backlot » ? Une zone clairement identifiée sous le thème des licences Pixar permettrait de conférer plus de logique à cet empilement hasardeux de thèmes Pixar en l'assumant pleinement. Mieux encore, cela permettrait de créer la première zone clairement reconnaissable ("nommable") du parc.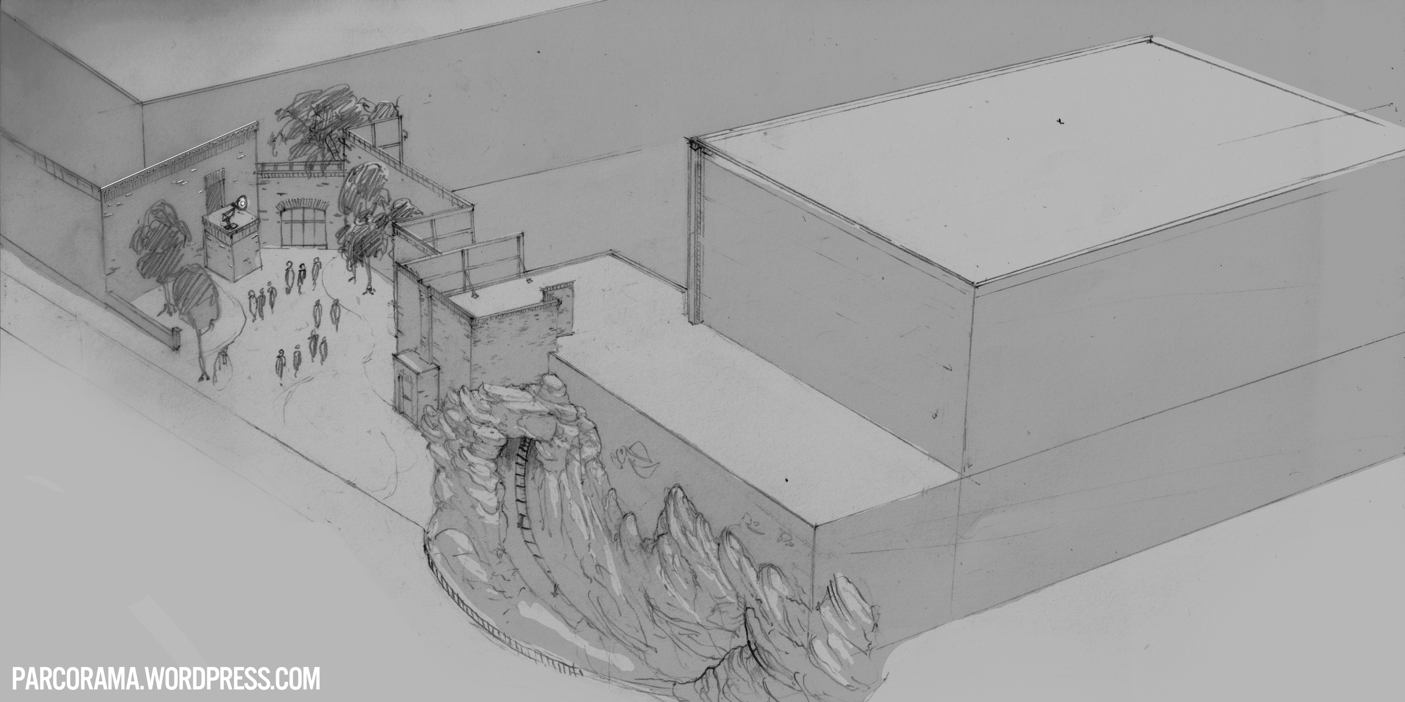 Et puis Disney a clairement fait savoir que les licences Marvel et Avatar récemment acquises seront également exploitées hors des Etats Unis. Si tel est le cas à Marne-la-Vallée, les WDS seront naturellement leur terrain de jeu. Partant de là, il est fort probable que ces attractions soient construites dans des zones leur étant entièrement dédiées , les WDS deviendraient alors un parc où des zones consacrées au monde du cinéma et du show business en général (musique, télévision…) côtoieraient des zones entièrement dédiées à des franchises (Pixar, Marvel, Avatar, et pourquoi pas Muppets, Tron, Pirates des Caraïbes).
Alors chers amis Imaginieurs, je vous repose la question : pourquoi ne profiteriez-vous pas de la construction du dark ride Ratatouille pour entamer un vrai travail de cohérence sur les Walt Disney Studios en enrobant ses 6 (SIX !) attractions Pixar d'une zone Pixar Place (ou Pixar Land, Pixar Studio, Pixar ce-que-vous-voulez) ?
Et vous chers lecteurs, que pensez-vous de cette idée ? Vos commentaires sont les bienvenus pour en débattre !
Merci infiniment à Pierre pour ses magnifiques concept arts!
While everybody's buzzing about Disneyland Paris 20th birthday in 2012, it's easy to forget that this year will also host the 10th anniversary of this poor Walt Disney Studios park.
In 10 years, DLP's second gate sure has improved, although there's still a long way before it looks like a complete park up to Disney standards. But except the fact that DLP management has deliberately opted for new attractions with a catastrophic guest capacity/hour (while being veeery convenient to virtually extend a normal day in the park in order to keep guests longer inside), I have to admit that these additions to the WDS are pretty good.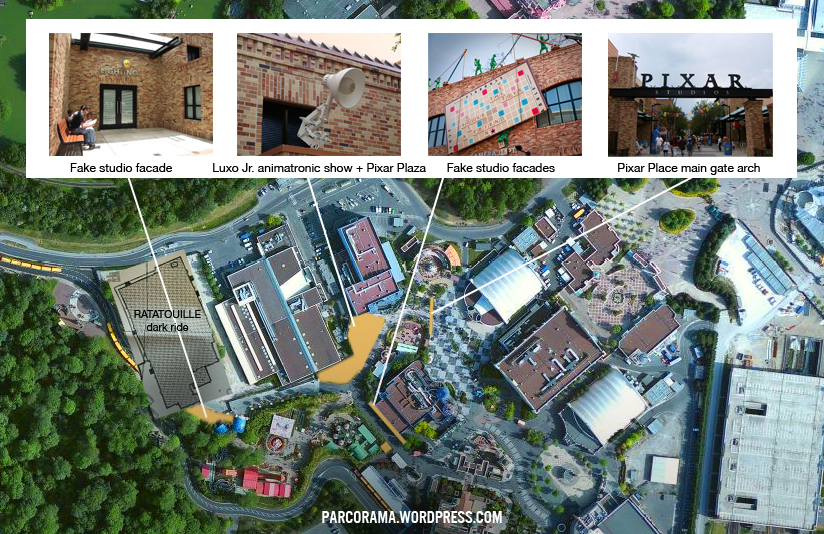 But there's still a big fat lack of consistency and long term vision to the whole park. In recent years, most of the investments were clustered on the right side of the park, forming a cul-de-sac filled with Pixar rides! Crush's Coaster, Cars Rallye and a ridiculously small portion of ToonTownish wall forming a mini tiny land named Toon Studio ; the new Toy Story Playland and its three attractions ; and this upcoming massive Ratatouille dark ride. The whole being encompassed in the Animation Courtyard area that no one  knows it even exists.
Well, dear folks at Walt Disney Imagineering, why wouldn't you take advantage of this confusing configuration by making a consistent land of these three distinct areas under a « Pixar Place » theme, just like you did the most gorgeous way in the Disney's Hollywood Studios park in Florida, where there is only one Pixar attraction (Toy Story Mania) ?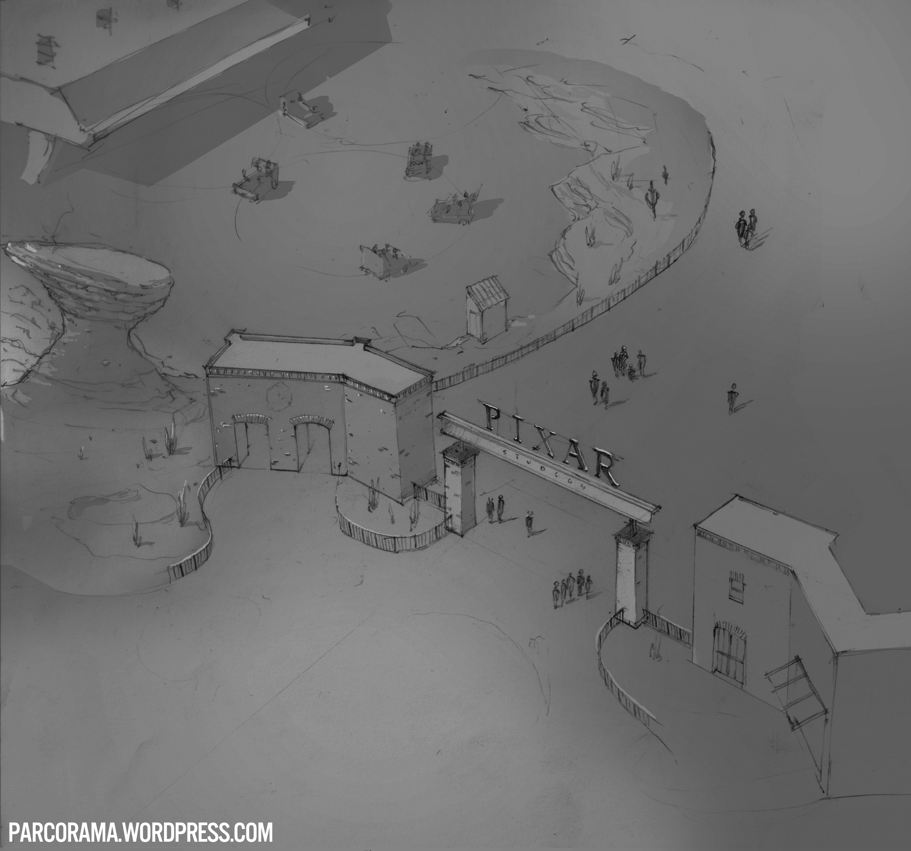 You would just have to insert a few things (front gate arch, walls, facades, Luxo Jr animatronic show…) inspired by the Pixar's facility architecture in Emeryville between the existing Pixar movies themed areas, and voilà ! Of course, you won't forget to get rid of this cheap and tacky Toon Studio theme that came out of nowhere that's only used for Pixar characters meet'n'greets anyway…
In addition to that, you probably already noticed that Disneyland guests are very quickly familiar with terms like Frontierland, but have you already heard one single WDS guest going to « Animation Courtyard » or searching for « Backlot » ? An area clearly named as a Pixar land would instantly provide more logic to this random stack of Pixar rides. And it would be the first area of the park you can really and easilly identify.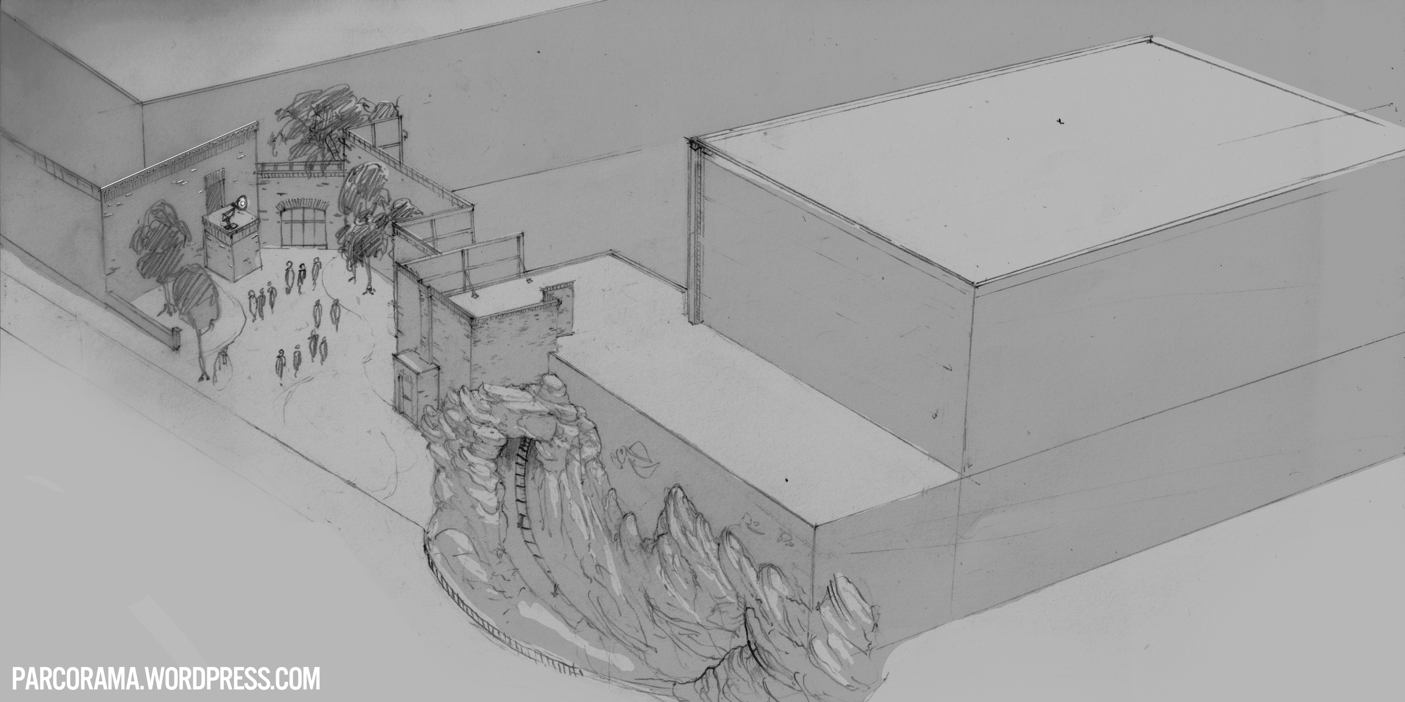 Also, Disney said that recent film franchise acquisitions Marvel and Avatar will also be used worldwide into their parks. If that actually happens someday in Marne-la-Vallée, the WDS park would of course make a great playground for these. In that case, these licenced rides would not come without their own dedicated land.Then the WDS would become a park where cinema and show business (music, television…) areas would sit next to whole franchise dedicated lands (such as Pixar, Marvel, Avatar, and why not Muppets, Tron or Pirates of the Caribbean).
So, dear Imagineering folks, I'm asking you again : why wouldn't you take advantage of the Ratatouille dark ride construction to start a depth work to add more consistency to the Walt Disney Studios park, by adding a Pixar Place (or Pixar Land, Pixar Studio, Pixar whatever-you-call-it) theme around these 6 (I mean SIX !) Pixar rides ?
If you, dear loyal readers have on opinion on that suggestion, feel free to leave a comment and let's discuss it !
Thanks you so much Pierre for the beautiful renderings!
Pictures: Flickr users siriusthinking disneyandy ph_en aeillill
_____________________________________________________________________________ 
Cet article vous a plu? Suivez le Parc-O-Rama sur Facebook , Twitter  et Google + ou via notre fil RSS pour ne manquer aucun article!
Did you like this post? Follow Parc-O-Rama on Facebook , Twitter and Google + or our RSS feed to not miss any post!