IN ENGLISH BELOW.
Aujourd'hui, je souhaite partager avec vous une très chouette initiative. La bloggeuse du site Passport To Dreams a rassemblé une sélection de musiques et sons diffusés au Magic Kingdom de Walt Disney World aux alentours de l'année 1977. La différence avec les tera millions de mp3 de parcs Disney que l'on trouve déjà partout sur le net et sur vos disques durs? Cette mini collection se présente comme une agréable promenade dans le parc, et la sélection de sons ne s'attarde pas tant sur les musiques les plus classiques, mais plutôt sur les musiques d'ambiance, de file d'attente ou d'attractions faisant aujourd'hui partie du passé. Des morceaux rares ou oubliés qui vont des bandes son exotico-psychédéliques d'Adventureland aux promesses futuristes et kitsch de Tomorrowland. Mais ce n'est pas tout. Un très joli fichier pdf de 30 pages accompagne votre ballade audio de photos d'époque en rapport avec le son pour vraiment vous plonger dans l'ambiance. Bref le concept est aussi geek que bien trouvé!
Le téléchargement se fait ici, sur le blog Passport To Dreams. Bonne promenade!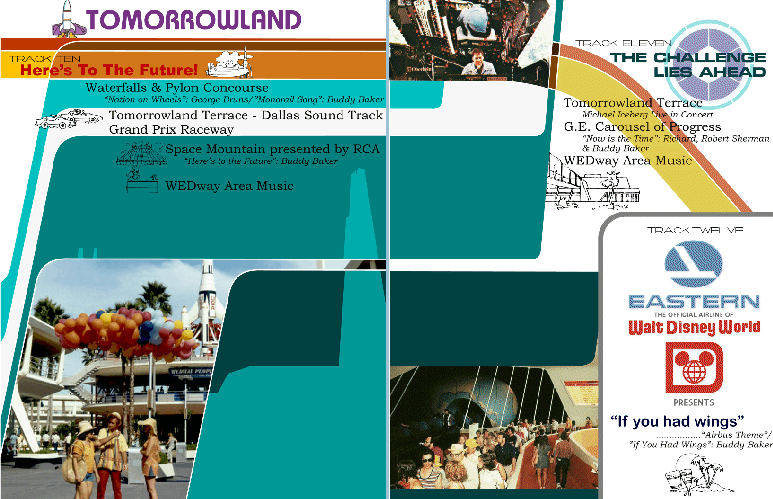 Today I want to share something very cool with you guys. The author of the Passport to Dreams blog gathered a selection of music and sound that were played in the Magic Kingdom at Walt Disney World around about 1977. You may ask what's the difference with the tera millions of Disney park audio that you can find pretty much everywhere on the Internet or on your hard drives. Well, this mini collection takes you for a nice walk in the park, and the selected sounds avoid the famous and overexposed classic tunes, but instead focus on ambient background music, waiting lines or exctinct attractions. These sounds take you from the exotic and psychedelic sounds of Adventureland to Tomorrowland's kitsch and futuristic promises. But that's not all . This collection comes with a very nice pdf file of 30 pages full of beautiful vintage pictures of the sights you're listening to in order for you to really get in the mood. So basically, I'm in love with this geeky/genius idea!
You can download the whole file here on the Passport To Dreams blog. Have a nice walk!
_______________________________________________________________________
Suivez le Parc-O-Rama sur Facebook , Twitter  et Google + ou via notre fil RSS .
Follow Parc-O-Rama on Facebook , Twitter and Google + or our RSS feed .