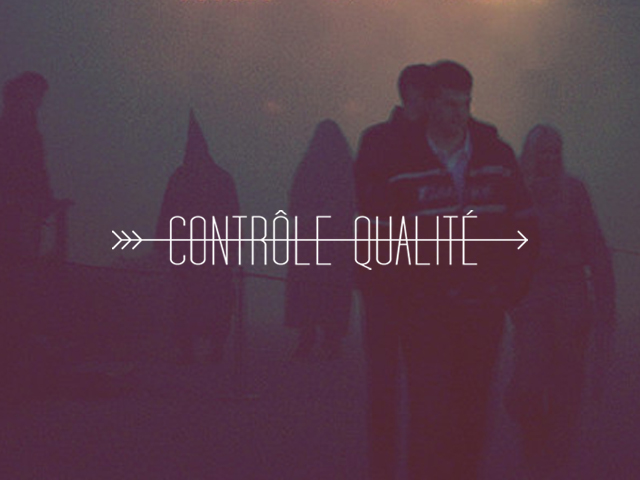 In english below.
Le second arrêt de notre saison d'Halloween hors Disney nous emmène à Movie Park Germany (coucou le nom ultra recherché) pour son Halloween Horror Fest réputée trash et dont la popularité ne cesse de croître. Vérifions ensemble si c'est mérité avec un bon Contrôle Qualité.
Mais d'abord, souvenez-vous. Dans l'épisode précédent,  nous n'avions pas pu avoir accès aux horror houses de Walibi Holland en raison de leur organisation déplorable. Plutôt embêtant quand on se tape 200 bornes rien que pour ça.
A Movie Park, c'est tout le contraire. L'organisation règne en maitre tout au long de la journée, et commence même avant votre arrivée au parc puisque seules entreront les personnes munies d'un billet d'entrée acheté au préalable sur Internet. Non monsieur, ce n'est pas la peine d'insister aux caisses, le parc est sold out. Comme c'est le cas quasiment chaque jour de leur saison d'Halloween.
Le ticket donne accès au parc ainsi qu'à toutes les animations d'Halloween qui auront lieu de 18 à 22h. Cependant, le prix est celui d'un billet classique, ce qui est tout à fait honnête.
Comme à Walibi Holland, seules certaines zones du parc sont décorées pour Halloween, et il ne s'y passera rien avant 18h. Nous passons donc une journée classique dans le parc jusqu'à ce que la fête de l'horreur ne commence.
A 18h donc, illuminations, bande son de films d'horreur, effets pyrotechniques et une épaisse fumée envahissent la quasi totalité du parc. Mais le vrai trésor de ces soirées Halloween, ce sont clairement les performers qui déambulent dans le parc. Nombreux, très très nombreux, originaux et vraiment variés (on retiendra celui qui semblait être un croisement entre un corbeau et une drag queen), à fond dans leur rôle et le soin apporté au maquillage plus vrai que nature est tout à fait appréciable. Et par dessus tout, le parc déconseille fortement ces soirées aux enfants pour leur caractère effrayant. Alleluia !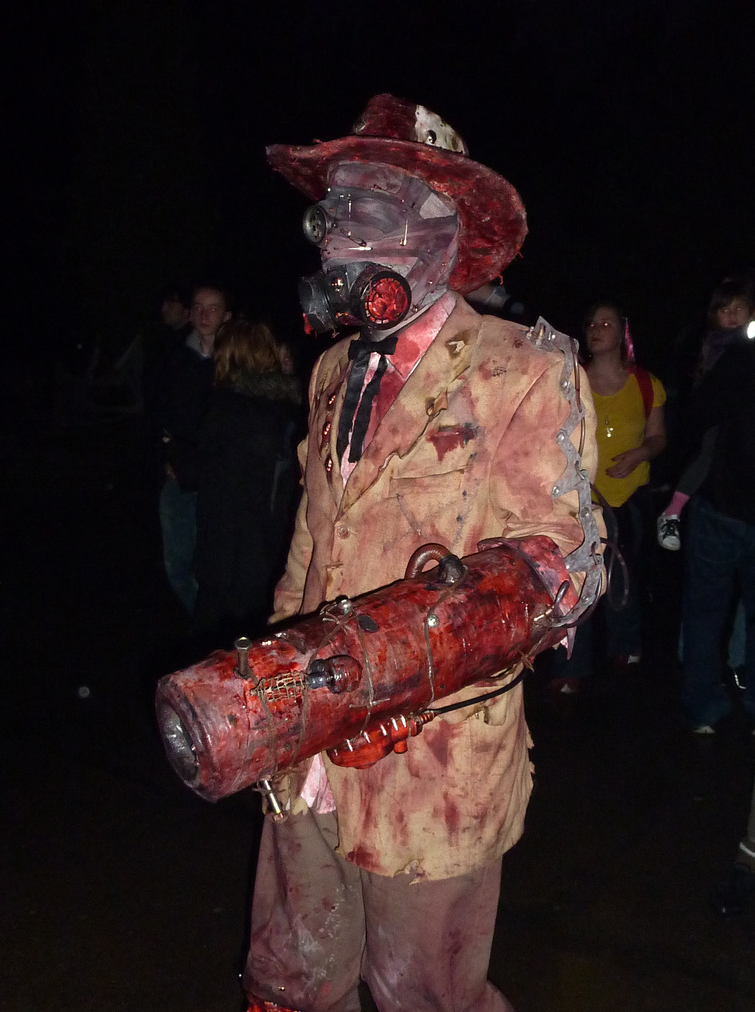 Mais entrons dans le vif du sujet, à savoir les labyrinthes hantés, avec le Baboo Twister club. Si nous avons d'abord cru à une baby-sitter pinceuse de tétons en raison d'une enseigne qui prête franchement à confusion. Bien sûr (et malheureusement) nous avions tout faux, il s'agira en réalité d'un night club démoniaque, où un être horriiiiiible vous attends dans chaque pièce pour vous faire peur (une pratique utilisée dans chaque horror house du parc) sur un fond de musique techno. Pourquoi pas. Plein de retenue et de raffinement, le clou du spectacle sera évidemment la scène des toilettes couvertes de merde dans lesquelles j'ai plus ri que flippé.
Flipomètre : 7/10
Dirigeons nous ensuite vers le Circus of Freaks, une petite déception. Bon déjà, le parcours se fait à ciel ouvert et ce n'est mentionné nulle part. Il faisait encore clair lorsque nous l'avons visité, et malheureusement ça perd beaucoup en intérêt. En le refaisant by night, nous constaterons que le problème ne venait pas de la lumière du jour mais du labyrinthe lui même, pas très effrayant, pas très passionnant. Il faudra expliquer au parc que ce qui est flippant dans un cirque, c'est les clowns, et pas une armée de gorilles. Dans quel cirque ils ont vu des gorilles d'ailleurs ?
Flipomètre : 5/10
On enchaine avec le Deathpital dont la taille du bâtiment (immense) et la file d'attente (immense) suggèrent qu'il s'agit là du plat de résistance de cet Halloween Horror Fest. L'hôpital de la mort tiendra ses promesses. Le parcours est long et angoissant, et les personnages sont nombreux. Et si la tripotée de patients ceinturés à leur lit était déjà bien angoissante, je suis un peu déçu de ne pas avoir assisté à une scène de chirurgie un peu plus sanglante, ce qui semble avoir été le cas auparavant selon les dires d'un connaisseur.
Flipomètre : 8/10
Enfin, nous nous rendons à The Forgotten, une horror house dont le thème nous a complètement échappé, mais qui sera néanmoins ma préférée des quatre pour son usage massif de fumigènes qui vous empêchent de voir quoi que ce soit à plus d'un mètre à la ronde. Ne lâchez surtout pas celui qui vous précède ou vous êtes foutu. C'est aussi là dedans que je me suis fait suivre tout doucement jusqu'à la sortie par une mademoiselle zombie couverte de sang qui me dévisageait. Creepy. Parfait.
Flipomètre : 9/10
This slideshow requires JavaScript.
Il faut reconnaître que les expériences sont tout à fait variables et aléatoires selon les envies des performers. Du coup il est relativement difficile d'émettre un avis juste sur les horror houses en général (lizez : le flipomètre ne sert à rien si ce n'est donner une appréciation à ma propre expérience dans ces attractions).
Un autre bon point : les nombreux performers de rue dont j'ai parlé plus haut ont l'idée astucieuse de s'incruster dans les files d'attente parfois très longues des horror houses pour divertir les visiteurs coincés dans ces parcs à bœufs.
En résumé, c'est une excellente soirée d'Halloween que nous avons passé à Movie Park. Les Horror houses valent vraiment le déplacement, l'organisation est impeccable, et la tarification propose un bon rapport qualité prix.
Du bon travail !
Dans le prochain post, la déjà dernière étape de notre trip d'Halloween nous conduira dans mon home park, à Walibi Belgium où l'infecte marâtre Marva est de retour.
Envie de vous (re)plonger dans l'ambiance d'Halloween 2011? Jetez donc un oeil sur ces Contrôles Qualité:
WALIBI HOLLAND HALLOWEEN FRIGHT NIGHTS
WALIBI BELGIUM HALLOWEEN MONSTER FESTIVAL
Next stop of our non-Disney-Halloween-trip is Movie Park Germany (I guess they spent 5 minutes to find such an original name) for its über popular Halloween Horror Fest that everyone keeps saying it's so scary/so good/so cool. Let's find out if it's true with a good old Quality Control.
But first, remember: in the last episode, we were unable to enter Walibi Holland  horror houses because of their crapesque organization. Pretty sad when you travelled 200km just for that. In Movie Park it's just the opposite. The park is perfectly managed during the day, and it actually starts even before you arrive to the park, because only those who come with an admission ticket purchased online will enter the gates. Don't even try to get one to the ticket booth : they're closed, the park is soldout for today, as most of the days are during their Halloween festivities.
Your admission ticket gives you a normal access to the park and to every Halloween related stuff happening from 6 to 10 PM. However, the price is the same of a standard ticket, which is quite honest.
Just like in Walibi Holland, only a few areas are decked for Halloween, but it won't happen anything there before 6PM. So we're spending a very normal day in the park until the Horror Fest begins. At 6PM then, illuminations, horror movie themes, fire effects and a huge amounts of fog are taking on almost the entire park. But streetmosphere performers walking in the park truly are the gem of Movie Park Horror Fest. They are LOTS of them and their costumes are very original and creative  (we especially liked the one who was some kind of mix between a raven and a drag queen). They are really good actors and their make up is astonishing. They are the reason the park's halloween nights have become a huge hit in Germany, and they totally deserve that success. Last but not least, the park strongly advises parents to not bring their children to these beyond scary nights. Hell yeah!

Enough for the talking, let's try these horror houses, with the Baboo Twister Club. We first thought it was something about a nipple pincher babysitter because of a badly designed entrance sign. Of course (and sadly) we were wrong : in fact it was an evil night club where an horriiible creature is waiting for you in every room (a constant in each horror house in Movie Park) to make you scream but no one will hear you because of this loud techno music. Well, why not. As a sophisticated climax of the labyrinth, you visit the most dirty toilets ever, all of them covered with poop. I laughed more than I was scared.
Scare-o-meter : 7/10
Let's go to the Circus of Freaks that disappointed us a little bit because there's no mention that is an open air labytinth. We visited it before the sun sets, and unfortunately it loses its interest that way. By doing it again by night, we realize that daylight wasn't the problem, it was the labyrinth itself: not that scary, not that exciting. Oh and can anyone tell the park what's creepy in a circus is not a dozen of gorillas, but clowns. I mean, in what kind of circus did they find gorillas?
Scare-o-meter : 5/10
Next stop : the massive Deathpital which the huge size of the building (an old production sound stage) and the huge size of the queue line suggests it is the master piece of this Halloween Horror Fest. The hospital of death will keep its promises. The the hallways are long and scary, and there are lots of characters inside of them. Patients tied to their beds sure were freaky but I was a little disappointed to not encounter any bloody surgery scene, which seems to have been the case previously in the words of a friend and Horror Fest expert.
Scare-o-meter : 8/10
Finally, we go to The Forgotten, a horror house none of us were able to get the theme or inspiration. However, it will be my favorite of the four labyrinths for its massive use of smoke effect making impossible to see anything at all. You better stick the guy before you or you're screwed, because creepy people are once again waiting for you. One of them decided to follow me during the last section of the house until I get out of it. Insane. Perfect.
Scare-o-meter : 9/10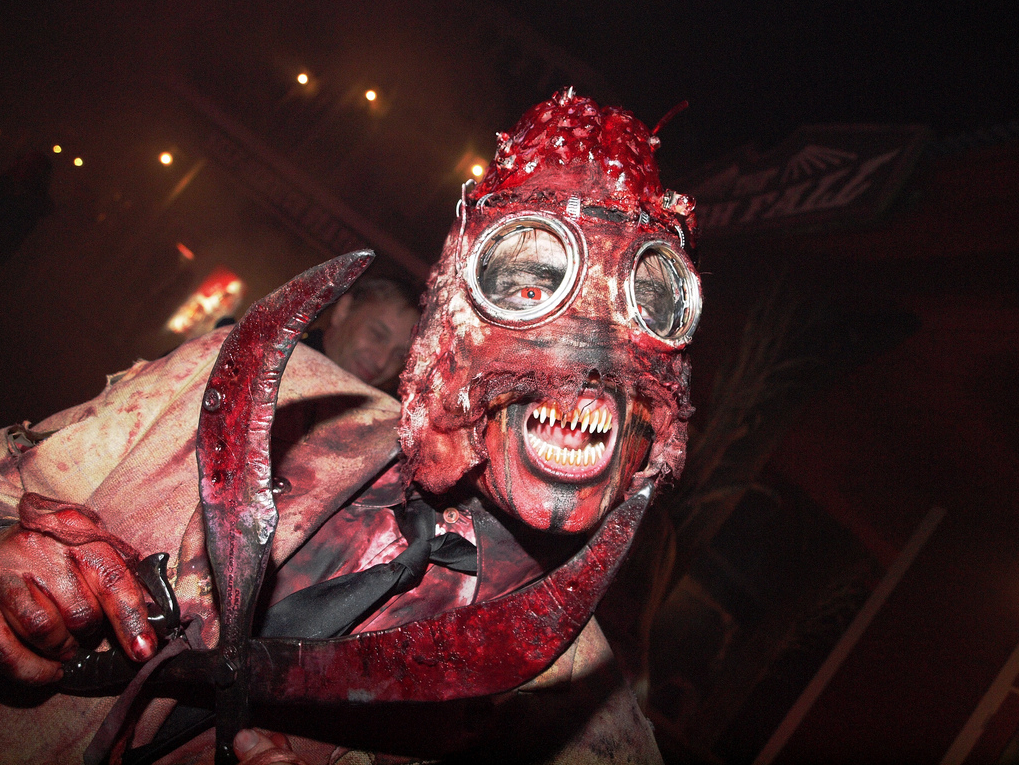 I have to say that experiences can obviously vary a lot, following what performers have in mind. So it is quite difficult to give a right opinion on horror houses. (read : this scare-o-meter invetion of mine is pointless, except to give you an appreciation of my own experience on these attractions).
Another good point: the street performers I mentioned above have the clever idea to step inside the sometimes very long queues lines of the horror of houses to entertain guests.
Long story short, it is a great Halloween night we spent at Movie Park (despite the lame name and logo of it). Horror houses worth the trip and the pricing offers great value for money.
Well done folks !
In the next post, our Halloween trip will bring us to my home park, Walibi Belgium where hideous witch Marva makes her come back.
If you want to discover other 2011 european Halloween events, have a look on these two other Quality Controls:
WALIBI HOLLAND HALLOWEEN FRIGHT NIGHTS
WALIBI BELGIUM HALLOWEEN MONSTER FESTIVAL
Photos : Too many Flirckr users.
_____________________________________________________________________________ 
Cet article vous a plu? Suivez le Parc-O-Rama sur Facebook et Twitter ou via notre fil RSS pour ne manquer aucun article!
Did you like this post? Follow Parc-O-Rama on Facebook and Twitter or our RSS feed to not miss any post!