In english below.
Samedi dernier, j'étais invité parmi d'autres blogueurs, journalistes et vedettes de seconde zone, à venir découvrir les nouveautés de la saison anniversaire des 25 ans du Futuroscope à Poitiers. A vrai dire, je n'ai pas seulement découvert les nouveautés mais bien tout le parc puisque c'était la première fois que j'y mettais les pieds. C'est donc dans des conditions optimales que j'ai eu la chance de faire connaissance avec le parc du futur (non, pas Epcot, l'autre), je vais néanmoins tenter d'émettre un avis le plus objectif possible. Allez hop, en route pour le futur !
Au rayon nouveautés, nous entamons la journée avec un cinéma 4D sur la série animée du Petit Prince. L'attraction propose un ou deux effets inattendus tout à fait bienvenus dans un milieu des cinés 4D qui peine franchement à se renouveler dans les parcs d'attractions. Ce qui est vraiment nul par contre, c'est que les explications données au public par les employés sont tellement explicites qu'un visiteur attentif comprendra tout ce que lui réserve le film avant même qu'il ne commence. Un vilain défaut que l'on retrouvera sur d'autres attractions.
Pour en revenir au Petit Prince, on notera quelques longueurs scénaristiques et beaucoup de bavardage avant de rentrer dans le cœur de l'action. J'ai beaucoup aimé la sensibilité abstraite du préshow de la file d'attente par contre, bien qu'elle n'ait absolument aucun lien avec le Petit Prince.
En bref, je suis resté un peu sur ma faim : depuis que tous les parcs se sont équipés en cinémas 4D, j'en attendais clairement plus de la part du parc du futur, de la technologie et des salles de cinéma dynamiques.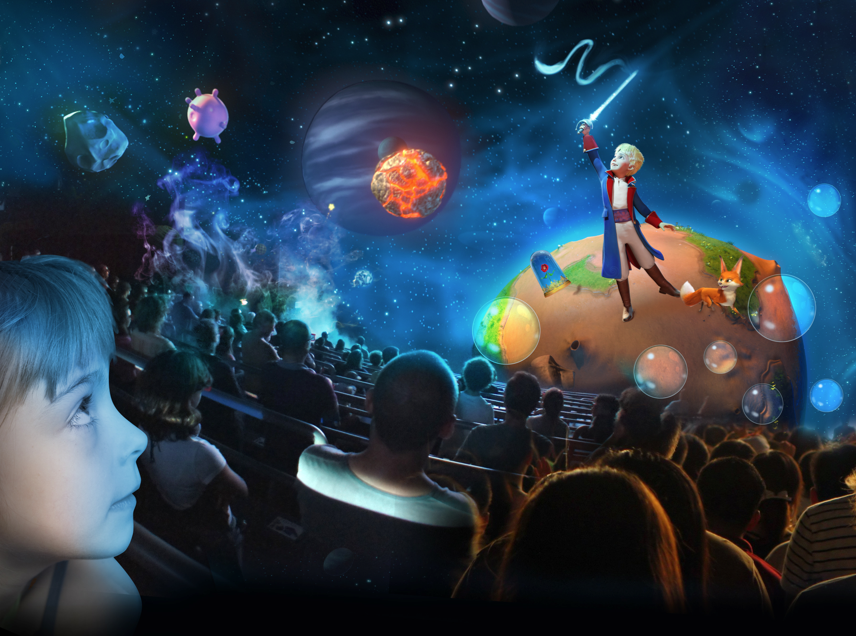 Nous sommes ensuite invités à rejoindre une salle de théâtre pour iMagic, un spectacle de magie mis en scène par Bertrand Loth et Arthur Jugnot. Je ne suis pas fan de toutes ces appellations auxquelles on ajoute un petit i pour faire technologique et dans l'air du temps, en référence aux produits Apple. Quant au spectacle en lui même, je l'ai trouvé en fait assez old school. Pourquoi ne pas avoir fait appel à un magicien qui justement utilise des écrans, des iPad ou que sais-je d'autre d'un tantinet plus raccord avec le nom 'iMagic'.
S'en suivra un spectacle de présentation du « Peuple du Futur », une troupe qui sillonnera le parc à la rencontre des visiteurs pour jouer quelques tours de mentalisme. Hélas, cette présentation exceptionnelle en salle n'en dévoilera rien, mais révélera au passage le vrai problème du parc. Un problème que rencontrent tous les (quartiers de) parcs dont la promesse est de nous faire visiter le futur : comment dépeindre l'avenir sans avoir l'air complètement ringard ? Certaines attractions en souffrent péniblement, comme la Vienne, cinéma dynamique dont le film ne traite pas spécialement du futur, mais dont la technologie et le scénario terriblement 80 fait tache dans ce qui se targue d'être « le parc du futur ».
Bref, si les nouveautés des 25 ans ne m'ont que moyennement emballé, j'ai tout simplement adoré le planétarium Chocs Cosmiques (que mes amis habitués du parc préfèrent appeler le 'Roupillarium', idéal après manger) ; le 8ème Continent, un cinéma interactif dans lequel chaque spectateur est équipé d'un gun pour dégommer un maximum de déchets marins ; et les Animaux Du Futur, une attraction plutôt bluffante basée sur la technologie de la réalité augmentée où nous partons en safari à la découverte de l'étonnante faune qui peuplera la Terre dans quelques siècles.
Ces trois attractions sont à mon sens tout à fait à leur place dans un parc comme le Futuroscope : les technologies utilisées sont à la page et abordent l'avenir sous un angle  plausible en évitant le ridicule. L'avenir nous dira si ces attractions passeront l'épreuve du temps, mais en 2011, je les ai trouvées à leur place dans un parc branché sur le futur.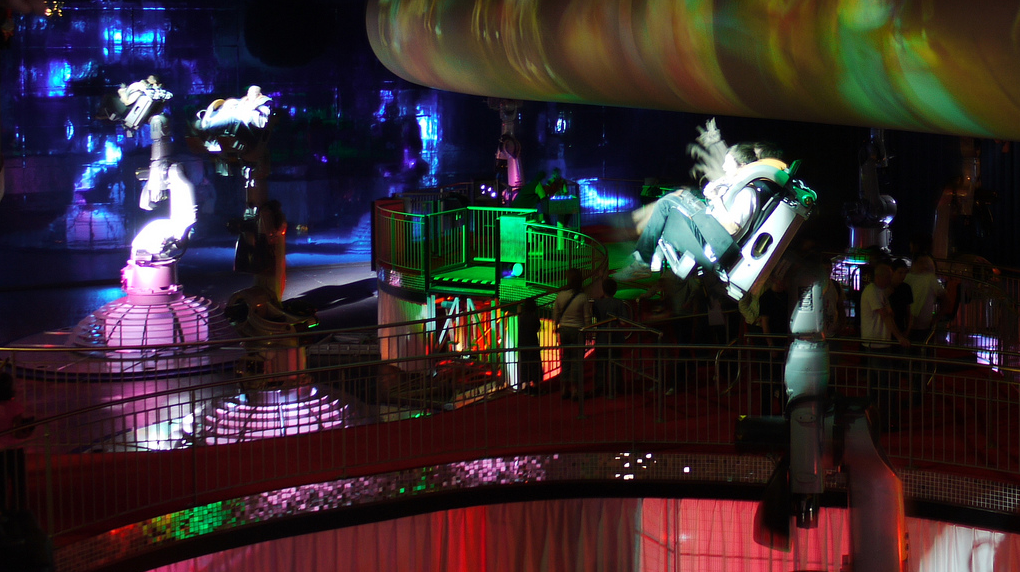 Nous sommes aussi passés par Danse Avec les Robots (nom de code : Kamel Ouali – The Ride). Un bras de Robocoaster qui vous fait danser et voler dans les airs sur des musiques qui ont toutes du se retrouver un jour sur une compile de la Star Academy.
La salle a un petit côté dancing disco, et la possibilité de choisir entre trois niveaux d'intensité est très bien vue. Je me pose juste la question de savoir ce que ce type de bras articulé propose de plus qu'un manège à gerbe classique de foire itinérante. Probablement plus de mouvement et de fluidité.
Arthur – l'aventure 4D, un simulateur face à un écran hémisphérique qui rendra blanchâtre mon voisin de banquette, propose un voyage à dos de coccinelle dans le monde des Minimoys de Luc Besson. Si l'expérience est un peu tape-cul, elle propose néanmoins de bonnes petites surprises dont je ne dévoilerai évidemment rien. Malheureusement, ici encore les employés sont BAVARDS et anxiogènes à force de s'assurer que vous avez bien serré votre barre de sécurité. Mais pas trop. Voilà, comme ça. Non, là c'est trop. Par terre les sacs. Non, pas comme ça. Attention monsieur, les appareils photo c'est dangereux.
Plus généralement, si certains coins du parc paraissent un peu froids, j'ai beaucoup aimé l'architecture contemporaine que propose le Futuroscope. Pour le coup, c'est vraiment dépaysant de se retrouver dans un parc à thèmes qui ne propose pas de sempiternels bâtiments bariolés ou fantastiques sensés évoquer des univers issus de l'imaginaire collectif connotés western, cartoon, Asie, Afrique et tout ces styles que tous les parcs du monde exploitent en pensant être plus original que les autres. De la même façon, la signalétique et l'identité visuelle du parc est actuelle et ne verse pas dans une surenchère de personnages gagatisants. Ca fait beaucoup de bien.
Aussi, à défaut de licences propres, je trouve intéressant et très bien vu le principe d'intégrer des noms connus du grand public à la conception (disent-ils) des attractions, comme Lorant Dutsch, Kamel Ouali, Luc Besson ou Arthur Jugnot.
A ceci j'ajoute un bon point pour le site futuroscope.mobi dédié aux smartphones qui permet de consulter les horaires et temps d'attente des attractions en temps réel. C'est pratique et c'est exactement le genre de choses que je m'attends à trouver dans un parc axé sur les nouvelles technologies.
Bref, si vous êtes trop fainéant pour tout lire et que vous êtes descendu directement à la dernière ligne, le Futuroscope est une chouette découverte et j'y retournerais volontiers pour tester ce que nous n'avons pas eu le temps de faire.
***
Last Saturday, I was invited among other bloggers, journalists and E-list celebrities to discover what French theme park Futuroscope has to offer for its 25th birthday.
If you've never heard about Futuroscope, try to picture an Epcot-like park where there's a dynamic movie theater (or something with screens of any kind) inside of each pavilion.
It was my very first time over there, so I didn't only discovered the new additions but the whole park. As I was invited, I had the chance to visit this park the best way you can possibly imagine. But I'll do my best to have an objective and balanced opinion. So let's step into the future!
Let's start with something new : a 4D theater based on French classic book Le Petit Prince. The movie has a couple of unexpected special effects that not every 4D theater has to offer, which is nice since almost every park got his own 4D cinema during the last five years. Unfortunately, employees don't let you any chance to get surprised by the movie because their safety instructions speech is so explicit. A veeery bad habit we experienced too many times during the day on many rides. Anyway. The movie is pretty nice but takes a little bit too long before you really get into the action. And there is way too much (unnecessary) talking. On the other hand I especially liked the abstract sensibility of the preshow located in waiting line. I think I had higher expectations from a park based on future, high technology and dynamic movie theaters.
Next : a magic show named iMagic. Well, I'm not a fan of anything called iSomething to sound up to date and technologic. For me it sounds more like a poor attempt to get the coolness surrounding Apple products. But let's talk about the show, which I thought was quite old school. I don't get why they didn't ask one of these magicians who use screens, iPads and stuff like that in order to fit in the park's theme. At least it would fit better with a name like iMagic.
Right after, there was a presentation of the "Peuple du Futur" (people from the future), it's a group who will walk in the park to make mentalist tricks to the guests. Unfortunately, this special presentation for the press won't show a bit of this talent. Bummer. But these people revealed the real problem of (areas of) parks that are supposed to show their guests the future: how would you present something that does not exist yet, without instantly look old fashioned? Some attractions really suffer from that, like the Vienne theater, a dynamic cinema where the movie showed isn't especially based on the future or technology, but you can just miss it's dated from the 80's because of its terrible look and screenplay, which doesn't fit at all in the "Parc du Futur".
Anyway, I'm not really convinced by the 25th birthday additions I just talked about, but I just really liked the Chocs Cosmiques planetarium (which actually is a movie created by the American Museum of Natural History) that my friends like to call the 'Sleepingarium' because it offers a lazytastic after dinner experience; the 8th Continent interactive cinema where anyone has a gun to point and shoot at oceans garbage; and the "Animaux du Futur" ride based on augmented reality technology, where you embark for a mini safari to discover the amazing animals that will live on our planet in a couple of centuries from now.
Those three experiences really fit into Futuroscope because the technologies they use really are up to date and approach the future in a credible way without being too absurd. Only time will tell if they pass the test of time, but in 2011, I thought a park based on the future was the right place for these experiences.
Then we headed to Danse Avec les Robots. It's a Robocoaster flat ride (just like Epcot's Sum of All Thrills) that makes you dance up in the air on cheesy music. The inside of the building looks like an old disco dancing, and you can choose between three intensity level for your ride, which is very cool. I'm just wondering what makes that kind of ride different from classic fair puke machines. I guess it's smoother and provides more moves.
Arthur, l'Aventure 4D is a simulator (actually there are four of them) facing a giant hemispheric screen (think the Simpsons ride at Universal) that takes you on a trip inside the world of the Minimoys movie franchise on the back of a ladybug. Although the simulators are pretty turbulent (read: the opposite of smooth), it still provides good surprises I won't reveal here. Unfortunately, once again employees talk too much and even become kind of stressful. Is your lap bar fully tightened? But not too much! Okay that's good. No! No, that's too much now. Bags on the floor please. Sir, please step outside the vehicle with your camera, it's four your safety.
About the park, if some places and pathways feel 'cold', I really enjoyed the contemporary architecture of Futuroscope. it's really exotic to visit a theme park that does not offer the same old colorful and/or fantastic buildings from the collective imagination like Western, Asian, African or cartoon themes every single amusement park uses while thinking they're so different from the others. Also, signage and visual identity really looks fresh and up to date, and once again does not use foolish characters. These points really are a game changer for me.
As the park does not own franchises and characters, they decided to include French celebs in the making process of several rides (at least that's what they say) in order to make some PR. I think it's a pretty clever idea. For instance, French dancer Kamel Ouali has his signature ride in the park : Danse avec les Robots.
Another good point is the mobile website futuroscope.mobi crafted for smartphone that allows guests to keep an eye on schedules and waiting times to plan their day the best way possible. It's convenient and the kind of things I expect from an amusement park based on new technologies.
Long story short if you were too lazy to read the whole review and got straight to the last paragraph, I had a really nice day at Futuroscope and I would be very glad to go back there to experience the stuff we didn't have time to do.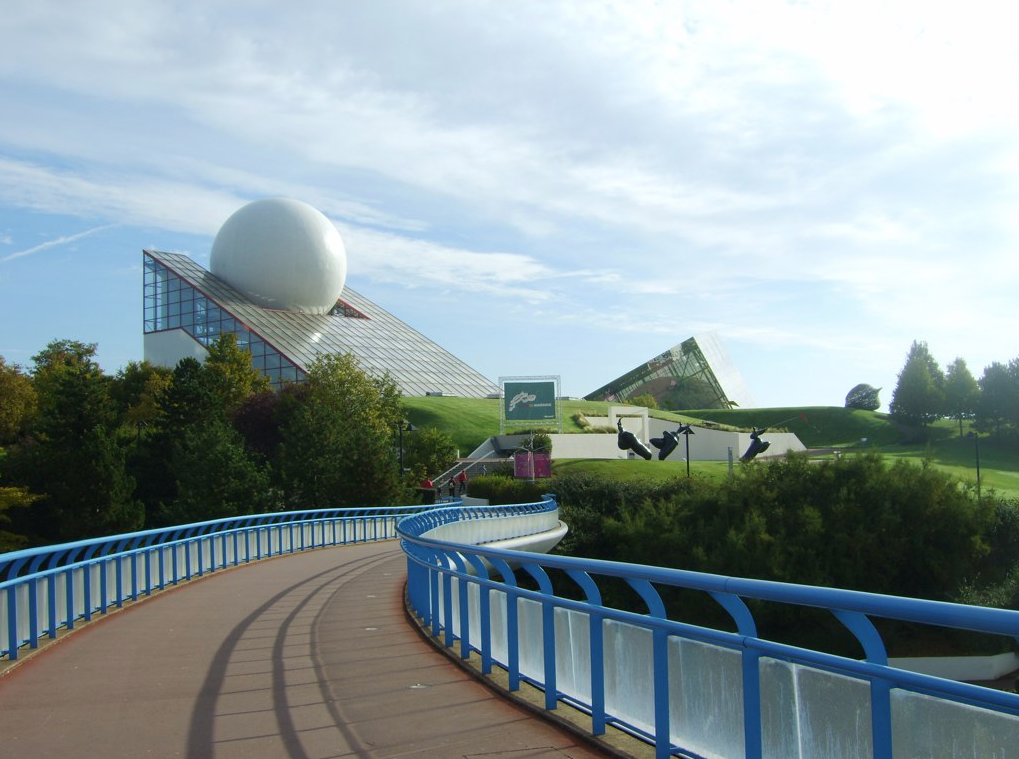 Photos  : Futuroscope, TCJ, MikaelDorian, Zaffiro&Acciaio,  PTBSO, De Familie Van De Velde, barklakj.
_____________________________________________________________________________ 
Cet article vous a plu? Suivez le Parc-O-Rama sur Facebook et Twitter ou via notre fil RSS pour ne manquer aucun article!
Did you like this post? Follow Parc-O-Rama on Facebook and Twitter or our RSS feed to not miss any post!