IN ENGLISH BELOW.
C'est presque devenu une tradition personnelle. Chaque année, quand je vois des photos et vidéos des Terrorific Nights de Disneyland Paris, je me dis qu'il faut absolument que j'y aille l'année suivante. Et puis l'année passe et je me souviens que c'est une soirée 'hard ticket', c'est à dire un événement dont l'accès n'est possible qu'à l'achat d'un ticket payant supplémentaire au ticket d'entrée au parc. Et puis la soirée se passe, sans moi donc, les photos et vidéos pullulent sur le net et je me dis qu'il faut absolument que j'y aille l'année suivante.
Conformément à mon règlement d'ordre intérieur susmentionné (et à de grosses dépenses liées à un voyage Walt Disney World cet été), je n'ai pas testé les Terrorific Nights cette année non plus. Par contre, avec d'autres blogueurs, j'ai eu l'occasion de découvrir les derniers préparatifs de cet événement en coulisses en compagnie des concepteurs avec qui nous avons discuté de ces soirées qui tranchent radicalement avec le produit Disney.
Initialement prévue sous forme de soirée unique en 2009, la Terrorific Night ne devait a priori plus jamais voir le jour. C'est suite au succès rencontré que DLP Business Solutions, la cellule responsable de l'événement, décida de remettre le couvert année après année. Avec au fil du temps, un style tirant de plus vers le gore. Si bien qu'en 2011, de frileux responsables de DLP ont demandé aux équipes de l'événement de calmer le jeu après la sanglante représentation de Charlie Vegas. C'est là que l'on sent que ces soirées arrivent dans une sorte d'impasse : clairement, il y a une forte demande du public pour plus d'horreur, et on voit d'ailleurs que c'est une vraie tendance à échelle mondiale dans tous les parcs qui fêtent Halloween. Pour y répondre, le spectacle est de plus en plus fort chaque année, ce qui permet aux parc d'attirer en moins d'un mois une clientèle de jeunes adultes que l'aspect trop enfantin des parcs à thèmes rebute éventuellement. Il est intéressant de noter que le succès de ces soirées est tel dans certains parcs qu'ils fonctionnent régulièrement à guichet fermés. En somme, le public en a pour son argent, les parcs font des recettes exceptionnelles en un temps record, bref tout le monde est content.
Chez Disney c'est évidemment une autre affaire, on se heurte ici à un véritable problème de culture d'entreprise. Les massacres à la tronçonneuse ne rentrent pas dans les sacro saintes valeurs familiales si précieuses à Disney. Pour y remédier et permettre ainsi de répondre à une demande de jeunes adultes avides de sensations gores, il suffirait peut-être d'interdire purement et simplement l'accès à ces soirées aux moins de 14 ans. Evidemment je comprends qu'il soit psychologiquement difficile pour une marque comme Disney d'interdire les enfants, mais ce ne serait pas la première fois : cela se fait depuis des années au très chic restaurant Victoria & Albert à Walt Disney World. Pas parce que des gens s'y font découper à la scie circulaire mais pour qu'il y ait quand-même quelques mètres carrés sur 11.000 hectares où l'on peut déjeuner sans pleurs, sans hurlements, sans course entre les tables. Si ce n'est pas possible, il suffirait de renforcer la communication sur le fait que ces soirées sont réservées à un public adulte et/ou averti, en particulier au moment de la réservation des billets.
En attendant, le programme cette année encore est constitué majoritairement de modifications d'attractions, d'animations dans les allées du parc et de cast members maquillés. D'après les organisateurs, seul Toy Story Playland n'a pu être que très légèrement modifié parce que John Mégalo Lasseter ne voulait pas que l'on touche à sa boite à jouets toute neuve à DLP. Il y a néanmoins une nouveauté majeure cette année : Terreur, un court métrage écrit par Maxime Chattam – je ne le connaissais pas mais les organisateurs l'ont qualifié de « Stephen King français ». Rien que ça ! Personnellement j'ai trouvé le film très bien joué mais terriblement bavard. Donc dans la plus pure tradition française. C'est peut-être ça qu'ils entendaient par Stephen King français, qui sait ? Je dois dire que je ne suis pas forcément un bon public question films d'horreur, j'ai toujours beaucoup de mal à me laisser surprendre. Cela dit, le film propose une ou deux trouvailles ingénieuses qui ne sont pas sans rappeler Cinémagique – la salle dans laquelle est diffusé le court métrage.
En fait, ce qui manque encore à l'offre des Terrorific Nights, c'est une maison hantée. Un de ces labyrinthes où des monstres se cachent dans les coins pour vous faire sursauter sont l'élément clé, l'argument en béton armé qui me donne envie de venir à ce genre de soirées / saisons d'Halloween. Mais cela demande un investissement autrement plus conséquent qu'il est impossible de rentabiliser en seulement deux soirées, comme c'est le cas des Terrorific. Pour cela, il faudrait une saison d'Halloween entière et malgré le succès croissant de ces soirées (sold-out en un temps record cette année) ce n'est pas du tout à l'ordre du jour. Ou alors dans le Parc Disneyland ? Oui mais ça jurerait encore plus avec le produit Disney familial diront les costard-cravates. Bon… Quelqu'un se dévoue pour leur montrer que Hong Kong Disneyland propose sans complexe aucun des labyrinthes d'Halloween en plein Main Street sans que ça ne choque Monsieur et Madame Lambda et leurs enfants ?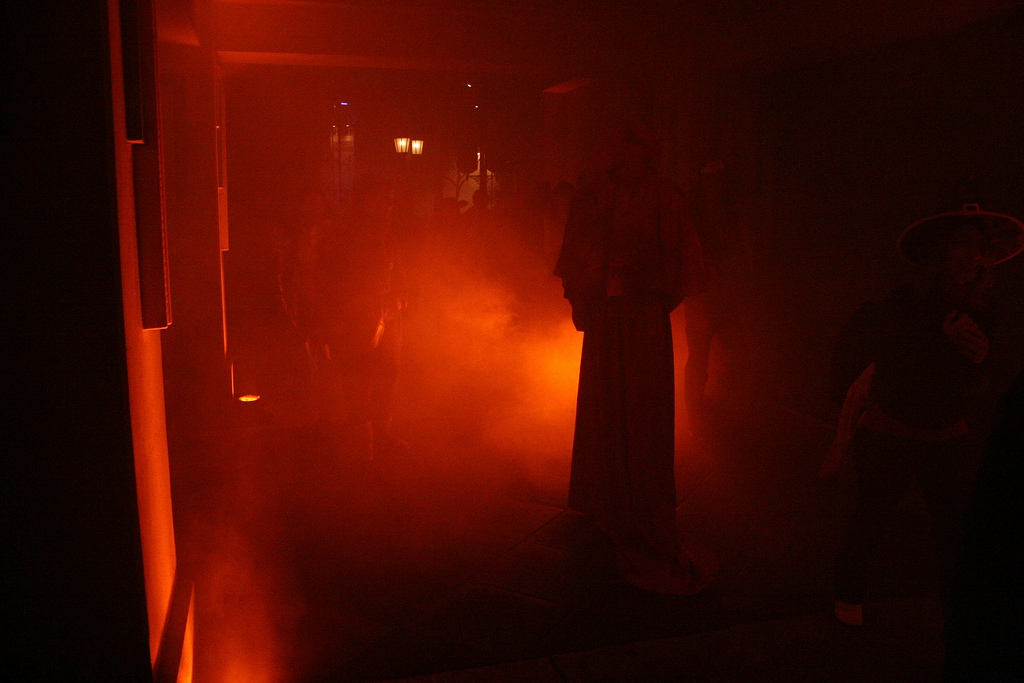 It's kind of a personal tradition. Every year, when i watch pictures and videos of the Terrorific Night in Disneyland Paris, I think I absolutely have to go next year. And when that time of the year finally comes the next year, I remember it's a 'hard ticket' event (an extra charge ticket is needed, not included to your classic day ticket). Then the event happens – without me. Then, lots of pictures and video arrive on the Internet and I think I absolutely have to go next year.
So I didn't go this year either. Hard ticket events are even more expensive when you just came back from a trip to Walt Disney World, ha! But with a few bloggers, I was invited to discover the backstage and the last rehearsal before the opening night of this event. We also met the creative team of the event, which gave us the chance to discuss the back story of these not so Disneyish nights.
The very first Terrorific Night back in 2009 was supposed to be a once in a lifetime event, but regarding to the big success, DLP Business Solutions – the department in charge – decided to give it another try. Year after year. And year after year, these nights have become more and more horrific. So horrific that in 2011, some cautious DLP executives asked the creative team to settle down after a bloody performance from Charlie Vegas. And this is where you realize these Terrorific Nights are kind of stuck in a deadlock: there actually is a strong demand for more horrific stuff, and you can see it's a real worldwide trend among theme parks celebrating Halloween. To answer this demand, Halloween specials are scarier year after year, which brings in less than a month some massive crowds of young adults that are usually not attracted by the childish look of theme parks. I think it's interesting to note that these events are so successful in many parks that they are often sold-out. In short, visitors are satisfied, theme parks make a lot of cash on a very short time: everybody is happy.
Of course it's not that easy to Disney: this kind of event sets a real problem of corporate culture. Bloody massacres do not exactly fit with Disney's precious family values. To answer that demand anyway and then fill this need of young adults for gory thrills, a solution may be to forbid the children of less than 14 years old. I understand that ban the kids could be complicated for a brand like Disney, but it would not be the first time: for years the very chic Victoria & Albert restaurant in Walt Disney World is adult only, in order to make a tiny space out of 27.400 acres a place free from crying, screaming and running kids. If that's really not possible in DLP, they could simply make the advertising more clear about the fact that these nights are designed for adults (or teenagers with serious guts), especially at the online ticket purchasing.
Anyway, this years program is mostly made of modified attractions, street animations and cast members with Cinema make up. The creative team explained that it was very complicated to change anything to Toy Story Playland for the Terrorific Night because John-megalomaniac-Lasseter did not want them to touch his brand new Parisian toy box. However there is a major new addition to the event: Terreur, a short film written by "French Stephen King" writer Maxime Chattam – as presented by the creative team. I found the actors very good but there was way too much talking in my opinion. But maybe that's what French is for in "French Stephen King"? I have to say that I'm not a very good audience for horror movies, I just can't get really into it and let me be surprised. But the film has a couple of nice twists and surprises that kind of reminded me of Cinemagique – the place where this short film is showed.
Actually, what these nights really miss is a true haunted house. You know, these mazes where creepy people and monsters hide to scare you. These are the key element that makes me want to visit a park for this sort of Halloween seasons /nights. But these cost a much bigger amount of money and you can't make it profitable in just two nights – as the Terrorific Nights are. A complete Halloween season would be needed and despite the increasingly success of the event, it's definitely not on the agenda. Or maybe in the Disneyland Park. But the suits will say that it would clashes even more with the family feel of the Disneyland Park. Well, who's up to show them that Hong Kong Disneyland has a horror maze on Main Street for a few years and this is not a problem for anyone, not even for Mr. and Mrs. Average and their kids?
Many thanks to Bert Sneyers for the pictures: Flickr , Twitter.
___________________________________________________________
Suivez le Parc-O-Rama sur Facebook et Twitter ou via notre fil RSS .
Follow Parc-O-Rama on Facebook and Twitter or our RSS feed .