JUMP TO ENGLISH TEXT, CLICK HERE!
Le nom de Rafa Torcida ne vous dit peut-être rien, pourtant si vous êtes un lecteur assidu de ce blog, vous avez certainement déjà croisé ses photos dans nos en-têtes aléatoires (ici et là). Bien que les parcs Disney soient créés pour être photogéniques sous n'importe quel angle, il n'est pas si facile de rendre compte de leur vraie beauté et l'énergie qui s'en dégage tant ces endroits fourmillent de détails. C'est justement cette habilité à capturer le détail qui fait la singularité des photos de Rafa.
Rafa est software developer à Madrid et passionné de photographie depuis une quinzaine d'années. Sur Flickr il partage régulièrement les superbes photos qu'il prend lors de ses voyages, et notamment dans les plus beaux parcs d'attractions du monde :
"J'ai l'incroyable chance d'avoir visité tous les parcs Disney dans le monde. Mon préféré? Probablement EPCOT, suivi de près par Tokyo DisneySea. Ils ont chacun leur propre charme."
Récemment, Rafa Torcida a décidé de compiler ses plus belles photos de parcs à thèmes dans un livre nommé "Alternate Reality" qui fera un malheur auprès de vos invités si vous le déposez sur votre table de salon.
"L'idée d'en faire un livre m'est venue quand j'ai commencé à tagger et classer mes photos. Les différences et similitudes entre elles me fascinaient (par exemple la Haunted Mansion de Tokyo VS celle d'Orlando VS Phantom Manor) et le fait de les comparer avec les parcs Universal (que j'adore visiter également) était intéressant. En outre, j'ai réalisé que certaines photos commençaient à devenir vieilles : la plus vieille doit dater de 2005. C'était donc le bon moment pour en faire une compilation.

Quand je parcours ce livre, cela me rappelle de bon souvenirs de voyages. J'espère que cela procurera le même sentiment aux lecteurs. Et pour les endroits qu'ils n'ont jamais visité, j'espère que les photos leur donneront l'envie de tout mettre en oeuvre pour y aller un jour. Tous ces parcs méritent vraiment d'être vus en vrai!"
Ce beau livre est en vente ici. Sachez qu'une version digitale est également disponible sur l'iBook Store d'Apple et chez Blurb. Vous savez ce qu'il vous reste à ajouter sur votre lettre au Père Noël! En attendant, pensez à vous abonner à son compte Flickr, il y a toujours l'une ou l'autre éblouissante photo de parcs dans les parages…
The name of Rafa Torcida maybe doesn't sound familiar to you, but if you're a frequent visitor of this blog, you've probably already came across his pictures in our random headers (here and there). Although the Disney parks are designed to be photogenic from any angle, it is not that easy to capture the true beauty and energy of these places because they are full of details. The ability to focus and magnify detail makes the pictures of Rafa really unique.
Rafa is a software developer in Madrid and photography has been his major hobby for almost 15 years. On Flickr he shares many of the wonderful pictures he takes while traveling the world's most amazing theme parks:
"I've had the incredible luck to visit all Disney parks around the world. My favorite park?… probably EPCOT, closely followed by Tokyo DisneySea. They all have their own character."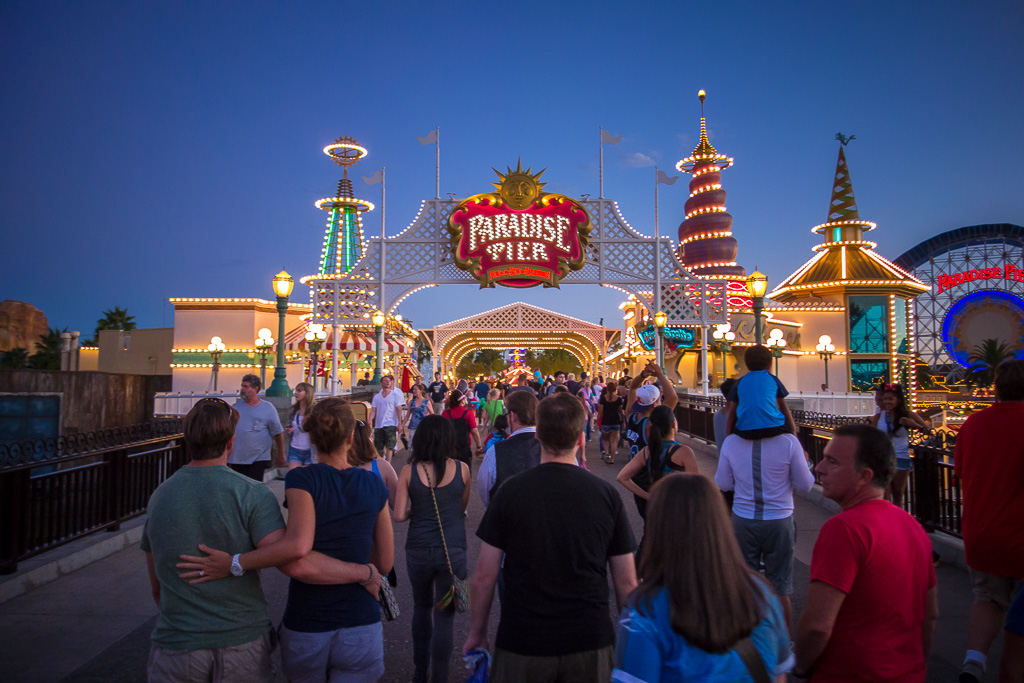 Rencently, Rafa Torcida decided to gather his most beautiful theme park photographs in a book titled "Alternate Reality" that will quickly become your guest's favorite when carefully placed on your coffee table.
"The idea came when I decided to add tags to all the pictures in Adobe Lightroom Library. After tagging I started filtering them and became fascinated by the differences between them (i.e. Tokyo Haunted Mansion vs. Orlando Haunted Mansion vs. Phantom Manor), and how they compared with Universal parks (which I also love to visit). Also, I realized that some of the pictures were really old (the oldest one I think it's from around 2005) so it was the right time to prepare a compilation.

When I look at the book it evokes nice memories from my past trips to the parks so I just hope it will also bring back beautiful memories from your own trips. And for those places you haven't visited yet I hope the pictures will excite your mind enough to engage you to go there. They all truly deserve a trip!"
You can buy this gorgeous book here. Also, a digital version is available on Apple's iBook Store  and at Blurb. Now you just have to add it on your letter to Santa! Meanwhile, feel free to follow Rafa on Flickr, there's always a new dazzling Disney picture around the corner…
Photos: Rafa Torcida