JUMP TO ENGLISH TEXT : CLICK HERE !
Grégory Noacco est fan de Disneyland Paris et en particulier de Space Mountain, version originale "De la Terre à la Lune", cela va de soi. Déçu, comme tout le monde, par le paresseux reboot "Space Mountain Mission 2" de 2005, il a décidé de recréer entièrement et au détail près la version originelle en images de synthèses. Rien que ça. Cet énorme projet habilement nommé "Discovery Mountain : Origins" a pris deux ans de travail avant d'arriver au résultat spectaculaire qu'il a partagé sur YouTube (ci-dessous). C'est bien simple, aucune vidéo on-ride de Space Mountain (version 1 ou 2) ne montre aussi fidèlement les décors et l'expérience en général.
Cette recréation nous rappelle aussi combien la version originelle était bien plus puissante en terme d'émotions, notamment grâce à  la bande son grandiose de Steve Bramson. Alors que Space Mountain Mission 2 vient d'entrer en réhabilitation pour six mois, on aimerait croire que les sept points de ma wishlist perso pour un meilleur Space Mountain seront exaucés.
Pour en savoir plus sur les coulisses de ce beau projet, Disney Gazette propose une interview de Gregory.
* * *
Grégory Noacco is a big fan of Disneyland Paris and especially Space Mountain, the original iteration "From the Earth to the Moon", of course. Disappointed, like everyone else, by the lazy reboot "Space Mountain Mission 2" in 2005, he decided to completely recreate the original version in CGI animation. This massive project named "Discovery Mountain : Origins" took two years of hard work before he eventually achieved the spectacular result he shared on YouTube (above). Actually, no on-ride video of Space Mountain (version 1 or 2) shows the scenery and the overall ride experience as greatly as Gregory's video.
This recreation also reminds us how the original version was much more powerful in terms of emotions, mainly thanks to the fantastic score composed by Steve Bramson. While Space Mountain Mission 2 has just entered a six months long rehab, I'd like to believe that the seven points of my personal wishlist for a better Space Mountain will come true.
For more behind the scenes info about this amazing project, Disney Gazette has made an interview of Grégory (in French).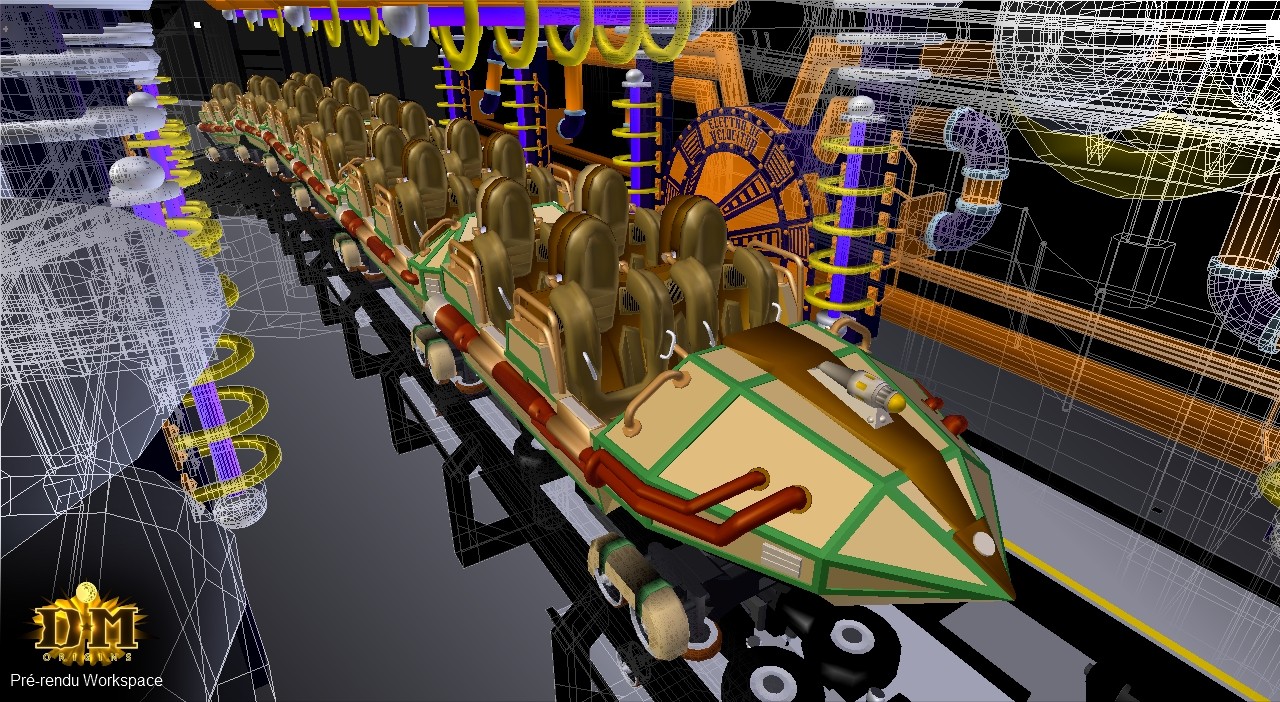 Photos : Grégory Noacco, disney Gazette