Contrairement à ce que vous pensiez, ce qui a créé l'événement la semaine dernière à Disneyland Anaheim, Californie, ce n'était pas l'annonce de l'adaptation prochaine du système FastPass pour rencontrer ses Princesses préférées sans faire (trop) la file. Ni même cette histoire de golden retriever trop chelou mais qui à vraisemblablement l'air d'être cruciale.
Non, rien de tout cela. Là où il fallait être le 21 février dernier, c'était au Dapper Day, une sorte de fan meeting pour hipsters.  L'artiste et designer Justin Jorgensen, à la base du concept, était totalement dépité par le constat suivant : si vous jetez un oeil aux esquisses préparatoires et autres concept arts dessinés par les Imagineers de Disney, vous vous apercevrez bien vite que leur vision des visiteurs était aussi enjolivée que leurs renderings. Ils les rêvaient habillés en tenue de ville, tirés à quatre épingles en costumes d'époque. À des années lumières de l'uniforme tee shirt ample/sac banane/short/chaussettes blanches/sandalettes revêtu par la clientèle réelle.
C'est pourquoi Justin a décidé de rendre hommage aux Imagineers en leur offrant pour une fois la vision qu'ils avaient de leurs visiteurs. L'idée? Organiser un fan meeting où chacun viendrait habillé en costume d'époque!
C'est donc après un petit passage par la case vintage shops qu'une soixantaine de fans ont répondu à l'appel de Justin afin de participer au Dapper Day.
On apercevra d'ailleurs les designers Kevin Kidney et Jody Daily, habitués à concevoir des miniatures et collectibles délicieusement rétro pour le compte de Disneyland.
Je vous invite chaleureusement à parcourir leur galerie de photos sur Facebook, à consulter leur site web et à les suivre sur Twitter.
Alors, y a-t-il quelqu'un de motivé pour organiser la même chose à Disneyland Paris? Et participeriez-vous?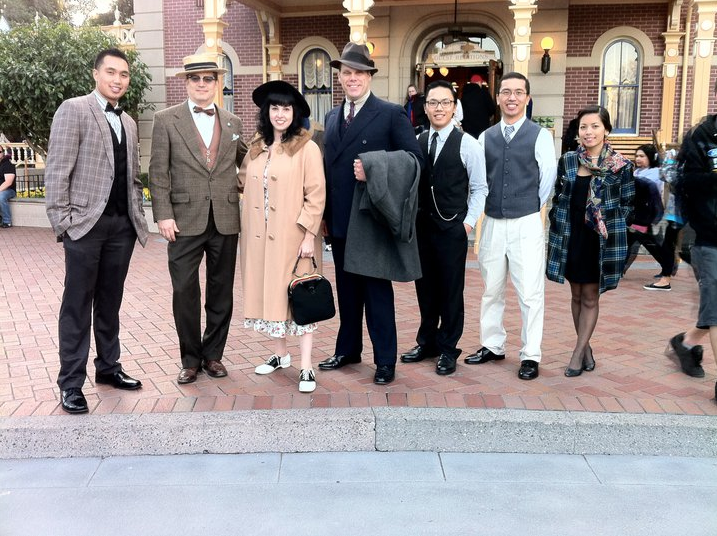 You may be wrong if you tought that last week's hot topic about Disneyland Anaheim was the announcement for the upcoming addition of the FastPass system to your favorite Princess meet and greet. Or even this weird golden retriever story which seems to be important for some reason.
None of them. The place to be was the first Dapper Day, a sort of fan meeting for hipsters. Artist and designer Justin Jorgensen was totally depressed by this : if you take a look at preparatory sketches and concept arts designed by Disney Imagineers, you will quickly realize that their vision of guests was just as embellished as their renderings. They dreamed them dressed to the nines or wearing beautiful tuxedos. Far from the real common guest uniform, composed of extra large tee shirt/belt bag/shorts/white socks/sandals.
That's why Justin decided to honor the Imagineers by giving them for once their vision of the guests. The idea? Organizing a fan meeting where everyone would come dressed in period costume!
So, after a well needed vintage shopping session, sixty fans responded Justin's call to take part in the Dapper Day.
Designers Kevin Kidney and Jody Daily, well known for their gorgeous retro Disneyland collectibles, even showed up!
Don't forget to take a look at their Facebook photo gallery of the event, surf to their website and follow their Twitter feed!
So… Is there anybody to make this happen in Disneyland Paris? And would you join the Dapper Day?