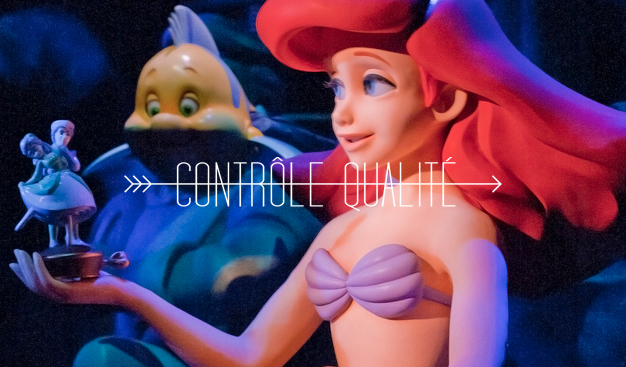 C'est aujourd'hui qu'ouvre The Little Mermaid – Ariel's Undersea Adventure à Disney California Adventure (DCA). Et comme l'attraction est en soft opening depuis une semaine, invitons Ariel à un petit Contrôle Qualité de rigueur.

Commençons par situer l'attraction dans son contexte.
Ariel's Undersea Adventure fait partie de la refonte musclée du second parc de Disneyland Resort en Californie. Pour rappel, cet énorme chantier comprenant également World of Color et bientôt Carsland (notamment) vise à rendre DCA un peu moins zoning industriel et un peu plus wouaw. Ce qui coûtera à la Walt Disney Company la coquette somme d'un milliard de dollars. Ah, si seulement elle pouvait être aussi généreuse avec l'orphelin Disneyland Paris et ses Walt Disney Hangars Studios, souffrant du même syndrome… Mais ce n'est pas le sujet du jour.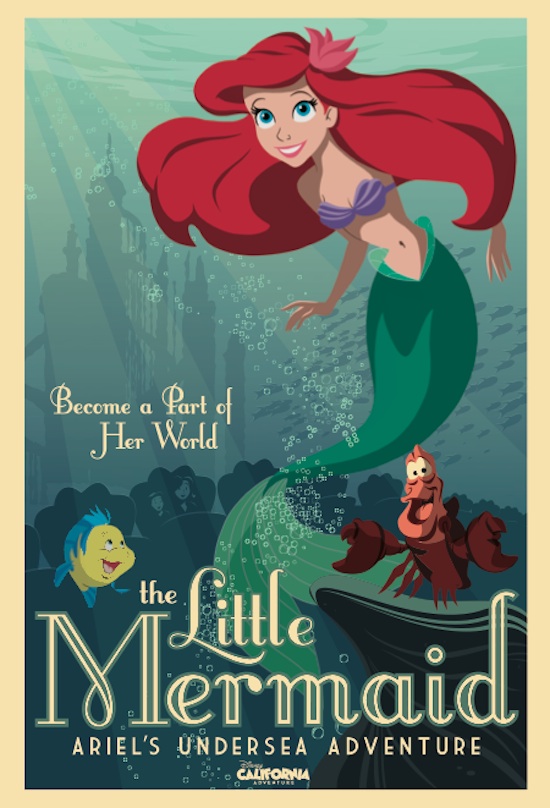 Ariel's Undersea Adventure est donc un grand dark ride de par ses dimensions, mais qu'il faudrait plutôt envisager comme les petites dark rides historiques de Fantasyland pour sa façon d'exploiter le thème.
L'attraction se compose de 6 scènes que l'on découvre à bord d'un Omnimover (le même système que Phantom Manor). Si cela promet un très bon débit, je trouve un peu dommage d'utiliser un système vieux de 30 ans, vu et revu chez Disney et partout ailleurs, sans même avoir pris la peine d'y ajouter un petit twist.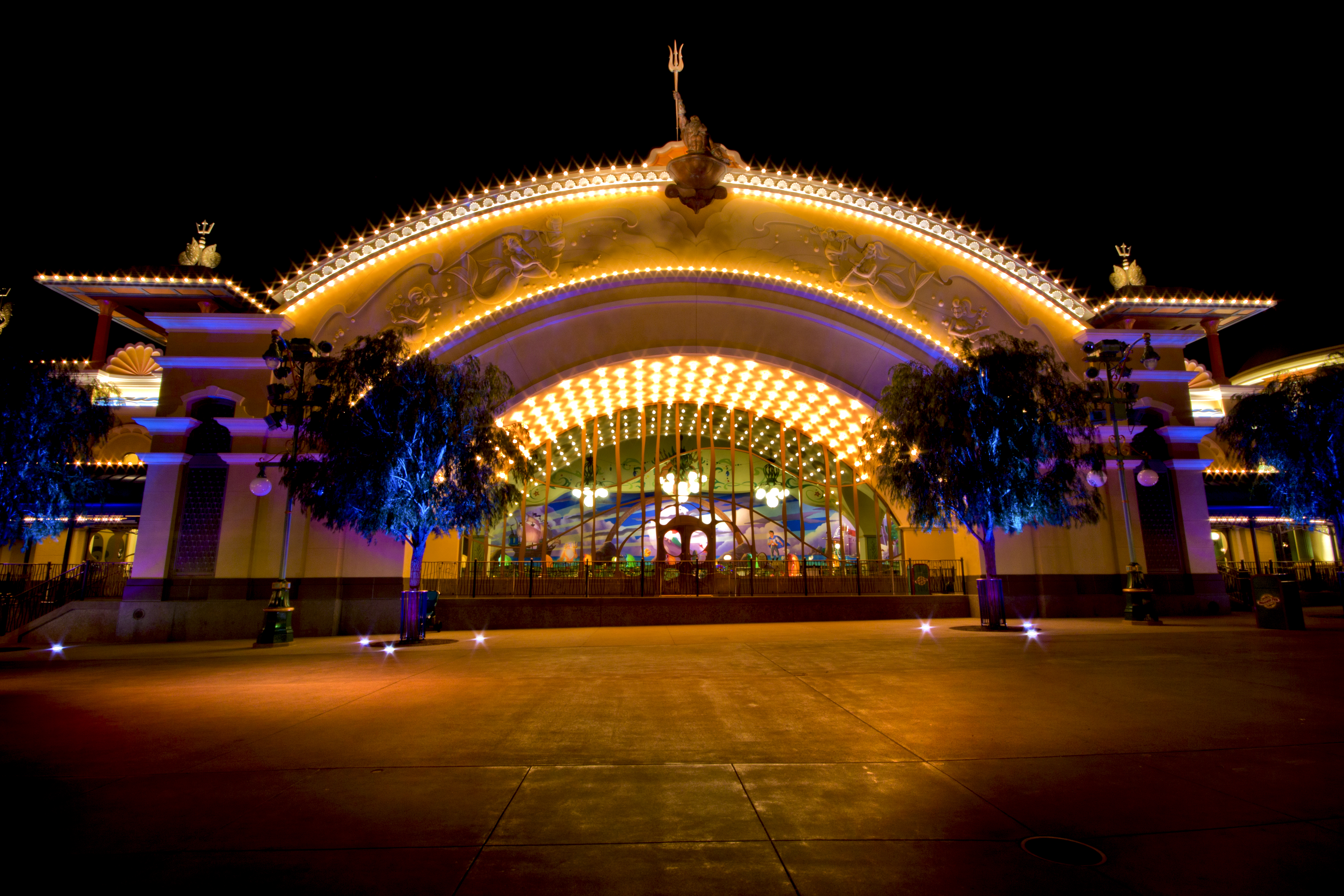 Vu de l'extérieur, le bâtiment en impose. Très joli mais très (trop ?) lisse, Il aurait presque un petit côté maison de poupée géante. Pourquoi certains toits se contentent-ils de taules turquoise plutôt toc, tandis que d'autres ont eu droit à une jolie patine ancienne donnant au palais un aspect plus charmant?
Entrons dans la file d'attente, très soignée mais qui manque cruellement d'immersion et d'interactivité, ce qui est particulièrement étonnant alors que l'ambition d'Imagineering est de rendre les temps d'attente moins ennuyeux en y incorporant beaucoup de décors et d'interactivité. C'est déjà le cas sur Soarin, Winnie the Pooh, Space Mountain ou Haunted Mansion. Désolé Ariel, pas pour toi.
Une fois installé dans votre coquillage au ton pastel, vous découvrez donc l'histoire de la petite sirène en 6 scènes clé dans de très très belles mises en scène. Sur le plan des animatroniques, le niveau est inégal : certains sont une pure merveille, comme Ursula, Eurêka ou Ariel dans sa première apparition, où la gestion des cheveux dans l'eau est une vraie réussite. Notez au passage les mouvements de Polochon nageant à travers les courants. Impeccable.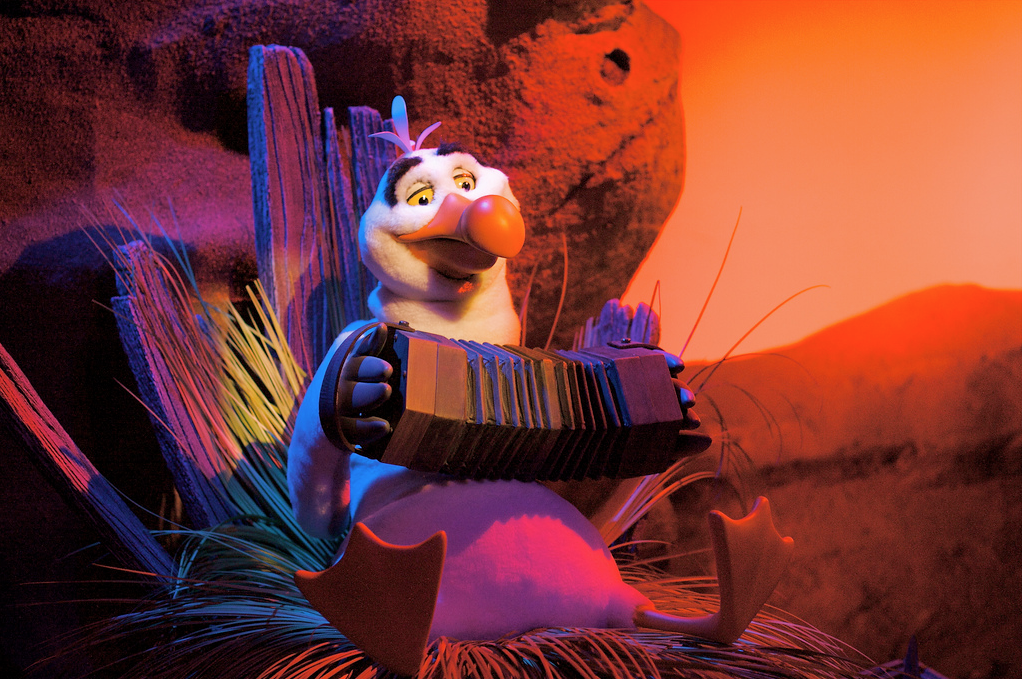 Et puis au milieu de tout cela nous avons la scène 'Sous l'océan', où des dizaines d'animatroniques simplistes à peine dignes de It's A Small World tournent sur eux-mêmes. Respect. Mais ce n'est rien comparé à cette pauvre Ariel dans cette scène, dont les mouvements semblent s'inspirer de la maladie de Parkinson et dont les cheveux ressemblent à une crème glacée qui ferait du trampoline. Oui, je me suis senti mal à l'aise en la voyant gesticuler tout en me regardant droit dans les yeux.
La rejoignent au rayon des imperfections : la transformation d'Ariel réalisée en images de synthèses qui tranchent totalement avec le reste, et le traitement minimum accordé à l'une des plus impressionnantes scènes du film : la mort d'Ursula qui devait d'après un plan préparatoire, être plus importante qu'une simple projection.
Mais au lieu d'en parler, si on embarquait? (mode plein écran et HD vivement conseillés)
Aussi, je ne vois pas vraiment le lien avec la nouvelle storyline de Disney California Adventure (à savoir la Californie telle que Walt Disney l'a découverte pour y faire fortune dans le cinéma) et pour une attraction au thème aquatique, cela manque cruellement d'eau. Si cela s'y prête difficilement dans l'attraction, des petites fontaines auraient été les bienvenues à l'extérieur ou dans la file par exemple. Sur ce point, la file de la même attraction qui ouvrira d'ici un an à Walt Disney World devrait être plus immersive et plus 'aquatique' si l'on se réfère aux concept arts.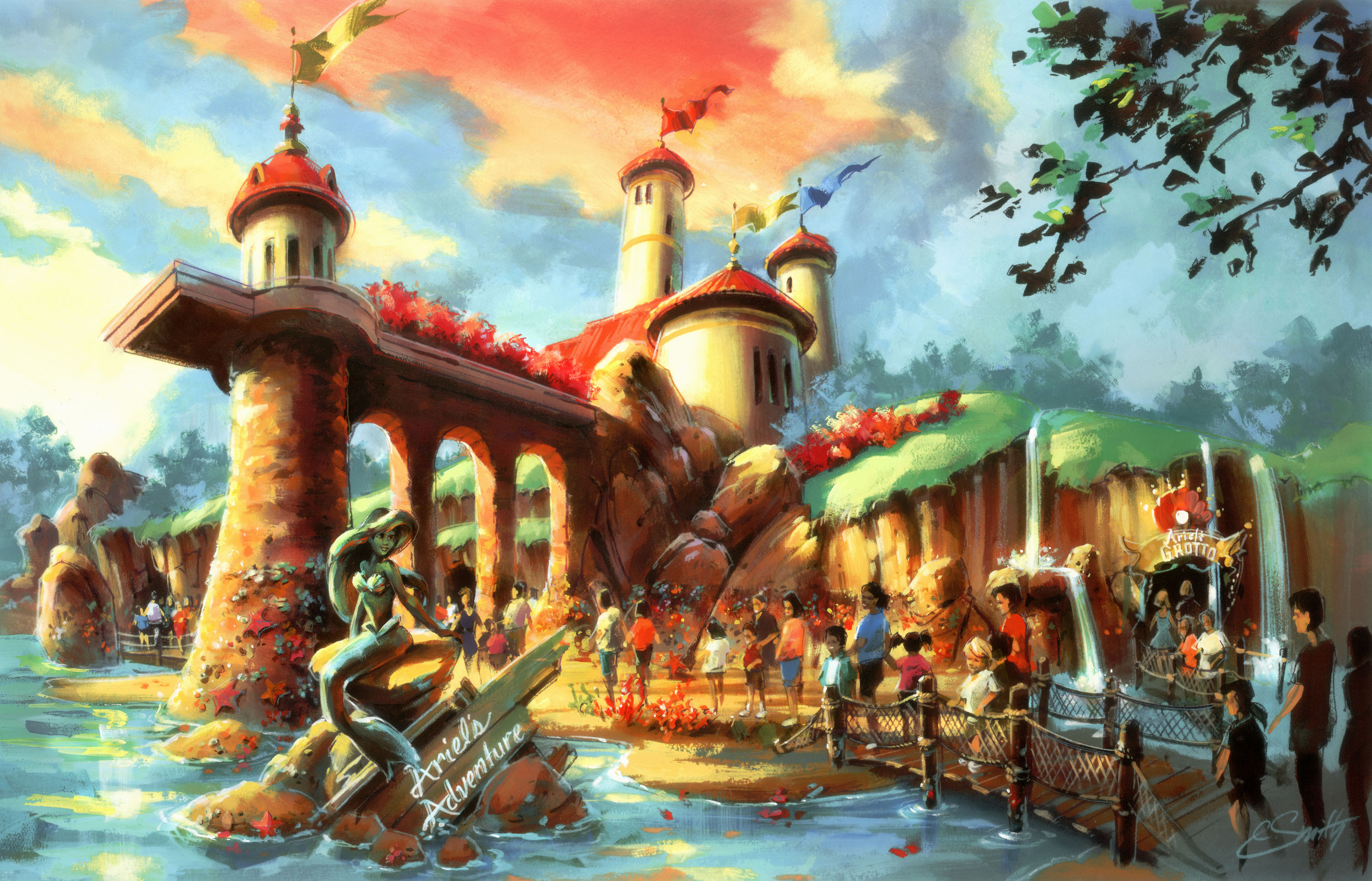 Un mot sur la musique : définitivement non, ce n'est pas Ariel's Undersea Adventure qui me fera apprécier 'Sous l'océan'. Cependant, il faut reconnaître que certaines réorchestrations sont superbes, comme dans la scène finale avec Dieu le Roi Triton.
Bon, on chipote on chipote mais sur base de ce qu'on peut en voir sur le web, je pense que dans l'ensemble l'attraction est réussie. Il faut simplement voir en elle un mini dark ride de Fantasyland sous stéroïdes. Après tout, pourquoi les enfants n'auraient pas droit eux aussi à de grandes attractions en termes de dimensions ?
Pour finir, jetez donc un œil à cette video du concept de dark ride sur la Petite Sirène qui devait initialement voir le jour à EuroDisney et amusez-vous à retrouver ce qu'il en reste dans Ariel's Undersea Adventure. D'après vous, a-t-on gagné à attendre 20 ans?
Photos :Loren Javier Andy Castro HarshLight et Legacy55 sur Flickr, Miceage et Disney.
The Little Mermaid – Ariel's Undersea Adventure opens today at Disney California Adventure (DCA). And it's been a week the attraction is on soft opening, so bring it on Ariel, the time is now for your Quality Control !
But first, let's talk about the background story of this major addition to the park.
Ariel's Undersea Adventure is part of your world Disneyland's second gate extreme makeover. Which is supposed to make DCA a little less industrial area and a little more wow. And it will cost the Walt disney Company the tidy sum of one billion dollars. If only they could be as generous with the orphan Disneyland Paris and its Walt Disney warehouses Studios that are suffering the same syndrome… But this is not today's headline.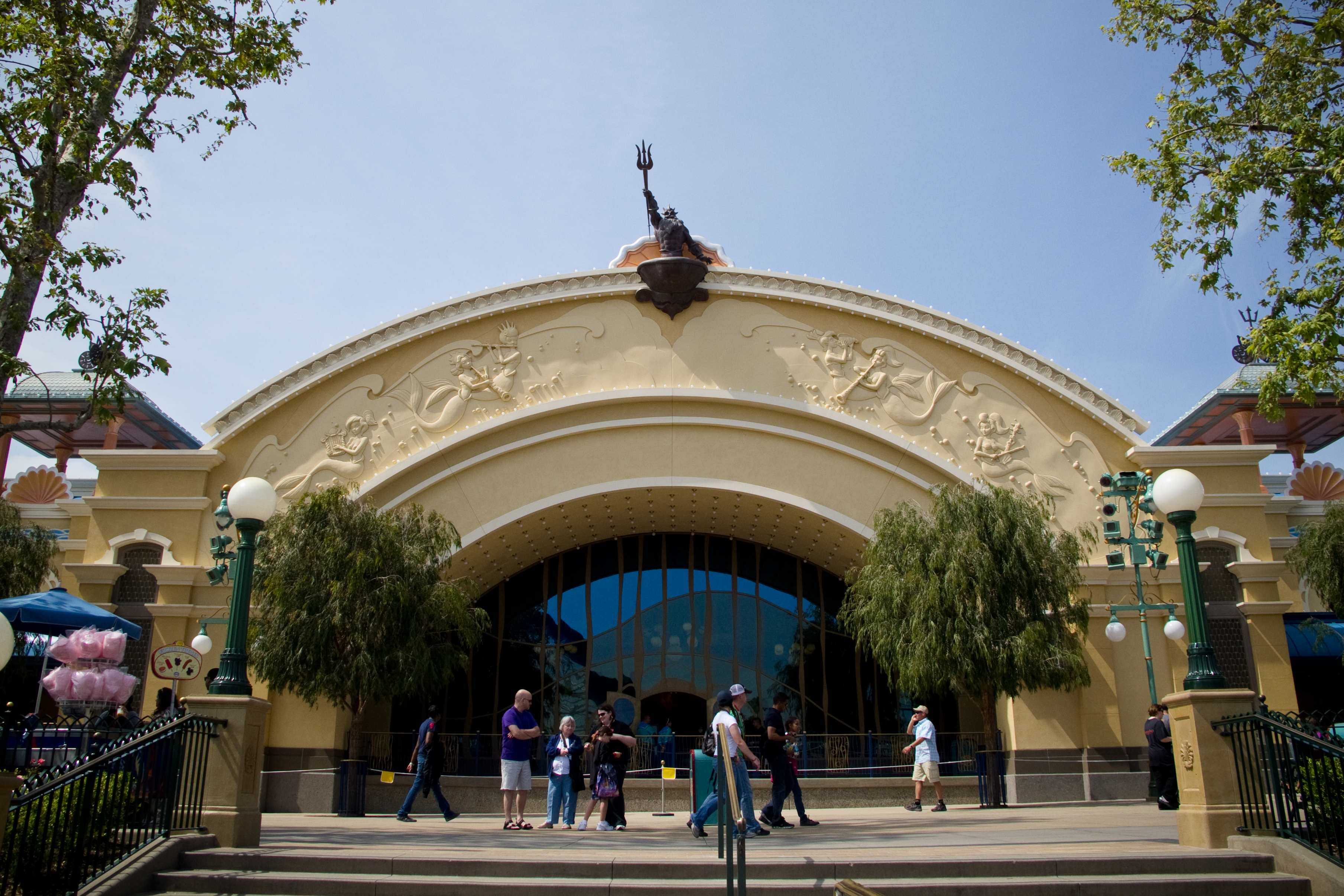 So Ariel's Undersea Adventure is a big dark ride judging on its size, but maybe we should reather see it more like Fantasyland's classic dark rides for the way it uses the movie.
The attraction consists of 6 scenes that are discovered aboard an Omnimover (just like the Haunted Mansion ride system). If it promises very a good flow rate, I find a bit of a shame to use a 30 year old system, used countless times at Disney and anywhere else without even adding a little twist on it.
From the outside, the building seems huge. Very nice but maybe just 'too clean' , it kind of looks like a doll house actually. Why do some roofings have to deal with cheap looking turquoise plates while others got a nice old and used look making the building lovely?
Let's enter the queue now. It's very nice but I think there is a strong lack of immersive theming and interactivity, which is especially odd regarding Walt Disney Imagineering's will to make waiting time less boring by adding more scenery and interactivity. Just like they already did on Soarin, Winnie the Pooh, Space Mountain or Haunted Mansion. Sorry Ariel, not for you. 
Once you're confortably seated in your pastel toned shell, you'll discover the little mermaid story through 6 veeery nicely crafted key scenes. In terms of Animatronics they do not all play on the same level : some of them are pure marvels like Ursula, Scuttle or Ariel in her first appearance where hair moves are close to perfecion. Don't forget to note Flounder, smoothly swimming through the currents. Perfect.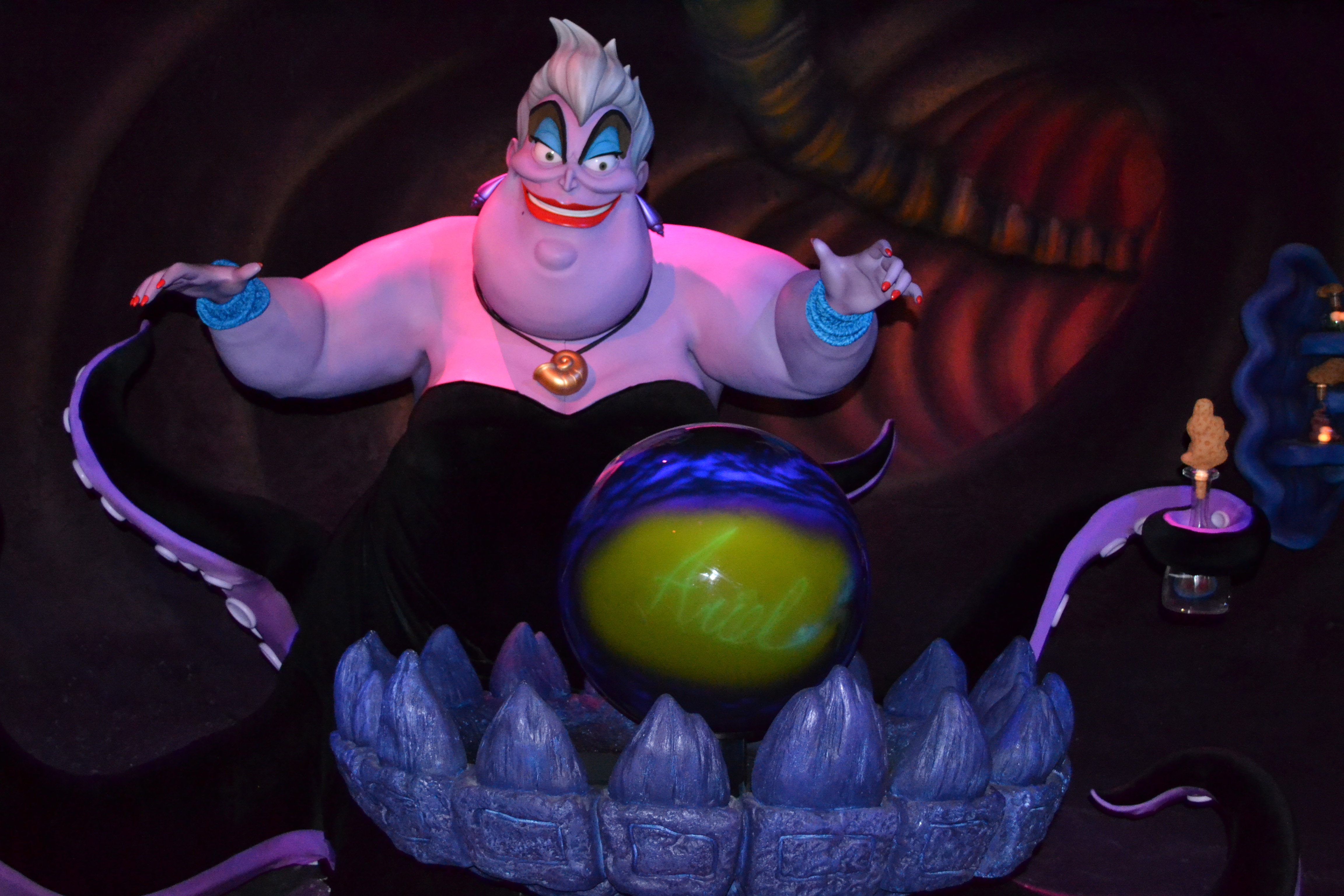 But on the other hand, you have have this 'Under The Sea' scene, where dozens of oversimplified animatronics hardly worthy of It's A Small World are turning on themselves. Respect. But this is nothing compared to this poor Ariel in this scene, whose movements seem inspired by Parkinson's disease, and whose hair is like an ice cream on a trampoline. Yep, I felt uncomfortable seeing her gesticulating while being looking me straight in the eye.
Joining her in the imperfection basket : CGI made Ariel's transformation that completely contrasts with the rest of the ride's look and feel and the minimum treatment granted to one of the most impressive scenes of the film: Ursula's death that was supposed to be more important than a single projection according to a preparatory plan.
But instead of talking about it, let's just ride Ariel! (full screen and HD mode strongly recommended)
Beside that, I have to say that I can't see any link between this attraction and Disney California Adventure new storyline (California as Walt Disney discovered it as he came there to make movies) and WHY there is no more water in such an aquatic themed attraction? I admit that it may be a difficult option for the ride itself but what about little fountains in the queue line for instance? About that, the queue line in the same attraction that will open within a year at Walt Disney World should be more immersive and more 'aquatic' according to already revealed concept arts.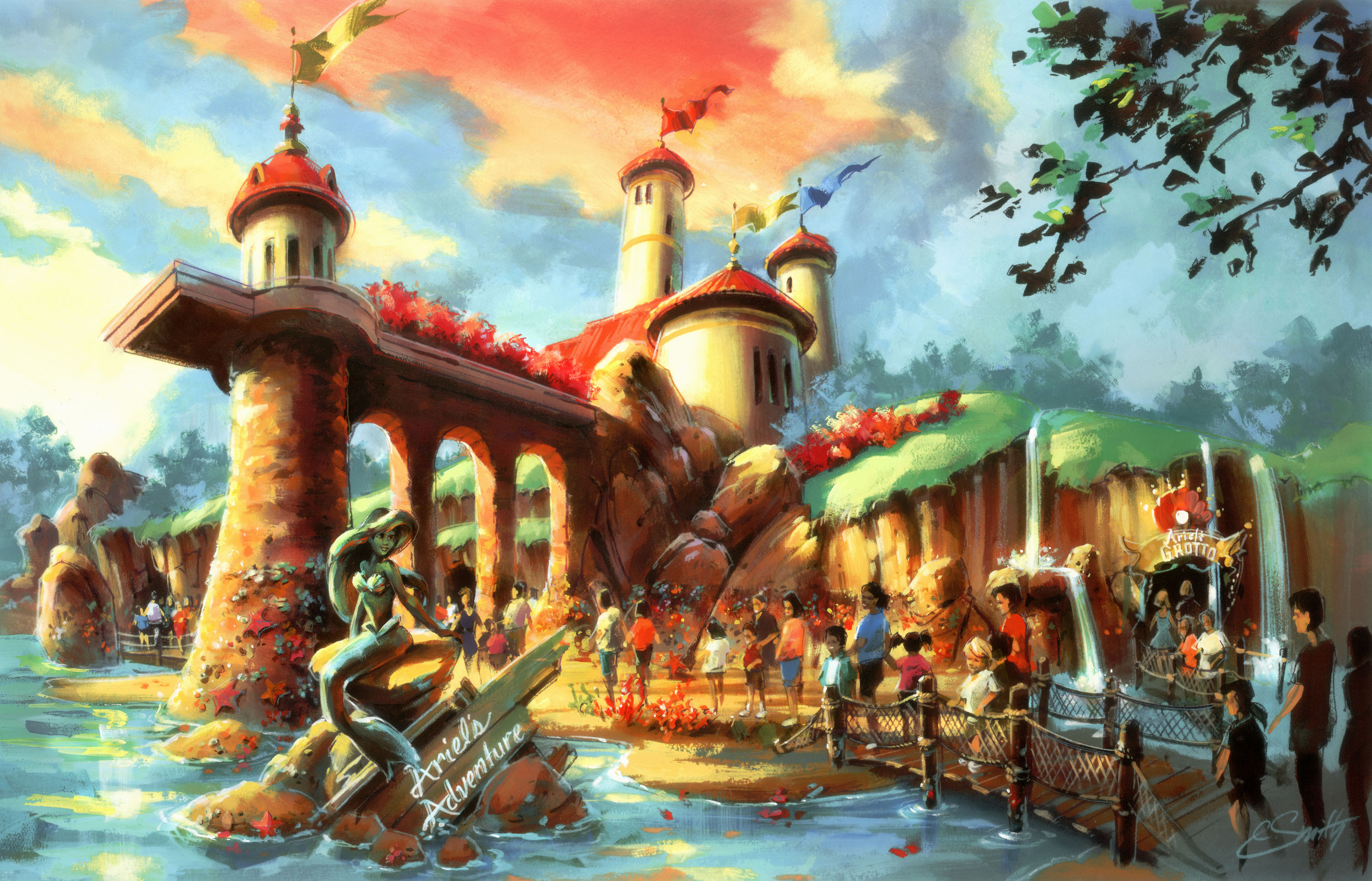 One word about the music now : definitely no, Ariel's Undersea adventure won't make me like that 'Under the Sea' song. However, I have to admit that some reorchestrations are great, as in the final scene with god King Triton.
I know, I'm being picky right now, but based on what we can see on the Internetz, I think that the whole ride is totally gorgeous. We should just consider it like a classical Fantasyland dark ride on steroids. After all, why should children not get great attractions aswell in terms of size?
Finally, take a look at this video of an early concept for a Little Mermaid based dark ride, which was initially planned for EuroDisney and have fun to find what remains of it in Ariel's Undersea Adventure. Do these 20 years worth the wait?
Photos :Loren Javier Andy Castro HarshLight and Legacy55 on Flickr, Miceage and Disney.