Aujourd'hui, petite entorse au règlement. OUILLE, mon règlement!! Eh oui chers amis du calembour et du jeu de mots pas indispensable, aujourd'hui nous quittons les parcs Disney pour le Parc Astérix. But de la manoeuvre : tester Oziris, la grosse nouveauté de l'année. Contrôle Qualité exigé. Poil au sanglier.
Cela doit bien faire une dizaine d'années que les forums spéculent sur l'arrivée d'un coaster B&M au Parc Astérix. Il faudra attendre 2012 pour que le délire de fan devienne enfin réalité.
Avec le Parc Astérix il faut bien l'admettre, on ne sait jamais vraiment à quoi s'attendre. J'ai parfois beaucoup de mal à comprendre leurs choix quand vient l'heure d'une nouvelle attraction. Par exemple, je ne comprends pas où veut en venir le Transdemonium, je me demande toujours ce qui a bien pu porter leur choix sur un bobsled coaster pour la Trace du Hourra en 2001 (les années 80 étaient pourtant finies depuis 10 ans), et j'éprouve toujours beaucoup de mal à comprendre comment on peut dépenser 11 millions d'euro pour garnir une madhouse de préshows en cascade – si sympathiques et ingénieux soient-ils. Cela dit on n'est pas à l'abri non plus d'une bonne suprise, comme le Tonnere de Zeus en 97.
Oziris, dans les faits a de très bons arguments en sa faveur : un inverted coaster construit par B&M, 1000 mètres de long, 5 inversions variées et soigneusement sélectionnées, une vitesse maximale de 90km/h, le tout étalé dans une belle zone de 2 hectares au thème égyptien. Ce qui est particulièrement appréciable, c'est qu'en dépit de ses costauds atouts, la montagne russe n'en est pas moins  confortable. Les sensations ne sont pas désagréables ou trop intenses comme un inverted B&M plus compact peut en procurer s'il est installé sur une zone plus réduite.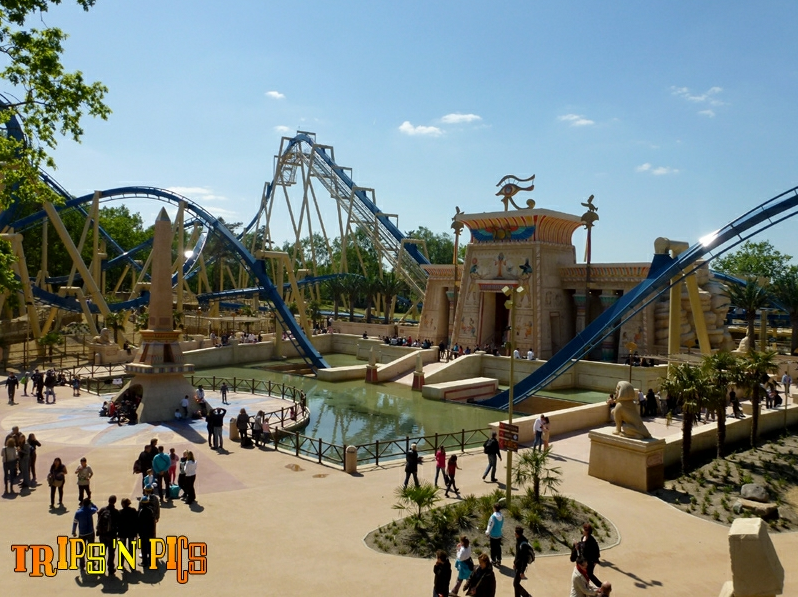 Mais ce qui est encore plus enthousiasmant, c'est la qualité de la thématisation d'Oziris. Ce genre de gros coasters a peu l'habitude de recevoir des décors égaux à la qualité de l'attraction, d'une part parce qu'ils prennent beaucoup de place, et d'autre part parce qu'ils représentent déjà un investissement particulièrement cher. A comparer, je trouve que la thématisation d'Oziris est plus soignée que Nemesis et son monstre cracra en simili papier maché ou Black Mamba, ses rochers rectangulaires comme on en faisait en 1970 et son Afrique version tamtam et os dans le nez également datée de 1970.
Dans le cas d'Oziris, le Parc Astérix a pris la couillue mais sage décision de procéder à un calcul 50-50. Le budget total de l'attraction reviendrait à 20 millions € dont la moitié consacrée à la thématisation. Et croyez bien que ça me coûte de le dire mais le travail réalisé par les équipes de la CDA (propriétaire du Parc Astérix jamais à court de mauvaises idées) sur la scénographie d'OzIris est remarquable. De la file d'attente extérieure, dont même les grillages de protection se fondent dans le décor, à l'éblouissant temple égyptien qui fait office de file et de gare, les décors sont très soignés et riches en détails. Les détails justement. La qualité de leur exécution ne leur permet malheureusement pas d'échapper à la marque de fabrique du Parc Astérix : les calembours vaseux. Pour les rédiger, le parc fit appel au désopilant, à l'hilarant Laurent Gerra, dont le talent est pourtant plus l'imitation que l'humour, mais je soupçonne quelques costard-cravate du marketing et de la com d'avoir insisté. Pourquoi ne pas avoir demandé les services d'Alain Chabat qui n'a pas seulement réalisé Astérix & Obélix – Mission Cléopâtre, mais qui présente aussi un atout faisant cruellement défaut à Laurent Gerra : être drôle.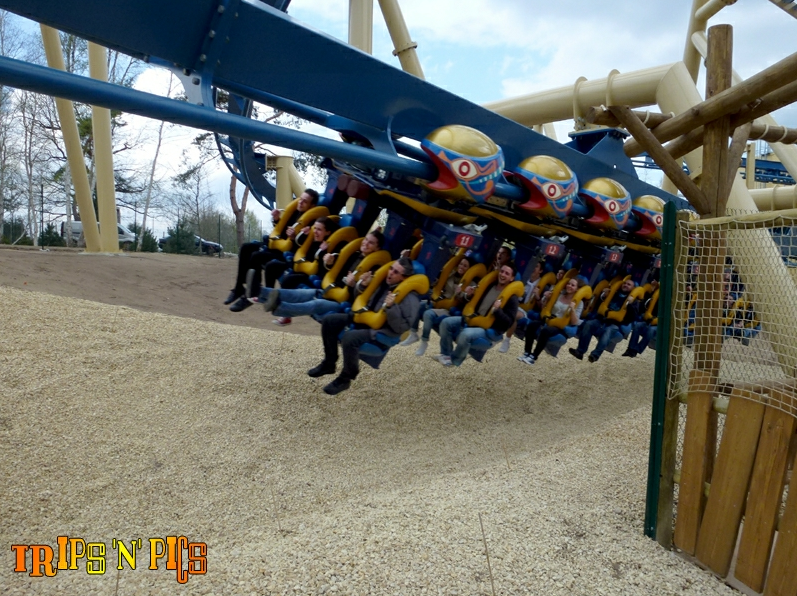 En condensé, l'histoire de l'attraction est celle du magicien Iris qui a bâti un temple à sa gloire en terre égyptienne. Celui-ci vient de mettre au point un tout nouveau sortilège : le regard qui tue. Ou plus exactement qui hypnotise les visiteurs du temple pour les faire s'envoler et tourbillonner dans les airs. D'où le subtile calembour qui fait office de nom: OzIris, non pas comme le dieu égyptien, mais comme dans «oserez-vous affronter le regard d'Iris?». Un nom avec du langage SMS pour les ados et du jeu de mot dedans pour plaire à la France de Laurent Ruquier: les vieux (de corps ou d'esprit). Si j'étais un connard, je dirais que le coup du du regard à affronter me rappelle un peu Indiana Jones Adventure à Disneyland (Californie). Mais comme je ne suis pas un connard, je ne le dis pas.
Toujours est-il que la scénographie rend l'entrée et la promenade dans la nouvelle zone égyptienne particulièrement impressionnante et dépaysante. La géométrie du temple tranche joliment avec la course effrénée du coaster qui serpente tout autour. Mais par dessous tout, il y a cet époustouflant plongeon des trains dans une cave inondée sous l'élégant plan d'eau adjacent au temple (les effets d'eau dans la cave étant malheureusement HS le jour de la visite). Un gimmick aussi impressionnant dans le train qu'à l'extérieur, ce qui permettra aux moins téméraires de ne pas s'ennuyer en attendant leurs amis têtes brulées. Donc la théma est impeccable, même si bon, on est pas chez Disney non plus : le souci du détail ne va pas jusqu'à cacher complètement baffles et installations lumineuses, mais dans l'ensemble peu de détails font vraiment tache. Maintenant, la maintenance déplorable du Parc Astérix arrivera-t-elle a maintenir OzIris dans l'état impeccable qu'il mérite?
Bien que les opérateurs prennent trop souvent le micro pour engueuler les visiteurs énoncer aux visiteurs les consignes de sécurité, on notera aussi une belle bande son créée spécialement pour OzIris, ponctuée de quelques gags (forcément) faisant écho à Mission Cléopâtre – d'autres clins d'oeil au film se sont glissés dans l'attraction et la file d'attente, mais je vous laisse le plaisir de les trouver par vous-même. En points bonus toujours, des statues égyptiennes qui nous offrent leur plus jolie duck face, ainsi qu'un petit hommage au classique des jeux videos Space Invaders.
Je suis intimement convaincu qu'OzIris n'aurait jamais pu être aussi spectaculaire – sur le plan des sensations comme des décors – s'il n'avait pas été conçu par un designer lui-même passionné de parcs à thèmes, et dont la connaissance et la culture du secteur est un atout qui se répercute naturellement sur la création. J'ai toujours pensé que les parcs d'attractions devraient écouter un peu plus leurs fans, premiers spécialistes de leur expérience visiteur. Je suis ravi de constater que ma thèse tient debout quand l'un d'entre nous intègre la conception, et plus que tout j'espère que le Parc Astérix et tous ses concurrents s'en inspireront à l'avenir.
Pour un tour complet de la conception de l'attraction, des détails techniques, des esquisses préparatoires et de jolies photos, je vous invite à découvrir le focus d'OzIris sur Trips'n'Pics.
Today let's get out of the Disney parks to visit DLP competitor Parc Astérix. They've just opened OzIris, an impressive roller coaster, so it's time for a Quality Control!
For 10 years, french forummers speculate on a B&M roller coaster for Parc Astérix. In this year 1012, the fan fantasy finally come true. But here is the thing. With Park Asterix, you never know what they'll come up with. I often don't get their choices when it comes to a new ride. For instance, I don't understand what the hell is the point of Transdemonium, I never stopped wondering why they've chosen a bobsled kind of coaster for Trace du Hourra in 2001 (I mean, the 80's were gone ten years earlier) and I'm having hard times figuring why they spent 11 millions € to give a madhouse so many preshows – however good and creative they can be. But as I said, you never know : a good suprise can also happen, just like in 1997 with Tonnere de Zeus wooden coaster.
OzIris has very good assets : an inverted roller coaster from B&M, 1000 meters long, 5 different and carefully selected inversions, a maximum speed of 90km/h, all in a beautiful 2 acres Egypt themed area. As you can see, OzIris has very strong points but the coaster is still very comfortable, which is very enjoyable. The sensations provided are not unpleasant or too intense as it can happen on same type models build on a smaller portion of land.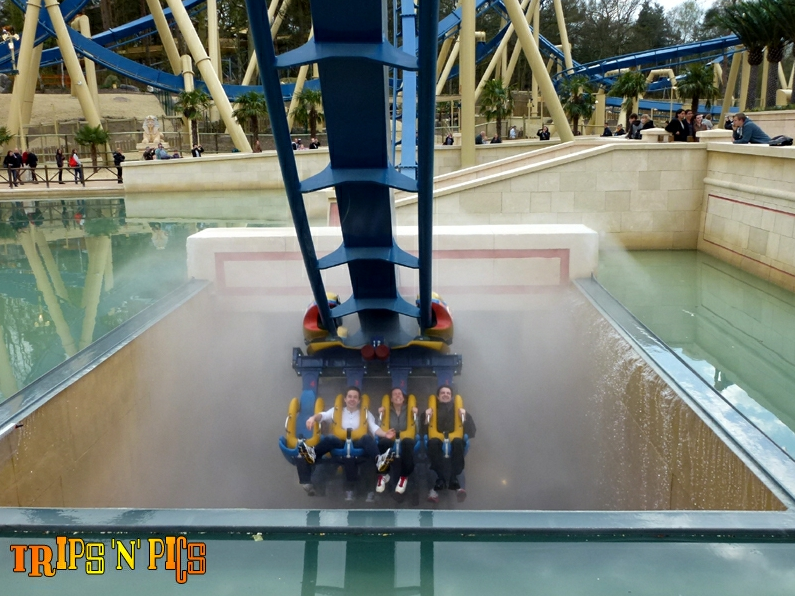 But the quality of theming is even more significant. This kind of big roller coaster often lacks of scenery because of the large scale they need but also because the ride in itself is already expensive enough. To compare with other major B&M inverted coasters that have scenery, I think Oziris theming is better than Nemesis and its tacky/cheap looking monster or Black Mamba and its cubic rocks that seem crafted in the 70's and its depiction of Africa with jungle drums and bone in the nose also dated from the 70's. 
Here with OzIris, Park Asterix took the brave and good decision to go fifty/fifty. The ride's total budget is 20 million €, and half of the money was dedicated to theming. And it's hard for me to tell this because I usually don't quite like what they come up with in terms of creativity, but Compagnie des Alpes (owner of Parc Astérix) did an amazing job on scenography for this attraction. From the waiting line, to the dazzling temple that serves as  the ride's queue and station, the attraction is neat and carefully detailed. 
OzIris tells the story of the great magician Iris (a character from the Asterix comics) who just built a temple to celebrate imself in Egypt. And he has just created a new spell : a look that hypnotize the riders to make them fly and spin into the air. This is where the name of the ride comes from : OzIris here does not reffers to the Egyptian god but it's a pretty lame wordplay that means something like «DareIsis» in french. French love wordplay. If I was a jerk, I'd say that this challenge to face an evil look reminds me of Indiana Jones Adventure in Disneyland. But I'm not a jerk so I won't say this.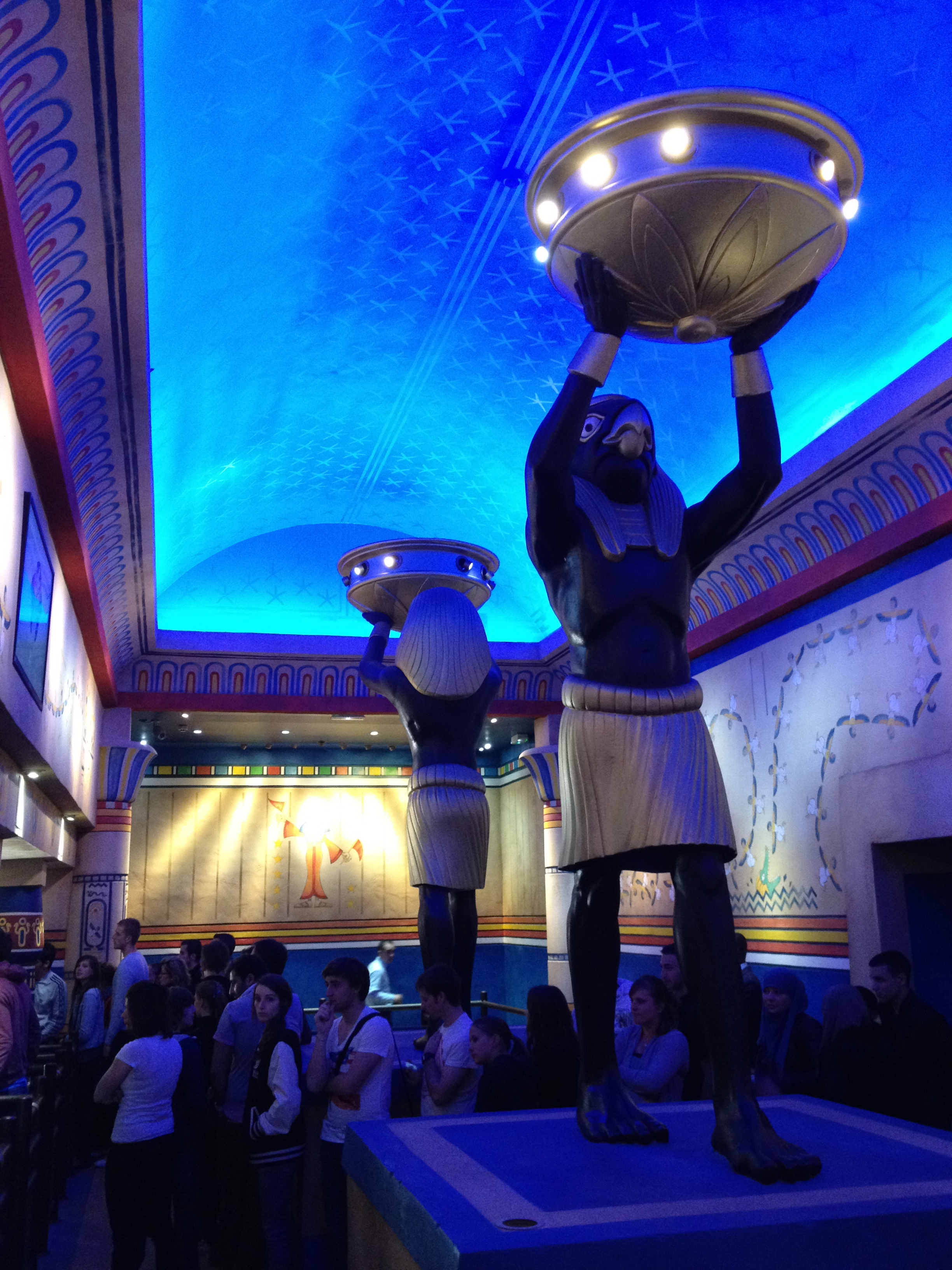 Anyways, the scenography makes your entry in the new Egyptian area very dramatic and exotic. The geometry of the temple very nicely contrasts with the roller coaster's fury that runs around the building. But above all, there is this breathtaking portion of track that make the trains dive in a flooded cave under the elegant lake in front of the temple (water effects from the cave were down on the day we visited the attraction). This gimmick is equally impressive aboard the train than if you decide to not embark. This will help the less dary ones to not be bored while they wait for their fearless friends. So the theming is great. Of course it's not the Disney level : they didn't go so far to hide every speaker or lamp, but overall you won't find so many wrong details or bad show. Now the question is : will the Parc Astérix terrible maintenance will be able to keep OzIris in the good condition it deserves?
Although the attraction employees take te microphone too often to yell at the guests give the guests safety instructions, there's a beautiful music loop playing in the area nicely  including gags from french live action movie hit Astérix – Mission Cléopâtre. There are several of them on the attraction and queue but I let you find them. I give OzIris more bonus points for egyptian statues making a duck face, and a small but cool tribute to video game classic Space Invaders.
I'm convinced that OzIris could never be so spectacular – in terms of sensations as well as scenery – if the designer was not a theme park fan, which the culture and knowledge of the industry is an asset that has an obvious consequence on the conception process. I always thought that amusement park management should listen a little bit more to their fans since they are the best experts you can imagine on guest experience. I'm glad to see that my point seems right when one of us steps inside the disign process of an attraction. Hopefully this experience will inspire Park Astérix and all the competitor to do the same in the future.
If you want a closer look on the attraction design, technical data, concept arts and beautiful pictures, I highly recommend you to discover Trip's'Pics review on OzIris.
Photos: Parc-O-Rama, Trips'n'Pics, Parc Astérix.
_______________________________________________________________________
Suivez le Parc-O-Rama sur Facebook , Twitter  et Google + ou via notre fil RSS .
Follow Parc-O-Rama on Facebook , Twitter and Google + or our RSS feed .