Notre pèlerinage floridien se poursuit aujourd'hui dans un parc dédié au monde merveilleux du show business : Disney's Hollywood Studios. En tant que visiteur régulier de Disneyland Paris, le plus dur sera évidemment de ne pas trop comparer ce parc avec les effroyables Walt Disney Studios. Silence sur le plateau, Contrôle Qualité, action !
En arrivant aux Disney's Hollywood Studios au petit matin, ne perdez pas une seconde à admirer les élégantes façades de Hollywood Boulevard. Non, foncez plutôt prendre un FastPass à Toy Story Mania qui doit certainement déjà afficher 90 minutes d'attente alors que le parc n'est ouvert que depuis 10 minutes. Et ça ne fera qu'empirer tout au long de la journée : passé midi, la distribution de Fastpass est terminée, donc ne discutez pas, vous perdez du temps. On en rigole, mais c'est quand-même très problématique. Le Fastpass est bel et bien la seule option pour faire Toy Story Mania dans des conditions décentes. Pour rappel, je considère qu'aucune attraction dans le monde ne mérite plus de 25 minutes d'attente grand maximum. Passées ces considérations personnelles sur ce que j'estime être un fiasco opérationnel, Toy Story Mania s'avère être un dark ride interactif particulièrement fun. On peut bien sûr trouver que la déco est un peu maigrichonne mais pour le reste il est difficile de ne pas se prendre au jeu. Un jeu qui a été intelligemment conçu en crescendo : les niveaux sont de plus en plus remuants, jusqu'au level final où l'acharnement pour battre votre voisin se transforme en véritable moment d'hystérie. Très bien pensé. A la sortie de Toy Story Mania, vous n'avez qu'une idée en tête : y retourner illico pour prendre votre revanche.  Ah oui, petit problème : il n'y a plus de Fastpass et l'attente stagne à 120 minutes. Tout de suite ça casse l'ambiance. Toujours est-il que la 3D est tellement bien utilisée qu'elle a tout son sens sur Toy Story Mania – toutes les attractions à lunettes 3D ne peuvent pas en dire autant – et l'interaction de la 3D avec des effets physiques est pour une fois vraiment saisissante, comme ce coup d'air comprimé sur le visage quand un objet est vous est lancé à la figure. Moi qui avais de gros doutes sur l'intérêt de cette attraction, j'ai été très agréablement surpris. Et Toy Story Mania a décidément tout pour plaire puisque l'attraction prend place dans la très jolie Pixar Place (je veux la même à Paris!). De loin mon coin préféré du parc.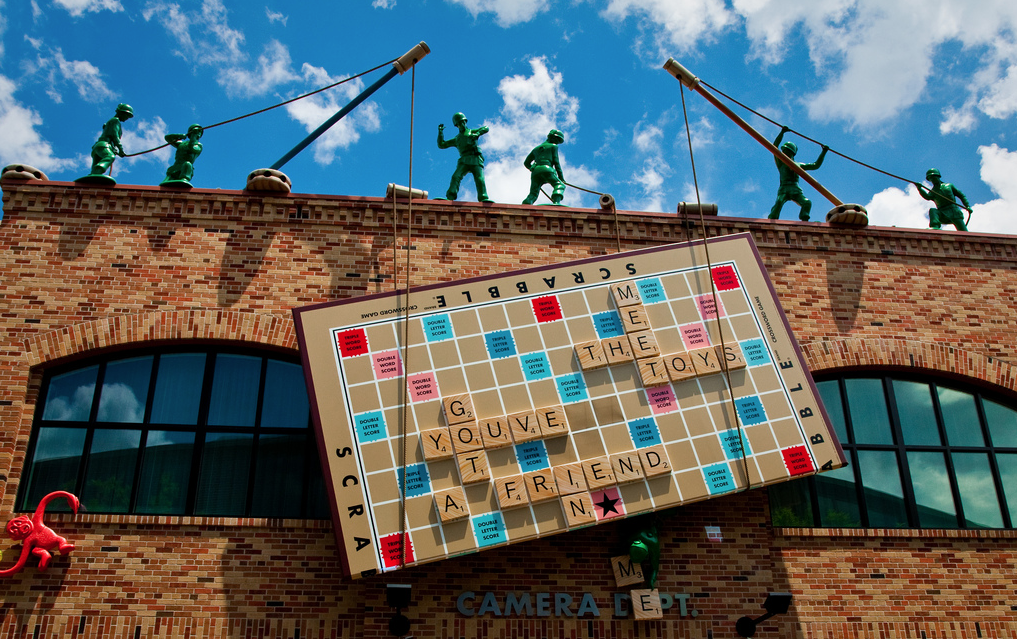 Gardons nos lunettes sur le nez et filons à Muppet Vision 3D. Pour les vannes, c'était déjà gagné d'avance puisque je suis complètement fan de l'univers bordélique et premier degré des marionnettes de Jim Henson. La file d'attente et le théâtre sont d'ailleurs très fidèles à la licence, ce qui fait toujours plaisir. Pour ce qui est du film, certes on ne s'ennuie pas, on se marre beaucoup même, mais quand vous passez une semaine à Walt Disney World et Universal, vous réalisez très vite que tous ces cinémas 4D sont redondants à souhaits, et ce malgré qu'ils soient souvent classés parmi les meilleurs du monde. On a presque envie d'y assister avec une check-list en mains. Jets de pluie : check. Fumigènes : check. Animatroniques dans la salle : check. Vent : check. Bulles-pour-les-chiards : check. Sièges dynamiques : check. Ah, il faudra quand même dire à WDI que le personnage de Waldo en images de synthèses met mal à l'aise tant il fait tache avec le reste. Comment ont-ils pu valider ça?
Restons encore au rayon 3D et voyons ce que donne la récente update de Star Tours – The Adventures Continue. S'il est indéniable que la mise à jour des films est un grand pas en avant et que les personnages et univers de Star Wars sont enfin au rendez-vous (la vraie question étant : pourquoi n'étaient-ils pas dans l'attraction dès le début ?) l'expérience générale de l'attraction n'a pas vraiment changé. La 3D est ici un gadget pas indispensable et l'argument des scènes aléatoires ne nous a pas spécialement donné envie de faire un second tour. Certes, je ne suis pas un grand fan de simulateurs, ce qui n'aide pas. Cela dit, je suis convaincu que des milliers des visiteurs réguliers ou fans de Star Wars retourneront faire un tour avec plaisir, ce qui fait néanmoins des scènes aléatoires une très bonne idée sur le plan stratégique et opérationnel.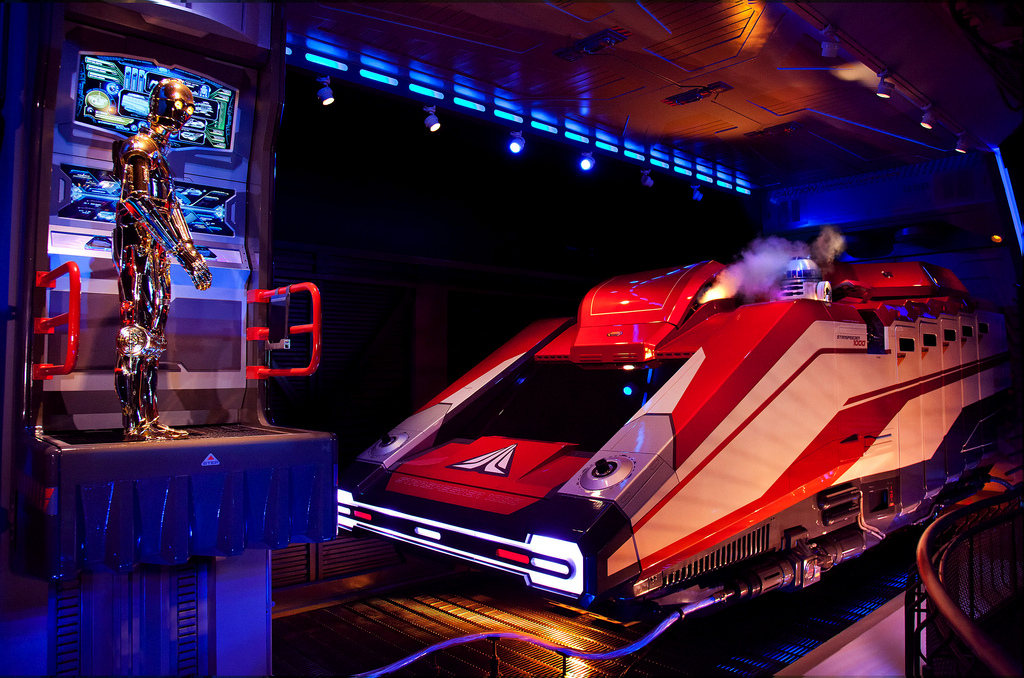 Je vous parlerais volontiers de Studio Backlot Tour, mais ce qu'on y voit est à ce point soporifique que je ne me souviens plus de grand chose. Saviez-vous que cette attraction, semblable à studio Tram Tour à DLP, est en réalité ce que Disney a trouvé pour concurrencer les tours en tram des (vrais !) studios Universal à Hollywood. Si visiter de véritables lieux de tournage est en soi une bonne idée, quel est donc l'intérêt de visiter de faux studios de cinéma en faisant semblant que tout est vrai?
Au centre du parc, The Great Movie Ride est un dark ride dans lequel nous revisitons les grands moments du cinéma (hollywoodien, cela va de soi). Les décors sont brillamment reconstitués et les quelques surprises réservées par le conducteur du véhicule sont très plaisantes, mais ne suffisent pas à rendre cette attraction vraiment marquante. L'ajout d'un film récent ne ferait pas de mal mais ne résoudrait pas le problème pour autant. The Great Movie Ride prend place dans une réplique du Grauman's Chinese Theatre, malheureusement cachée depuis près d'une décennie par un énorme chapeau de Mickey magicien en raison d'une sombre histoire de droits. Un problème dont Disney ne semble pas se préoccuper malgré qu'il gâche entièrement la scénographie de l'entrée du parc.
Contrairement aux idées reçues, Rock'n'Roller Coaster n'est pas si différent de son homologue parisien. Disons que les deux versions ont leurs atouts. Et leurs défauts aussi. En Floride, l'histoire est moins tirée par les cheveux et les décors de la file d'attente ainsi que l'architecture extérieure sont plus soignés – sans être très recherchés non plus. A Paris, je préfère le concept du lightshow brut, mois déjà vu que des décors peints sur des planches en bois. A choisir la version de WDW fait quand-même moins cheap que celle des WDS.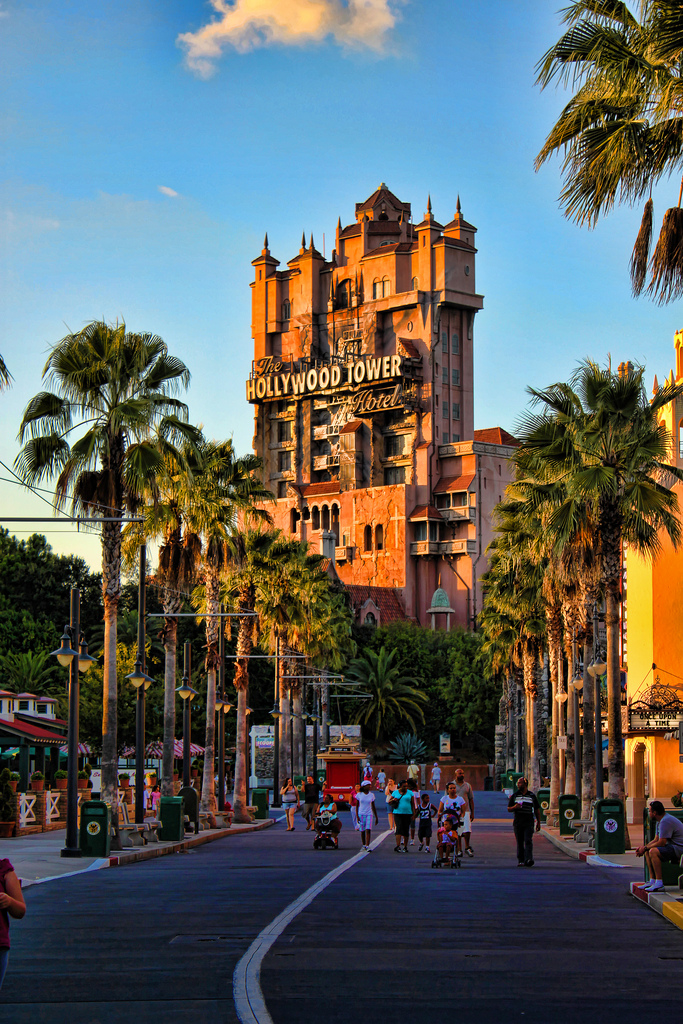 Et la pièce maitresse, Tower of Terror, ça dit quoi en Floride? La scénographie est nettement plus aboutie à WDW, grâce aux allées de la file d'attente qui serpentent dans des jardins à l'abandon où la végétation semble reprendre ses droits ainsi que l'impeccable Sunset Boulevard. Ce dernier, en duo avec la tour offre une des perspectives les plus dramatiques jamais créées pour un parc.  La file intérieure est similaire à la version parisienne à quelques détails près. Les différences majeures sont à trouver dans le ride : le déplacement du véhicule à l'horizontale ajoute pas mal de mystère au parcours et le principe des programmes de chutes aléatoires est un plus particulièrement appréciable – nul doute qu'il arrive un jour à Paris. J'ai souvent lu que les deux trois décors installés le longs des déplacement horizontaux faisaient cheap et dépassés. Ils ont effectivement un petit côté désuet. Personnellement leur exécution légèrement bricolée ne m'a pas dérangé. Je précise qu'on ne trouve pas ces décors à DLP. Sur le plan de l'architecture, je préfère de loin le style Pueblo-Deco de la ToT parisienne, mais la scénographie extérieure exceptionnelle de la tour de WDW ainsi que ses chutes aléatoires remportent le match.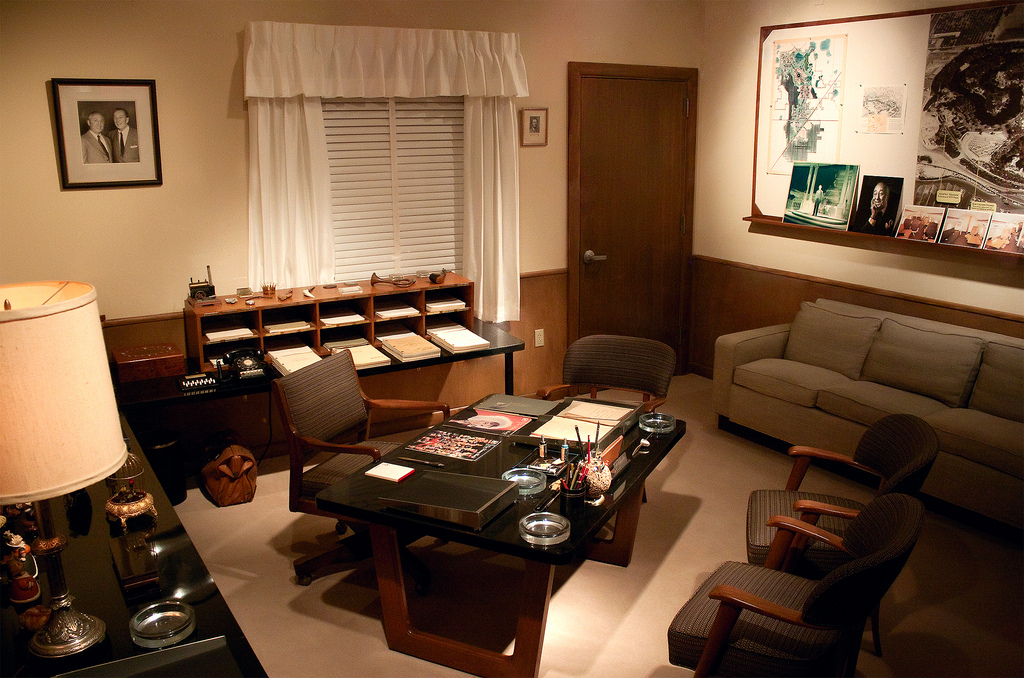 L'exposition One Man's Dream, en hommage à Walt Disney n'est visiblement pas l'attraction la plus populaire du parc et c'est pourtant une de celles que j'ai préféré. On y trouve notamment une très belle reproduction du bureau de Walt Disney dans les années 50, des maquettes des parcs à n'en plus finir et un film sur le parcours de l'oncle Walt. Intéressant, émouvant et inspirant.
Vous ne le savez peut-être pas mais je ne suis pas fan d'humains costumés et masqués en train de danser sur de la musique pour enfants de 3 à 6 ans. En d'autres termes, les spectacles de parcs m'emballent rarement. Nous n'avons donc pas été voir Fantasmic ni Beauty & The Beast. Ni American Idol Experience ni même aucun des deux stunt shows. Sans regret aucun puisque nous avons ainsi économisé un temps précieux pour faire de vraies attractions. Comme ça c'est dit. Cependant, nous avons beaucoup apprécié la qualité des animations de rue, nombreuses et amusantes.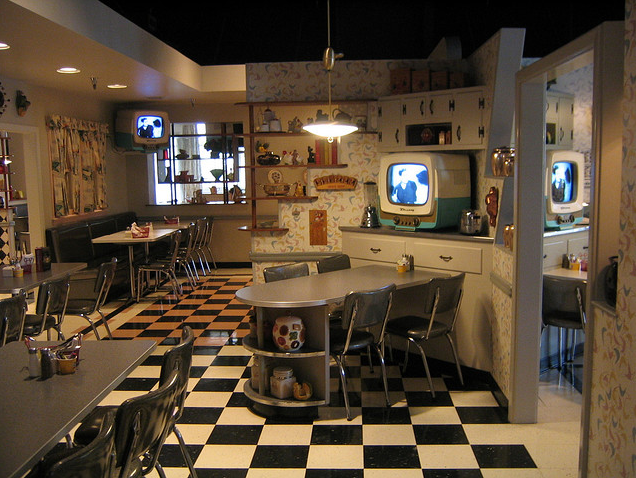 Mention spéciale néanmoins au restaurant 50's Prime Time Café. On y mange très bien, la déco personnelle et kitsch est absolument divine mais on y vient surtout pour l'hilarant show des serveurs. Gare à vous car si vous ne finissez pas votre assiette ou si vous mettez les coudes sur la table, vous risquez de vous faire taper sur les doigts. Fou rires garantis. A mon sens, ce type de concept marcherait difficilement en Europe où les gens sont beaucoup plus passifs que les américains face à l'entertainment suscitant la participation des spectateurs. Pour preuve, DLP en a fait les frais il y a quelques années en proposant un show où le public était sensé danser avec Stitch. Flop. Toujours est-il qu'à WDW, l'idée marche à merveille, et je vous mets au défi de ne pas en sortir avec un grand sourire sur le visage tant les serveurs maitrisent à merveille l'art de l'improvisation théâtrale. Je n'ose pas imaginer la montagne de pourboire qu'ils doivent toucher. Dans un autre genre, il paraît que le Sci-Fi Dine-in Theater vaut le détour lui aussi mais ce sera pour une autre fois.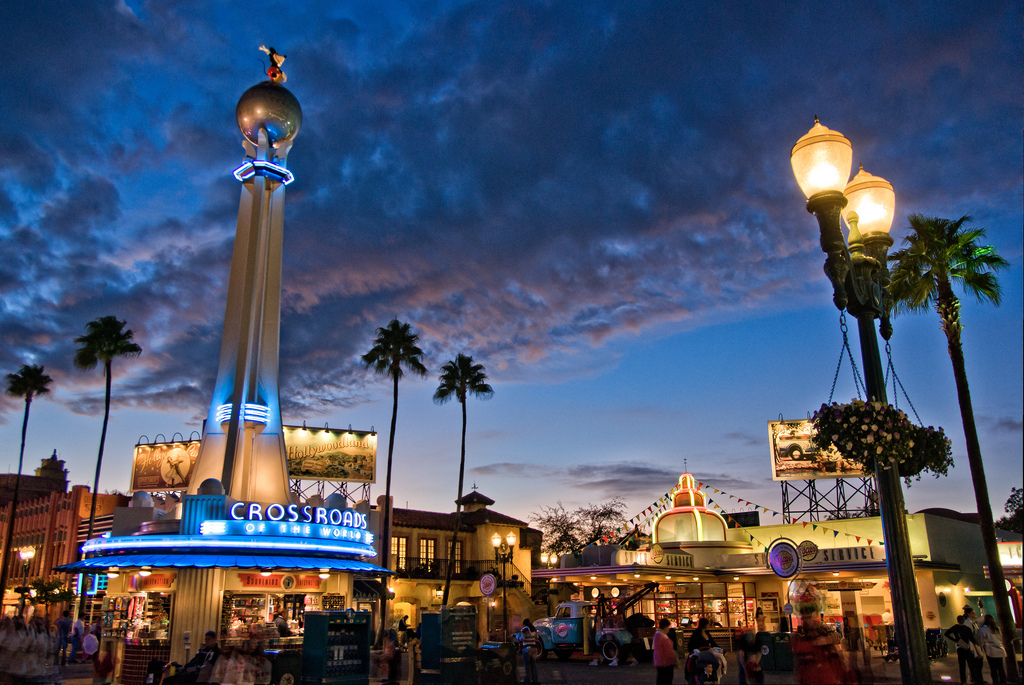 Avant de mettre les pieds aux DHS, et connaissant bien les Walt Disney Studios de Paris, je me demandais comment un parc thématisé sur des studios de cinéma pouvait être sexy. Sans être éblouissants comme un Magic Kingdom ou Animal Kingdom, un certain charme se dégage néanmoins des DHS. Certaines zones plus aérées et vertes ou bénéficiant d'une architecture rétro sont naturellement plus chaleureuses que les coins plus fidèles à ce que sont de réels studios de cinéma. Ce qui est en soi assez ironique puisque le thème principal du parc, ce sont les studios de cinéma. Je ne sais pas s'il est utile de le préciser, mais même les coins les moins les moins jolis des DHS comme Animation Courtyard ne sont tout de même pas aussi austères et cheap que le Backlot glauque des WDS parisiens. Au final, on ne peut pas dire qu'on s'ennuie aux Disney Hollywood Studios, mais le manque de deux ou trois attractions de grande ou moyenne envergure se fait quelque peu ressentir après quelques heures. Peut-être est-ce dû au fait que de nombreuses attractions sont en réalité des shows ou apparentés. En tout cas, le concept de parc thématisé sur des studios de cinéma finit toujours par poser le même problème : ces lieux de production n'ont rien de sexy en principe. Dès lors, cette catégorie de parcs à thèmes n'en finit pas de se chercher et de se réinventer. Ici, les DHS s'en sortent honorablement, mais le concept du parc n'est pas clair et surtout le niveau esthétique reste très aléatoire selon les zones. Disney's Hollywood Studios est peut-être le parc le moins attrayant de Walt Disney World. Si vous me permettez une analogie toute pourrie, cela reviendrait à être le moins bon joueur de la meilleure équipe de foot de tous les temps. Excusez du peu !
Lisez aussi:
Contrôle Qualité : Magic Kingdom at Walt Disney World

Contrôle Qualité : Epcot at Walt Disney World
Photos: Lien vers source sous chaque photo.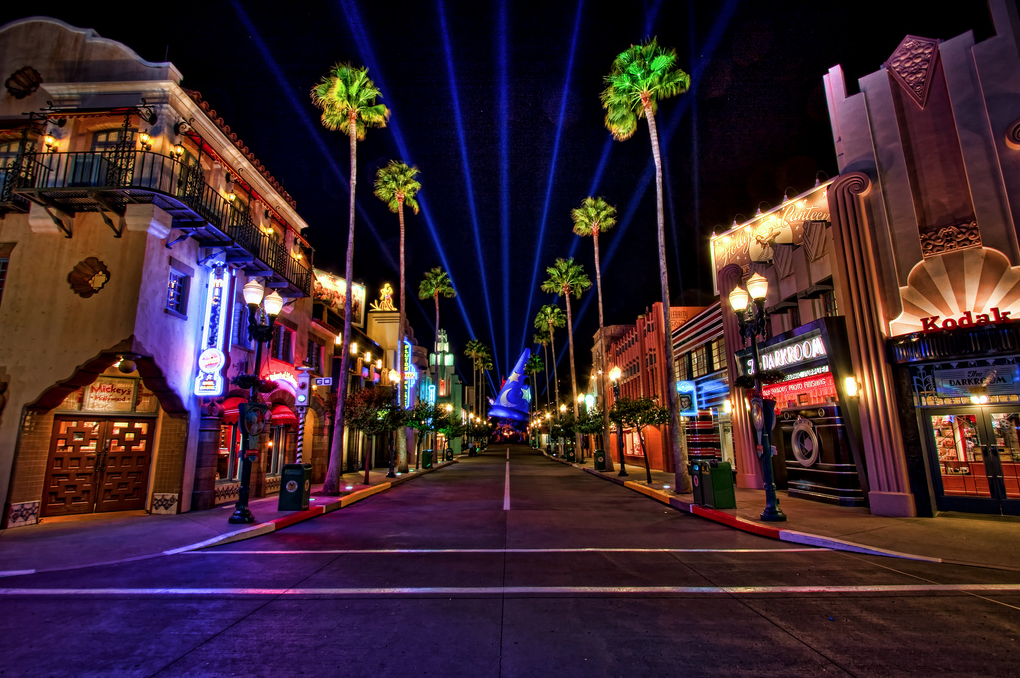 Our first visit to Walt Disney World goes on today in a park themed on the glittering world of show business: Disney's Hollywood Studios. As a long time Disneyland Paris guest, I'm going to try to not compare too much our terrible Walt Disney Studios park with it's Florida cousin. Let's get this Quality Control started. Action!
When you arrive to Disney's Hollywood Studios, don't loose your time staring at Hollywood Boulevard elegant facades. Instead, head as fast as you can to Toy Story Mania to grab a Fastpass, because there probably already is a 90 minutes wait although the park opened its doors just 10 minutes ago. And it's going to be worse all day long. At noon, Fastpass distribution will probably be over, so stop asking questions and go get one immediately. More seriously, I think it's really a problem. Fastpass is the only decent way to go to Toy Story Mania. Because in my personal opinion, no ride in the world deserves more than 25 minutes of waiting. Anyway, besides what I consider an operational fiasco, I found Toy Story Mania really fun for an interactive dark ride. You may find the theming pretty light in but the game itself is really entertaining and very well designed. The levels become more and more animated and difficult, until the final one, which quickly becomes a pure moment of madness while you fight like crazy to win. Very well done. When you exit Toy Story Mania, all you want is go back to revenge. But there's a little problem: Fastpass distribution is done for today and there is a 120 minutes wait. Bummer. Anyway, the Imagineers made a great use of 3D technology on TSM – not every 3D attraction can say so – and the interaction between 3D and physical effects are truly striking, lair blow on your face when something is thrown in your direction on the screen. To be honest, I wondered if this ride had any interest before I rode it, but this really was a great surprise. But there's more: Toy Story Mania is located on the gorgeous Pixar Place (I want the same in Paris!). By far my favorite place in the park.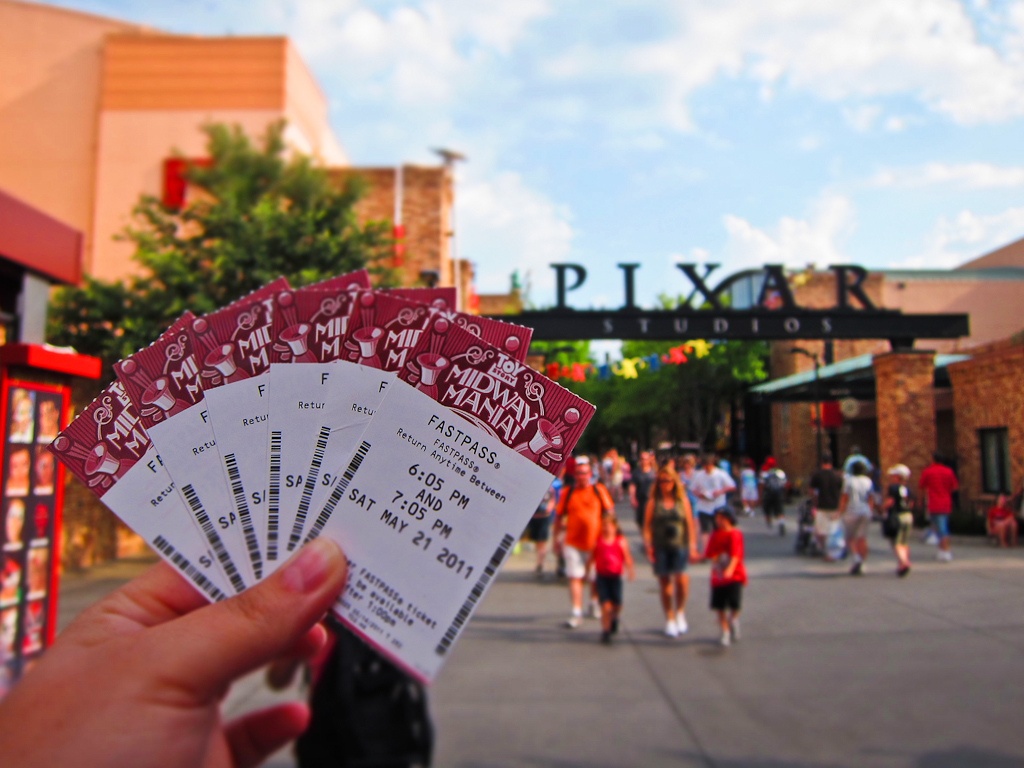 Keep your glasses on and let's head to Muppet Vision 3D. I have to say that I'm a fan of the naïve humor and messy universe of Jim Hanson's puppets. So it's an understatement to say that I loved the jokes. Theming in the queue and theatre is nice and very close to the original series and movies. Long story short, the movie is really funny, you laugh a lot but when you spend a week or more in Walt Disney World and Universal Orlando, you quickly realize that all these 4D movies are totally redundant, although most of them are probably the best ones in the world. You could even watch them with a checklist. Rain: check. Smoke: check. Animatronics in the theatre: check. Wind: check. Bubbles (to make little girls happy): check. Dynamic seats: check. Oh and someone should tell WDI that this Waldo character made of computer generated graphics is an embarrassment and has absolutely nothing to do with the beloved Muppets. What the heck did they have in mind?
Don't remove your 3D glasses yet because here comes Star Tours – The Adventures Continue. The update of the movie was much needed and it's a great step forward. So is the addition of many important characters of the Star Wars universe (the real question is: Why weren't they in the attraction from the beginning?).  But the overall experience remains quite the same in the end. 3D is really not necessary here and the random scenes didn't convince us to go for another ride. Of course, the fact that I'm not a fan of simulator rides is not helping. That said, I'm 100% sure that thousands of local guests and Star Wars fans will go to Star Tours 2 again and again. Which makes this random scenes concept a very clever move on the strategic and operational level.
I would be delighted to tell you everything I've seen in Studio Backlot Tour, but it was so boring that I don't remember anything. Sorry. Did you know that this attraction, similar to Studio Tram Tour in Paris is actually Disney's answer to (the true) Universal Studios in Hollywood, where you can tour a true studio backlot in a tram? If visiting actual movie sets make sense, touring fake ones while pretending everything is real is completely pointless to me. At least Catastrophe Canyon is not covered with dirt in WDW.
In the heart of the park is The Great Movie Ride, a dark ride that takes you in a journey through great moments of (Hollywood!) cinema. The scenes are very well detailed and good-looking and the driver of your vehicle has a few surprises along the ride, but it's not enough to make this attraction really memorable. The addition of a recent movie would be nice but it wouldn't fix the problem. The Great Movie Ride is located in a replica of the Grauman's Chinese Theatre, unfortunately hidden behind a gigantic Sorcerer Mickey Mouse hat because of an obscure right disagreement with the Chinese Theatre. A problem Disney doesn't seem to pay attention to, which is very sad since it completely ruins the amazing scenography once you enter the park.
Unlike what I've been told, Rock'n'Roller Coaster is not SO different or SO much better than its cousin from Paris. I'd say both versions have advantages and drawbacks. In Florida the storyline is less farfetched and the outside architecture as well as the queue area have a nicer design. In Paris, I prefer the pure lightshow concept in the rollercoaster building, which is less déjà-vu than painted billboards in black light. If I had to choose one, I'd go for the WDW version of the ride because it doesn't look cheap and somewhat ugly as in WDSP.
But what about the masterpiece of the park: The Twilight Zone -Tower of Terror? The scenography is much more dramatic here in WDW, thanks the queue walkways that make their way through this wild and abandoned garden.  Sunset Boulevard in front of the Tower also provides one of the most tremendous sights ever created for a theme park. The inside queue is very similar to the WDSP version. To find major differences, you have to step in the elevators which also move horizontally. This adds a little bit of mystery to the ride. Tower of Terror in WDW also has a random drop sequence program, which is absolutely enjoyable – I'm convinced this feature will arrive in Paris… Someday. I've often read that the props during the horizontal movements of the elevators looked cheap and tacky. Indeed these are not the most up-to-date decors I've seen in a park but I have to say that I appreciated their old-fashioned feel. I should mention that you don't find these props in Paris. In terms of architecture, I definitely prefer the Pueblo-Deco style of the French version of the Hollywood Tower Hotel. But the outstanding outside design and landscaping of the attraction as well as the random drop sequences in WDW have my vote.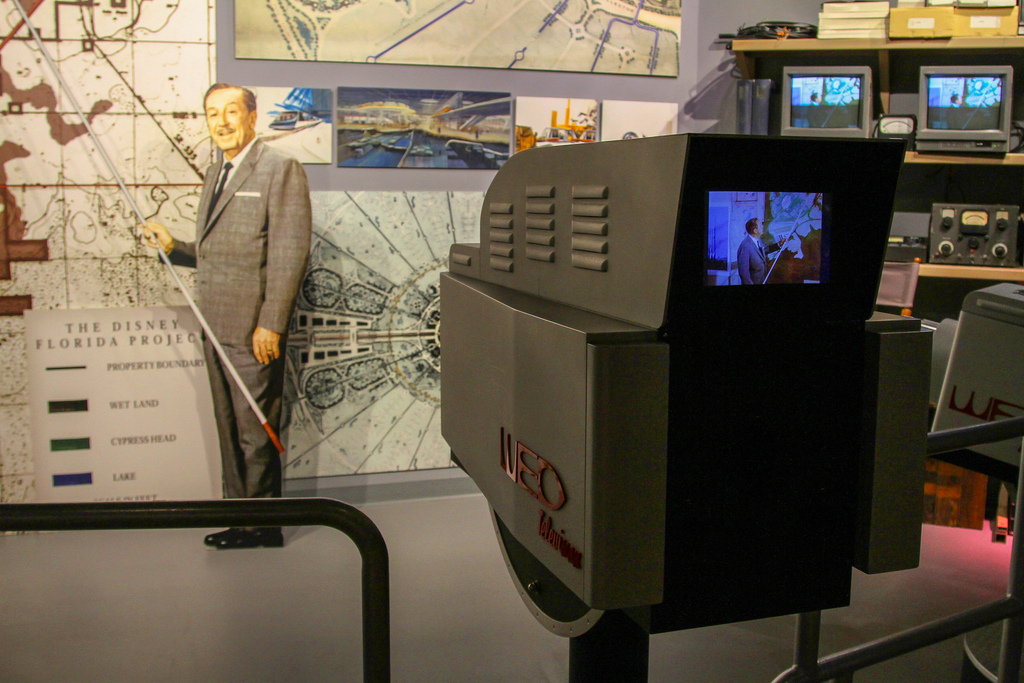 The One Man's Dream exhibition isn't the most popular attraction of the park, but it's definitely among my favorites. It showcases a large collection of Disney attraction models, a wonderful reproduction of Walt Disney's office during the 50's and a beautiful tribute film about Walt Disney's life and career. Equally interesting and inspiring.
You probably don't know this but I'm not a fan of humans in full covering costumes, dancing on kiddie music. In other words, I don't like theme park shows. For that reason, we chose not to go see Fantasmic neither Beauty and the Beast. Neither American Idol Experience nor both of the stunt shows. With no regret at all because it gave us the opportunity save a precious amount of time to ride real attractions. Besides, we really enjoyed the many and very funny street animations.
Also, I'd like to give a big thumb's up to the 50's Prime Time Café. The food is delicious, the kitsch and intimate decoration is a delight but the real attraction here is the hilarious show provided by the waiters. Beware if you don't finish all your meal or put your elbows on the table, they may punish you! Really funny. I think this kind of concept would not work here in Europe, where people are much more passive than Americans when it comes to 'intrusive' entertainment or requiring active participation of the audience. DLP had a bad experience a few years ago with a show where European people were supposed to dance with Stitch. Flop. Anyways, this concept works great in WDW, and I challenge you to not leave the restaurant with a huge smile on your face. I can't even imagine the crazy amount of tips the waiters get there every day. Another restaurant in DHS offers an immersive experience to the guests: Sci-Fi Dine-In Theatre, but we didn't have the chance to try it.
Before I enter the DHS, and as a frequent Walt Disney Studios Paris guest, I wondered how a park themed on movie studios could be sexy. Well, though it's not dazzling as a Magic Kingdom or Animal Kingdom, DHS has charm. Some areas with more space and greenery, or having a retro architecture are of course much cosier that places with a more accurate look regarding to real current movie studios. Which is somewhat ironic since the theme of the park is movie studios. I'm not sure I should clarify this point but even the less attractive areas of Disney's Hollywood Studios – like Animation Courtyard – certainly don't look as terrible and cheap as the hideous Walt Disney Studios park in DLP. In the end, you can hardly become bored in DHS, although you can start feeling the lack of a couple of D or E ticket rides after a few hours. Maybe it's because a lot of shows or movie theatres count as real attractions. Anyway, at some point movie studios themed parks always have the same problem: the depicted production sites are not beautiful in real life. Why would it suddenly become gorgeous in a theme park? For that matter, this specific category of theme parks tries to reinvent them again and again. Don't get me wrong, I found DHS a great theme park, I just think the concept isn't clearly defined and more importantly, several areas really don't look good. In my opinion, Disney's Hollywood Studios is maybe the less attractive theme park of Walt Disney World. If you allow me to make a very bad analogy, it's like being the worst player of the greatest football team of all times. Which is not that bad after all.
Read also:
Contrôle Qualité : Magic Kingdom at Walt Disney World.
Contrôle Qualité : Epcot at Walt Disney World.
Photos: link to source under every picture.
___________________________________________________________
Suivez le Parc-O-Rama sur Facebook et Twitter ou via notre fil RSS .
Follow Parc-O-Rama on Facebook and Twitter or via our RSS feed .