JUMP TO ENGLISH TEXT, CLICK HERE!

Une semaine après son déroulement, revenons sur la polarisante Assemblée Générale des Actionnaires d'EuroDisney : le seul événement du genre où les actionnaires sont plus intéressés par la propreté de la moquette que par leurs dividendes. Le seul événement du genre où des actionnaires  se plaignent de ne pas toucher de dividendes alors qu'ils ont acheté des actions pour recevoir quelques croissants gratuits alors que le Resort était déjà dans le rouge – à moins bien-sûr qu'ils aient acheté leurs actions avant 1992. Bref. Notre envoyé spécial Pierre-Bertrand (aka @Timekeeper sur Twitter) nous offre un compte-rendu très personnel des choses qui comptent vraiment dans une assemblée générale d'actionnaires, à savoir l'assortiment de croissants ou  la taille des écouteurs. Attention, vous ne serez peut-être pas d'accord avec lui, vous êtes prévenu!
Il y a deux ans je vous parlais du climat apaisé, quasiment magique, qui s'était formé autour de l'assemblée générale. Une situation reproduite à l'identique l'an dernier, où Philipe Gas s'était fait plaisir en offrant à chaque actionnaire une paire de Light Ears pour mieux se moquer gentiment de nous en soulignant comme nous étions beaux, coiffés de cet accessoire clignotant. En 2014 on prend les mêmes et on recommence : l'effet de surprise est définitivement passé, et Philipe Gas continue d'imposer son style sur le Resort et sur ses petits actionnaires.

Alors que les chiffres de fréquentations n'ont vraiment pas été bons l'an dernier, c'est une « AG » à la voilure réduite qui nous a été offerte. Organisée dans la salle de Cinémagique, ça évite de bloquer un centre de conventions et donc de perdre de potentiels revenus, l'émargement se faisait dans Studio 1 et le petit déjeuner à Rendez-vous des Stars et au Blockbuster Café. Le gros badge plastifié et sa lanière ont laissé place à un simple bracelet en plastique indéchirable comme on en trouve pour n'importe quelle soirée privée en discothèque. Quand au petit dej', ce fût croissants et pains au chocolat. Envolés les muffins. Terminé les madeleines. Adieu les meringues. Tout était fait pour qu'on ai pas envie de s'y attarder. Une fois dans Cinémagique, les casques de traduction Sennheiser habituels ont laissé place à un modèle Bosch très laid avec un gros casque en plastique filaire et un récepteur énorme qu'on ne sait pas trop où poser.

Nos dirigeants ne s'attarderons pas non-plus : l'AG est annoncée plus courte que d'habitude et effectivement, l'énoncé des chiffres clés, les différents rapports, la présentation de la saison 2014 et le traditionnel petit spectacle ne dureront pas plus de 45 minutes. Trois quarts d'heure durant lesquels Philipe Gas illuminera encore l'auditoire de sa dentition Colgate™. Trois quarts d'heure durant lesquels Virginie Calmels aura merveilleusement réussi à faire oublier Antoine Jeancourt-Galignani, rappelant qu'elle s'est engagée à acheter 250 actions EDSA par an et nous gratifiant même d'un magnifique « je ne suis pas la fée Clochette » qui restera dans les annales.

La présentation de Ratatouille fût assurée par Tom Fitzgerald, Imagineer Américain en charge du projet. Peu de choses que les fans, qui se refilent les plans de l'attraction sous le manteau depuis plus d'un an, ne savent déjà, mais de belles photos : les animateurs de Pixar au travail, Tom chez Pixar discutant du storyboard avec Brad Bird. Et surtout le logo français de l'attraction, et la photo d'une maquette géante d'une portion de l'attraction, construite par WDI pour saisir toutes les subtilités du changement d'échelle et éviter les déconvenues une fois l'attraction terminée.

Après un petit spectacle sur le thème de Ratatouille, vraiment très court, arrivent – enfin – les questions/réponses. Un premier actionnaire, bien connu des habitués, revient, comme chaque année, demander pourquoi il ne peut plus garer son camping-car sur le parking du Disneyland Hotel grâce à sa carte d'handicapé. Brandissant de nombreux documents officiels français et européens, sa question s'éternise et il fini par se faire huer par le public.

Ce n'est pas du goût de tout le monde puisque deux questions plus tard une autre personne se présentera ainsi : « Bonjour, ça fait 41 ans que je suis handicapé si ça peut en intéresser certains qui n'en ont rien à foutre ». Malaise dans la salle. La question de cet actionnaire n'avait d'ailleurs rien à voir avec handicap puisqu'il reprochait à Euro Disney de n'employer qu'un seul pianiste au bar du Disneyland Hotel, ce qui serait selon-lui indigne d'un 4 étoiles. Ce qui semble suffire à lui faire dire en conclusion qu' « il ne faudrait pas que le rêve devienne un cauchemar car vous ne savez plus faire rêver les gens ».

Quelqu'un demande une date précise pour l'ouverture de Ratatouille. Bien tenté, mais vain. Derrière moi quelqu'un espère « avant le 11 août » : c'est la limite de validité des tickets d'entrée qui nous ont été offerts. Un autre souhaite que le Club Actionnaire ait une page Facebook, on prend note merci.

Les questions s'enchainent, toutes plus critiques mais on ne sait plus si les actionnaires présents s'inquiètent réellement pour le Resort où pour leurs petits avantages personnels. Le Club Actionnaires plus restreint, la disparition des passeports annuels gratuits, semblent tout autant inquiéter les petits actionnaires que la crise économique. Philipe Gas n'est pas dupe quand il s'adresse plus au fan qu'à l'actionnaire en face de lui « …vous le savez très bien, vous qui venez très souvent… ». Pan sur le bec.

Un Philipe Gas plein d'énergie, mordant. Quand un actionnaire demande à ce qu'EuroDisney se rebelle face à la maison mère la Walt Disney Company, Philipe s'étrangle, monte au créneau et défend son bébé coûte que coûte : « pourquoi faudrait-il toujours s'opposer ? » il reste droit dans ses bottes depuis 5 ans et tient la barre dans un contexte difficile. « On a fait un choix, ça impose des sacrifices. Nos choix sont difficiles car il faut tenir un cap ». Il agite les bras à gauche, à droite, dans toutes les directions. Philipe semble au bord des larmes quand il annonce qu'« on peut discuter des stratégies mais pas de l'intégrité des membres du management ». Philipe, ce n'est pas qu'un sourire légendaire : cet homme aime son Resort, ça se sent. Les années passent et c'est maintenant sûr et certain, Philipe Gas est un bon PDG pour EuroDisney, le premier depuis très, très longtemps (depuis Bourguignon ?).

Après une heure de questions/réponses, plus que la première partie donc, le vote des résolutions se passe lui aussi rapidement puis il est temps de quitter la salle. Un attroupement se forme devant la scène, quelques journalistes mais aussi des actionnaires souhaitant simplement une photo avec Philipe Gas, probablement accompagné d'un Guest Flow en blouson rouge pour assurer sa sécurité ;-) Alors qu'à côté de moi un homme est resté assis et a sorti tranquillement son iPad pour jouer à Candy Crush, on diffuse « It's a Small World » dans une tentative désespérée de faire fuir les derniers retardataires et les hôtesses viennent nous signaler que si on ne se dépêche pas, il n'y aura peut-être plus de cadeaux.

Ni une, ni deux, me voilà dehors et en guise de conclusion le cadeau fini de confirmer cette impression d'assemblée générale plus économique : un tablier Ratatouille exclusif imprimé à l'arrache façon transfert, qui ne résistera pas au premier lavage. Il est même possible que Philipe Gas les aient tous collés lui-même au fer à repasser. Honnêtement, il est tellement investi dans l'entreprise que ça ne m'étonnerait même pas.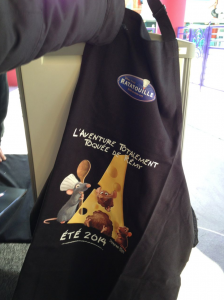 One week later, let's have a deeper look at the polarizing Annual Shareholders Meeting of Disneyland Paris. The only event of its kind where the shareholders are more concerned about the cleanliness of the carpet than their dividends. The only event of its kind where shareholders complaint because they never get any dividend while they only bought a few shares to get free croissants at a time the Resort was already debt-ridden – unless they bought their shares before 1992. Anyway. Our guest-reporter Pierre-Bertrand (aka @timekeeper on Twitter) brings us a very personal report about the things that really matters at a shareholders meeting : freebies or the size of translation headsets. Be careful : you may not agree with his opinions!
Two years ago I told you about the peaceful and magical atmosphere that took place during Disneyland Paris Annual Shareholders Meeting. Well, it was the same at last year's presentation, where Disneyland Paris CEO Philippe Gas graciously gave every shareholder a free pair of Light Ears, in order for him to gently make fun of us while stressing how nice and pretty we all were with our flickering hats. Same story this year, therefore with less surprise, as Philippe Gas continues to mark the Resort and the shareholders with his very own style.

As attendance figures were really not great last year, we got a lo-fi version of the shareholders meeting this year. The main show took place at Cinémagique so they didn't have to book an entire convention center and lose potential revenues. Check-in happened in Studio 1 and breakfast was served at Restaurant des Stars and Blockbuster Café. Last year's big plastic tag and lanyard got replaced by a generic plastic bracelet like those you get at any private party in a club. Breakfast was also reduced to croissants and pains au chocolat. Off with the muffins, madeleines and meringues, so you don't want to stay too long eating breakfast. Once you enter Cinémagique, the classic Sennheiser translation headsets got replaced by a very ugly device from Bosch, with big wired headphones in plastic and an antenna so huge you don't know where to put it. 

The management decided to make the presentation shorter than usual. Indeed, statement of key figures, various reports, presentation of the upcoming season and the traditional dance show all-together did not last longer than 45 minutes. In this small time frame, Philippe Gas illuminated the audience with his signature Colgate™ smile, Virginie Calmels succeeded at replacing Antoine Jeancourt-Galignani, especially when recalling that she promised to buy 250 EuroDisney shares per year, or saying the instantly famous quote "I am not Tinkerbell".

American Imagineer Tom Fitzgerald made a quick presentation of Ratatouille – The Ride. He didn't tell us things that we fans didn't already know (since masterplans leaked all over the Internet for more than a year), but he showed us nice pictures of Pixar animators at work, Tom discussing the storyboard with Ratatouille director Brad Bird at Pixar's HQ… and above all, the French logo for the attraction, as well as a picture of a massive model of a portion of the ride, built by WDI in order to fully understand the change of scale and avoid any problem once the attraction is completed.

After a (very) short dance-show based on Ratatouille, here comes the questions/answers session. The first shareholder to ask a question is well known to annual attendees: year after year he asks why he cannot park his motorhome on the parking lot of the Disneyland Hotel anymore with his disabled access card. He shows a lot of official papers from France and Europe governments but his question drags on and the audience starts to boo him.

Not everyone agrees with the booing since two questions later, another shareholder takes the microphone: "Hi, I've been a disabled person for 41 years – sorry for those who don't give a shit". Awkward silence in the theater. Then, the question of this shareholder has absolutely nothing to do with his disability: he just made a rant about the fact that the Disneyland Hotel only has one piano player, which is unworthy of a four star hotel. Which is enough for him to come to this conclusion: "The dream can't become a nightmare, unfortunately you can't make people dream anymore".

Someone asks for the Ratatouille attraction opening date. Nice try, but no answer was given. Behind me, a man whispers: "I hope it's before August 11". Why August 11 you ask? Because the free admission tickets they gave us away are valid until this date. Later, another man asks for the official DLP Shareholder Club to have a dedicated Facebook Page. We take good note, thank you.

Questions keep coming and we don't know if attending shareholders care more about the Resort or about their small personal benefits. The reduced Shareholder Club privileges or the removal of free Annual Passports seem equally important as the economic crisis to them. But Philippe Gas knows who he's talking to: he's addressing to the fans, not the shareholders in this… shareholders meeting. "… Yes you know it well, you visit DLP so often…" Ouch!

When a shareholder asks EuroDisney to rebel against parent company The Walt Disney Company, an upset Philippe Gas takes a stand to defend his baby: "Why would you oppose both companies?" For five years he sticks to his scenario and leads the company in a tough economy: "We made several choices, it requires sacrifices. Our choices are complicated because you have to stay the course". Now he waves his arms in all directions and seems about to shed a tear when saying: "We can discuss strategy but not the integrity of the management board members". Philippe is not only a legendary smile: this man genuinely loves Disneyland Paris and it shows. Years pass and it's now safe to say that Philippe Gas is a good CEO for EuroDisney. The first good CEO since a long, very long time (since Bourguignon?).

After one hour of questions/answers, the time has come to quickly vote the resolutions. Then it's already over and we're kindly invited to leave the theater. A crowd gathers in front of the stage: a few journalists but mostly shareholders want their picture taken with Philippe Gas – I assume he's accompanied by a Guest Flow Cast Member in a red jacket to make sure the man is safe ;-) Next to me, an attendee is still seated and plays Candy Crush on his iPad. Meanwhile "It's A Small World" is now played in the theater, probably a desperate attempt to force us to leave the room. Even more effective were those hostesses, telling us that if we don't leave quickly, maybe all the freebies will be gone!

Now we're leaving! The free gift confirms this impression of low-cost shareholders meeting: it's an apron with a cheap Ratatouille print that certainly won't survive the softest program on my washing machine. It's even possible that Philippe Gas himself made the print transfer with the iron. Seriously, he's so committed with his job as a Disneyland Paris CEO that I wouldn't be surprise if it's true.