Comme les plus grandes marques de shampooing, c'est un Contrôle Qualité 2 en 1 que nous effectuons aujourd'hui puisque nous partons à Universal Orlando où sont établis le parc Universal Studios ainsi que le trépident Islands of Adventure que les connaisseurs considèrent comme étant tout simplement le meilleur parc d'attractions de la planète. Examinons donc si ce titre de champion du monde est mérité !
Pour être tout à fait honnête et objectif, je pense que nous n'avons pas visité ces deux grands parcs dans des conditions optimales. Nous avions prévu deux jours à Universal, ce qui est déjà un peu juste si l'on veut vraiment tout faire. C'était sans compter une tempête nous contraignant à quitter les lieux vers 16h le premier jour. Notre second jour à Universal allait être accaparé dès la fin d'après midi par les maisons hantées temporaires des Halloween Horror Nights. Mais c'était aussi le dernier jour de nos vacances, nous étions exténués et avions besoin d'un peu de repos pour tenir toute la nuit. Nous sommes donc arrivés à Universal Orlando en début d'après midi. Résultat : nos deux jours à Universal furent très courts. Le hic, c'est qu'à la différence de certains parcs de Walt Disney World (Hollywood Studios, Animal Kingdom) constitués de trois attractions phare et beaucoup de remplissage, les parcs d'Universal Orlando sont particulièrement denses en grandes attractions. Ce qui est formidable, mais il faut le savoir en élaborant son planning. Je garde donc d'Universal le souvenir de journées où l'on courrait d'attraction en attraction et où l'on aura pas eu le temps de faire tout ce qui était sur notre liste : Hulk, Poseidon's fury, Terminator 2 : 3D, E.T. Dur hein ?
D'autre part, notre perception des parcs Universal a été entachée par quelques déceptions auxquelles on ne s'attendait pas du tout. En tant que concurrent notoire principal de Disney et au vu de son excellente réputation, nous nous attendions à trouver chez Universal un standard de qualité équivalent aux parcs de Walt Disney World. Douche froide ! Les décors ont beau être assez jolis (si on ferme les yeux sur certaines zones, j'y reviendrai), à y regarder d'un peu plus près la finition est souvent approximative, la maintenance est franchement douteuse, le personnel joue toutes les nuances d'un spectre allant de la nonchalance à l'antipathie en passant par l'amateurisme, la nourriture est peut-être le pire de ce que j'ai pu ingurgiter dans un parc, le merchandising est tellement à deux balles que c'en est embarrassant et dernier mauvais point mais non des moindres : les files d'attentes sont excessivement mal gérées. Et encore, nous avons visité le parc en basse saison. Visiter Universal Orlando en plein été ou à Noël doit être cauchemardesque. Aussi, les offres et promotions sont omniprésentes partout dans les parcs, c'est très agressif. Par exemple on se sent très vite lésé lorsqu'on a pas de coupe-file (ils dont offerts si vous logez à Universal, ou vendus très chers en upgradant votre ticket d'entrée). Hein quoi vous êtes pauvre ? Ah alors votre file est celle qui indique120 minutes à partir de ce point. Bonne journée à Universal :)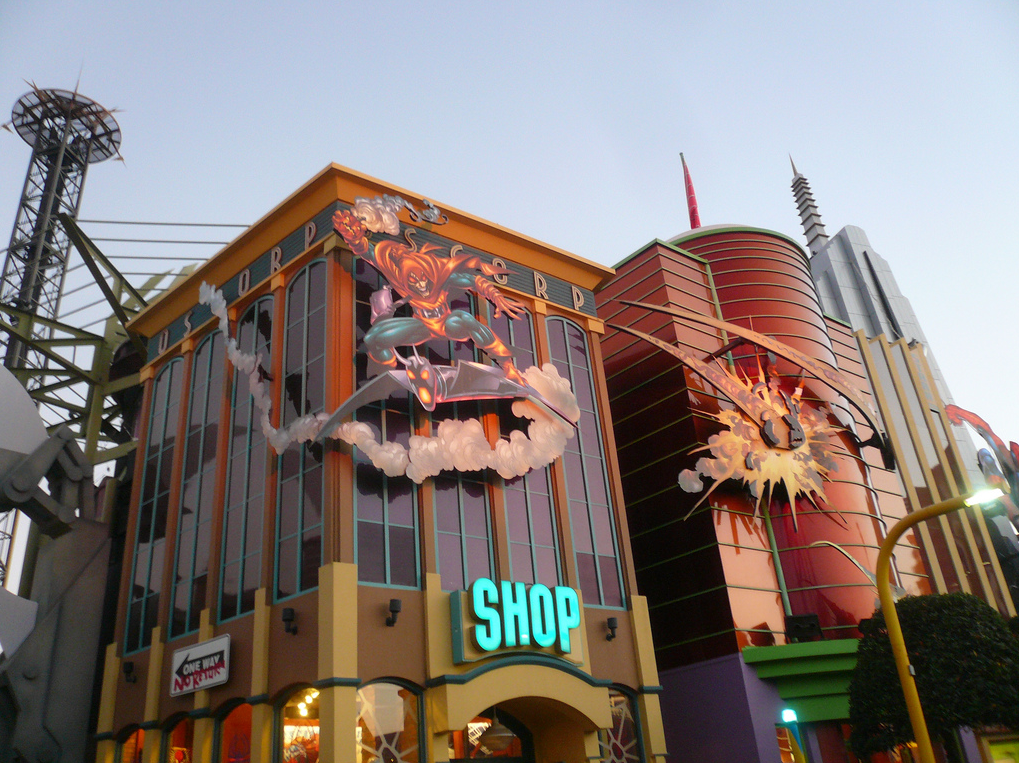 Bien-sûr, tout n'est pas à jeter à Universal, c'est justement tout le paradoxe du lieu : on y trouve malgré tout une alléchante collection de grandes attractions, certaines accèdent sans effort au top 3 mondial. Pour un débrief complet sur Harry Potter and the Forbidden Journey, rendez-vous sur son Contrôle Qualité dédié. On ne saura jamais vraiment lequel de Harry Potter ou The Amazing Adventures of Spider-Man mérite la toute première place du podium mondial. Ce dernier est en tout cas une énorme claque, en dépit d'une très vilaine thématisation à l'extérieur et dans la file d'attente. Tout a déjà été dit et redit au sujet de Spider-Man. La technologie du 'squinshing' (le changement de perspective en fonction du point de vue du véhicule en déplacement devant l'écran) pourtant âgée de près de 15 ans est toujours aussi bluffante. A mon sens, aucune autre nouvelle technologie n'a depuis lors autant innové sur une attraction, si ce n'est le Robocoaster monté sur rail… justement sur Harry Potter, dans le même parc. Précisons que Disney s'apprête ENFIN à s'emparer de la technologie de Spider-Man (dark ride + lunettes 3D + squinching) dans l'attraction Ratatouille en cours de construction aux Walt Disney Studios de Disneyland Paris.
Tant qu'on est dans la zone Marvel Superhero Island, j'en profite pour déverser tout le mal que j'en pense. Cheap et surchargée de décorations – le plus souvent des silhouettes géantes de super héros découpées dans des planches de PVC. On se croirait presque chez SixFlags, avec plus de moyens certes, mais pas forcément mieux utilisés. Même chose pour la zone Toon Lagoon. Curieusement, ces zones qui s'efforcent de reproduire en dur des univers de cartoons sont celles qui m'auraient le plus plu étant enfant. Ce qui légitimisme leur existence – je suppose. A l'âge adulte, il m'est bien difficile de leur trouver quoi que ce soit d'attrayant tant l'adaptation concrète d'univers 2D bariolés se finit toujours mal. De plus, dans le cas d'Universal, le manque d'entretien n'aide pas.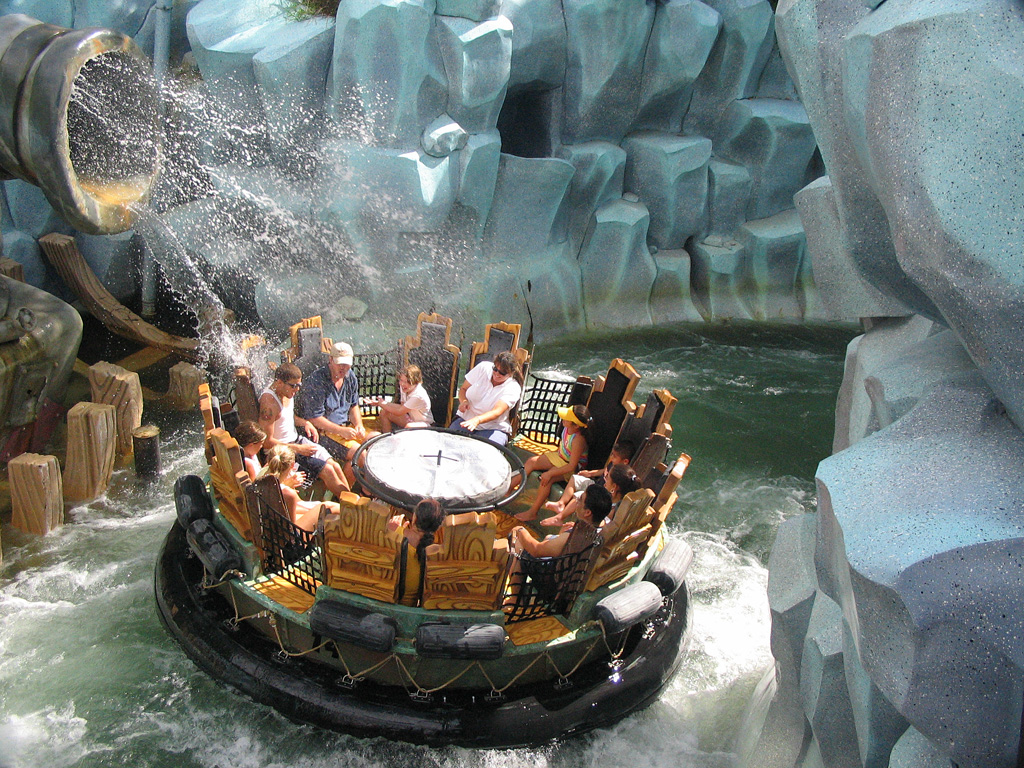 Restons à Toon Lagoon et embarquons à bord des fameuses Poyepe and Bluto's Bilge-Rat Barges. Ce turbulent raft ride tient toutes ses promesses, il s'agit bien de l'attraction aquatique la plus humide (du monde ? Si Trips'n'Pics peut confirmer…) Ne comptez pas sur la chance, ici tout le monde ressort rincé de la tête aux pieds. Ambiance garantie à bord ! Bon, on peut quand-même se demander si ce n'est pas un peu excessif quand-même, ces litres de flotte qui se déversent sur nous… et puis non. Le climat floridien s'y prête bien, et ça fait tellement plaisir qu'une attraction aquatique assume pleinement sa raison d'être… dit celui qui a quand-même fait l'attraction sous son poncho.
A Toon Lagoon toujours, les buches Dudley Do-Right's Ripsaw Falls offrent un parcours relativement classique et mouillent pas mal sans que ce soit excessif comme sur Popeye. Cette attraction est en outre un exemple très représentatif de ce que j'expliquais plus haut. Vu de loin ou en photo, les décors et la scénographie ont fière allure. Une fois dans la file d'attente puis dans l'attraction, les décors sont visiblement cheap, en mauvais état et sont parfois tout simplement absents, comme si des coupes budgétaires avaient été faites dans des recoins du parc moins exposés à la vue pour utiliser l'argent ailleurs. J'ai ressenti cette impression de coupes budgétaires sur pas mal d'autres attractions ou leur file d'attente. En bonus dans Toon Lagoon, on apercevra les personnages Popeye et Olive en train de se promener. Peut-être les personnages les plus bâclés de l'industrie des parcs. Embarrassant pour un parc de cette taille.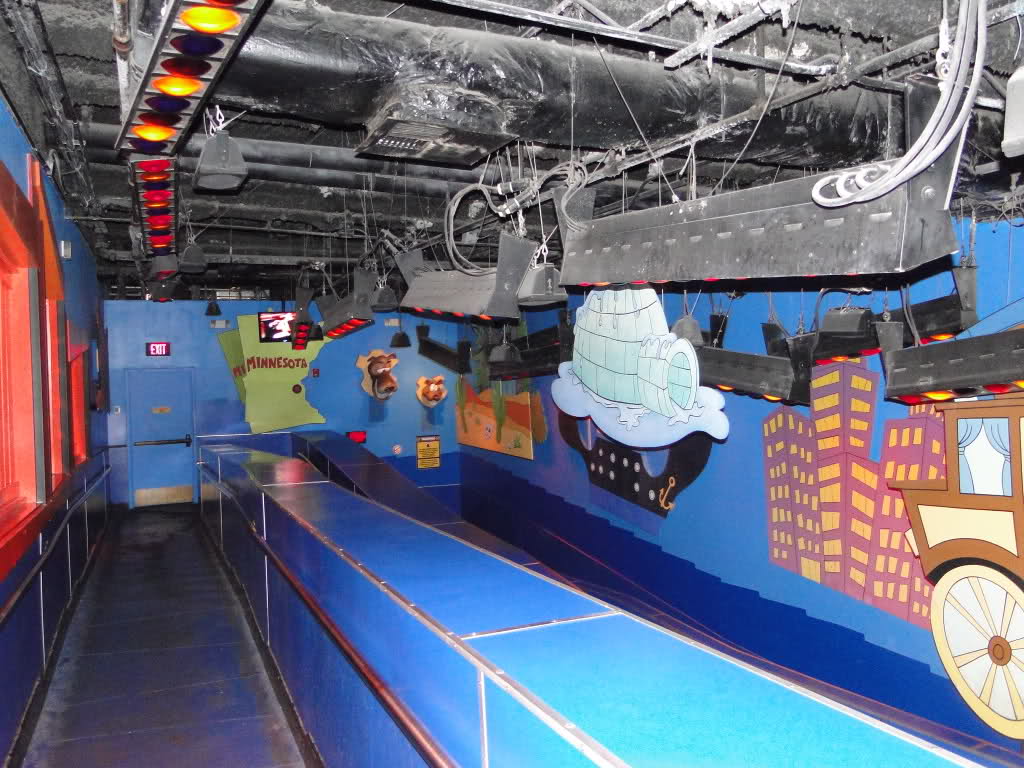 Grand fan du premier film (et c'est un euphémisme) j'attendais beaucoup de Jurassic Park River Adventure. J'en retiendrai une attraction dans un état la-men-table. Sérieusement, Universal devrait en avoir honte. Les animatroniques atteints de la maladie de Parkinson font vraiment peine à voir, et comme sur pas mal d'autres attractions à IOA, on a vue sur des câbles électriques qui trainent ici ou sur une cabine technique là. Bref, on commence comprendre qu'on est en fait à Islands Of A-Peu-Près. Dans la très belle zone Wizarding World of Harry Potter (à découvrir en détail par ici) le double inverted coaster Dragon Challenge brille par sa nervosité et son intensité. Et comme tout le monde, on ne peut que déplorer la décision d'avoir arrêté de lancer les deux trains en même temps. Tout ça parce qu'une fois en 15 ans de service, un passager s'est pris un projectile venant de l'autre train. Bon ok, c'est peut-être arrivé un peu plus souvent, mais l'attraction a clairement perdu de sa superbe. Et de l'élément clé qui en faisait tout son intérêt.
Poseidon's Fury : une file à l'arrêt complet durant 30 minutes sans aucune précision de la part des employés puisqu'il n'y en avait pas un dans les parages. Comme je suis contre l'élevage intensif de bovins coincés dans des cages et parce que nous nous étions déjà retrouvés coincés dans une situation similaire pendant 60 (soixante !!) minutes sur Hollywood Rip Ride Rockit, nous avons quitté la file – comme beaucoup d'autres. La désorganisation généralisée d'Universal nous a fait rater un de leurs hits auquel nous n'avons pas eu le temps de revenir. Cela dit, les décors de la file extérieure sont grandioses.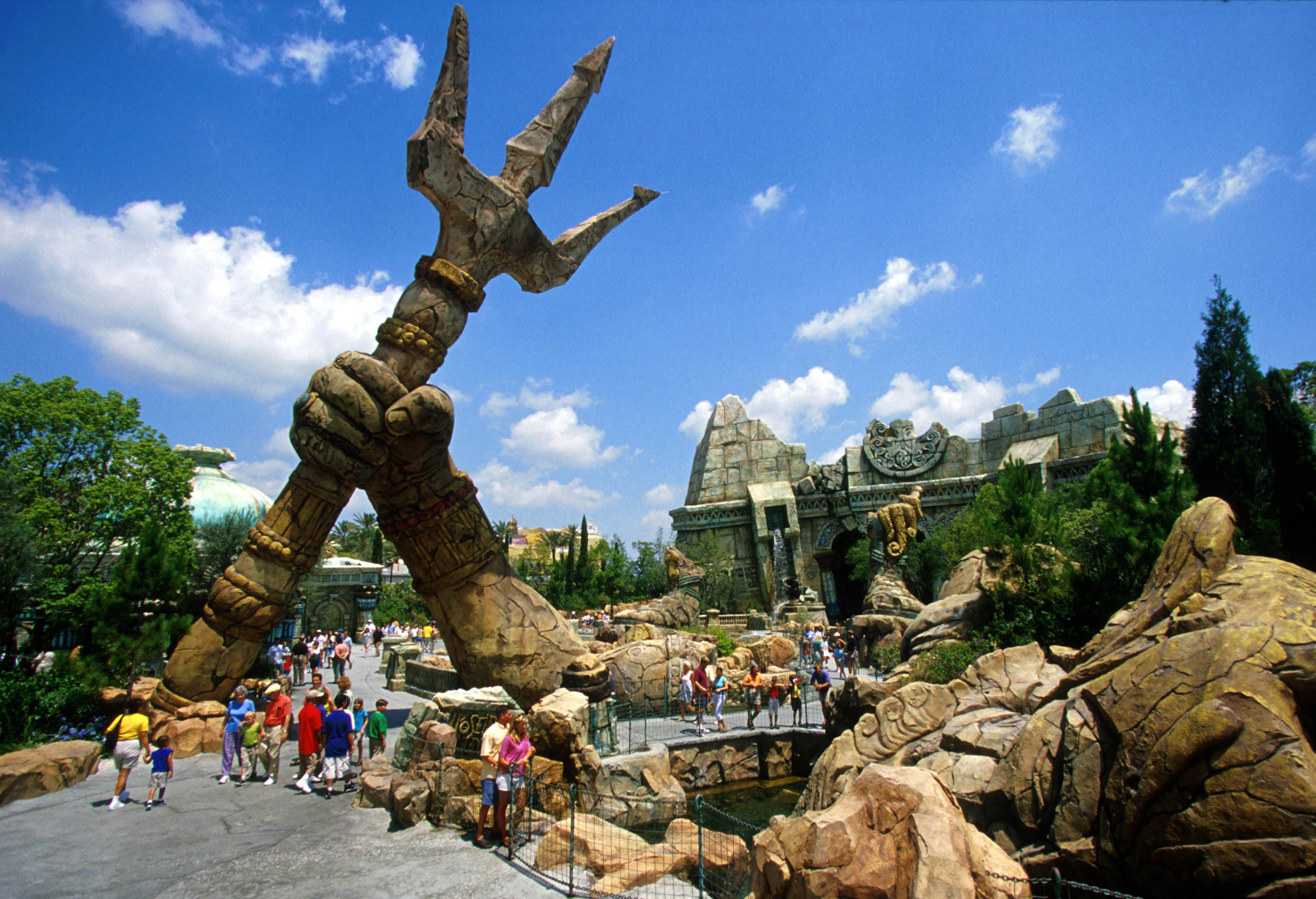 En tant qu'adultes et européens, nous ne sommes pas exactement le cœur de cible de la zone Seuss Landing. A nouveau, même constat que dans Toon Lagoon et Marvel Superhero Island : une direction artistique qui laisse à désirer, des décors piètrement exécutés et une maintenance inquiétante : quel est le décérébré qui a eu l'idée de recouvrir tous les sols de la zone avec de la peinture – criarde de surcroit ? Rien de tel pour qu'elle se craquèle de toutes part sous le soleil de Floride. Un beau gâchis. S'il n'échappe pas à une très vilaine direction artistique, le dark ride Cat in the Hat a au moins le mérite d'être dans un état impeccable rare à Islands of Adventure. Il devait probablement sortir de réhab. Terminons par la zone d'entrée – logique. Port of Entry est une sorte de melting-pot d'influences fantastico-aventuro-ethniques qui ne vole pas spécialement plus haut que la zone Wuze Town/Winja's à Phantasialand.
Comme je l'expliquais, le parc Universal Studios est clairement celui dans lequel nous avons manqué de temps, et c'est dans une course effrénée contre la montre que nous avons fait une poignée d'attractions avant que ne démarrent les Halloween Horror Nights en fin d'après midi. Le coaster Hollywood Rip Ride Rockit est terriblement mal intégré au reste du parc et excessivement mal géré par les opérateurs qui ont bloqué l'attraction pendant une demi heure (additionnée à 30 minutes de file) afin de sortir un train supplémentaire ! Mais ce n'est qu'une partie de plaisir une fois dessus. Chacun peut choisir la musique qui l'accompagnera pendant le tour, c'est un brin gimmick mais ça fait toujours plaisir de rider un coaster intense mais très confortable au son de Daft Punk.
Twister est… Non, en fait tout le monde s'en tape de Twister. Même les gens qui l'ont conçu apparemment, sans compter les costards-cravate qui pensent qu'une telle licence et un tel show sont toujours pertinents en 2013 et qu'il faut le maintenir ouvert. Les licences tombées en désuétude au fil du temps sont légion à Universal Studios. Twister ? BeetleJuice ? Blues Brothers ?? Sérieusement ?
Revenge of the Mummy est un hybride mi dark ride mi coaster indoor dont la thématisation est pas mal du tout, les sensations sont là, et les effets sont très efficaces. Par contre les décors de la section coaster sont carrément cheap (encore des silhouettes sur planches découpées).
Nous n'aurons pas l'occasion de tester le mythique Jaws, rasé pour y construire Diagon Alley et le Gringotts coaster d'Harry Potter. Ce qui nous amène à Men In Black Alien Attack, un dark ride interactif dont j'ai du entendre tellement de louanges que j'ai trouvé l'ensemble juste 'pas mal'. Par contre j'ai beaucoup apprécié l'architecture extérieure rétro futuriste inspirée de l'exposition universelle de New York en 1964.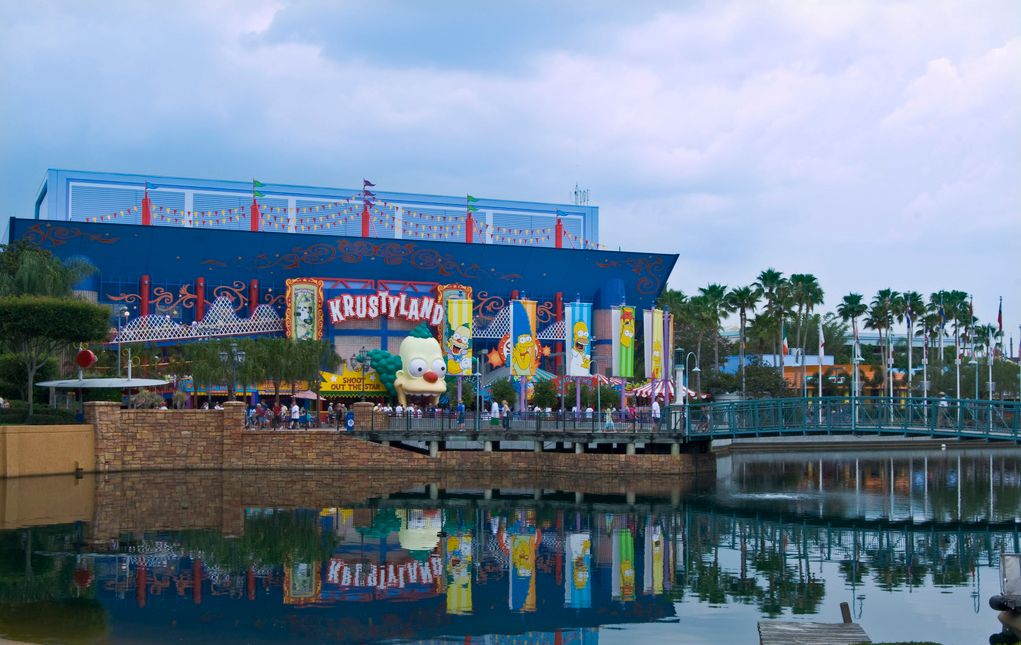 Quant à The Simpsons Ride, je ne comprends vraiment pas ce qu'on lui trouve. Certes, ce n'est rien d'autre qu'un changement de thème de l'attraction Back to the Future. Certes, conformément à la série, on se marre bien, il y a pas mal d'autodérision sur le monde des parcs à thèmes. Mais l'ensemble des décorations est médiocre (oh tiens, des silhouettes découpées !) et pourquoi donc avoir fait d'un dessin animé en 2D une film entièrement réalisé en images de synthèses ? Cela dénature complètement la licence. Oui, c'est un simulateur équipé de lunettes 3D mais je pense que l'attraction aurait gagné en maintenant son aspect 2D original, gonflé en 3D couche par couche.
Dans l'ensemble, on ne peut pas dire que les parcs d'Universal Orlando soient mauvais, que l'on se comprenne bien. Je pense simplement que c'est une erreur de s'attendre au niveau de design, de maintenance et au service client de Disney. Universal Orlando dispose de deux parcs particulièrement complets et d'une poignée d'attractions qui dominent véritablement l'industrie toute entière. Mais je pense aussi qu'il est grand temps qu'ils se professionnalisent,  qu'ils maintiennent le niveau d'excellence qu'ils ont appliqué sur Harry Potter pour s'affranchir enfin de cet à-peu-près constant. Pendant ce temps, Disney tarde à se renouveler sur le plan des nouvelles technologies dans ses attractions récentes. Or, si la qualité de la thématisation et le service client sont des critères qui me parlent particulièrement, le nerf de la guerre est encore et toujours les attractions. Et sur ce plan depuis l'ouverture d'Islands of Adventure, Universal Orlando prend de grandes longueurs d'avance face à Walt Disney World. Ne comptez pas sur moi pour m'apitoyer sur le sort de Disney : l'insolent succès d'Universal est mérité. Mieux, il est bénéfique pour la concurrence, et le vrai gagnant dans l'histoire, ce sera nous : le consommateur.
Just like your favorite shampoo, today's Quality Control review is a '2 in 1' because we're visiting Universal Orlando where are located the Universal Studios park and the exciting Islands of Adventure, that a lot of expert see as the best amusement park on Earth. So let's have a closer look to find out if Universal really deserves it's world's champion title!
To be completely honest and objective, I think we didn't visit these major parks in the best conditions. We planned two days at Universal, which may be a little bit too short if you really want to do everything. But a hurricane happened on our first day, forcing us to leave at 4PM. Halloween Horror Nights took place on our second day at Universal. That means our time would be entirely devoted to the many horror houses by the end of the afternoon. In addition to that, it was also the very last day of our Orlando vacation. We were exhausted and needed to rest on the morning to stay alive and kicking all night long. So we arrived at Universal in the early afternoon. The result: our two days at Universal Orlando were very short. The problem is, unlike some of WDW parks (Hollywood Studios, Animal Kingdom) made of three major rides and a lot of minor stuff, the parks of Universal Orlando are packed with attractions. Which is great but you have to know it when you're planning your trip. So from Universal, I remind us running from ride to ride, and a few attractions on our bucket list that we didn't have the time to ride: Hulk, Poseidon's fury, Terminator 2 : 3D, E.T. Painful isn't it ?
Also, our perception of Universal's parks has been twisted by several deceptions we didn't expect. As the main Disney competitor and its excellent reputation, we expected the same quality level of Disney. Wrong! Decors may be pretty nice (excepted for several areas), if you look a little bit closer, it's not *that* beautiful. Finishing touches and details are somewhat random or poorly executed, maintenance is unreliable, employees know tone of a spectrum from nonchalance to antipathy and unprofessionalism, food is probably the most disgusting thing I ever ate in a theme park, merchandising is so tacky it's embarrassing, and last but not least: waiting lines management is extremely bad. We were visiting off season in September, so I guess it should be a nightmare during peak season. Offerings and promotions are everywhere, it pretty aggressive. For instance, it's easy to quickly feel wronged if you don't have a FastPass style option (they're included in your package if you stay overnight on Universal property, or you can upgrade your ticket but it's crazy expensive). What? Oh you happen to be poor? Okay then your queue line is the one showing 120 minutes of wait. Have a nice day at Universal :)

Of course not everything is bad at Universal. It's precisely the paradox of this place: there you'll find a pretty amazing collection of major attractions, some of them easily reach the top 3 of the best rides in the world. For an extensive review of the Harry Potter attraction and area, jump on this special Quality Control post. We'll probably never know which of Harry Potter and the Forbidden Journey or The Amazing Adventures of Spider-Man deserves the first place on the podium. The latter is a serious blast despite its awful queue and outside theming. Everything has already been said on this fantastic ride. The 15 years old 'squinching' technology (the evolving perspective on video screens based on the moving vehicle's point of view) is still stunning. I think no other new technology has been so innovative on any attraction since the opening of Spider-Man… except for Harry Potter's Robocoaster arms moving on a track, and it's in the same park! I should note here that Disney is FINALLY taking over Spider-Man's technology (dark ride + 3D glasses + squinching) on the upcoming Ratatouille attraction, currently under construction in the Walt Disney Studios park at Disneyland Paris.
Since we're in the Marvel Superhero Island area, I'd like to take this opportunity to tell you how ugly I think it is. How it looks cheap and overcrowded with tacky decoration – mostly giant comic character flat board cutouts. Actually it reminded me of the SixFlags comic areas, with more money of course, but not especially better used. The same applies to Toon Lagoon. Surprisingly, these lands that desperately try to recreate cartoon environments are the ones that I'd have liked the most when I was a child. So I guess this makes them relevant. But as an adult, I can hardly find them appealing because the adaptation of 2D, multicolored universes in a real, concrete, three dimensional world always ends badly. And in the case of Universal, the lack of maintenance is not helping.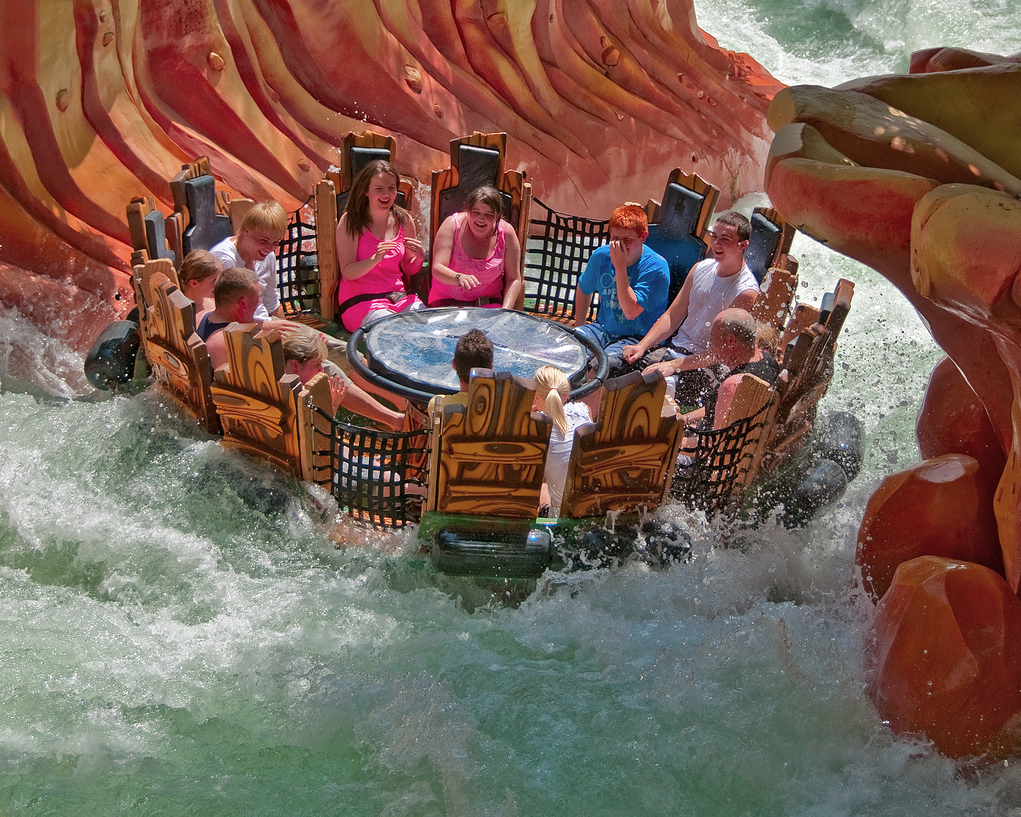 Let's stay in Toon Lagoon for a while to try the world famous Poyepe and Bluto's Bilge-Rat Barges. This turbulent raft ride keeps its promises; it really is the most humid and wildest water ride I've ever been on. Do not count on luck, everybody gets drenched, from head to toe. Literally.  And it makes the excitement really high on board! Of course one can wonder if it's not a little bit excessive, so much water thrown on you. But hey! We're in sunny Florida, there is no better place for such a humid attraction, and it's so cool that for once, a water ride fully embraces its raison d'être… says the one who did the ride under his poncho.
In Toon Lagoon, the Dudley Do-Right's Ripsaw Falls flume ride offers a pretty classical trip that soaks just like you want it: pretty much but not too much like Popeye. Besides, this attraction is a great example of what I mentioned: if you watch this attraction from afar or on picture, it looks great. But once you're in the queue line and on the attraction, theming suddenly looks cheap, in bad condition or it's just completely missing. It's like there were budget cuts in the less visible places of the park to use the money on other attractions. I had this impression on a few rides and queues in Islands of Adventure. As a bonus in Toon Lagoon, we saw the Popeye and Olive characters waling down a street. They look really really bad, how can they greenlight such horrible character design? This is embarrassing for such a large-scale park.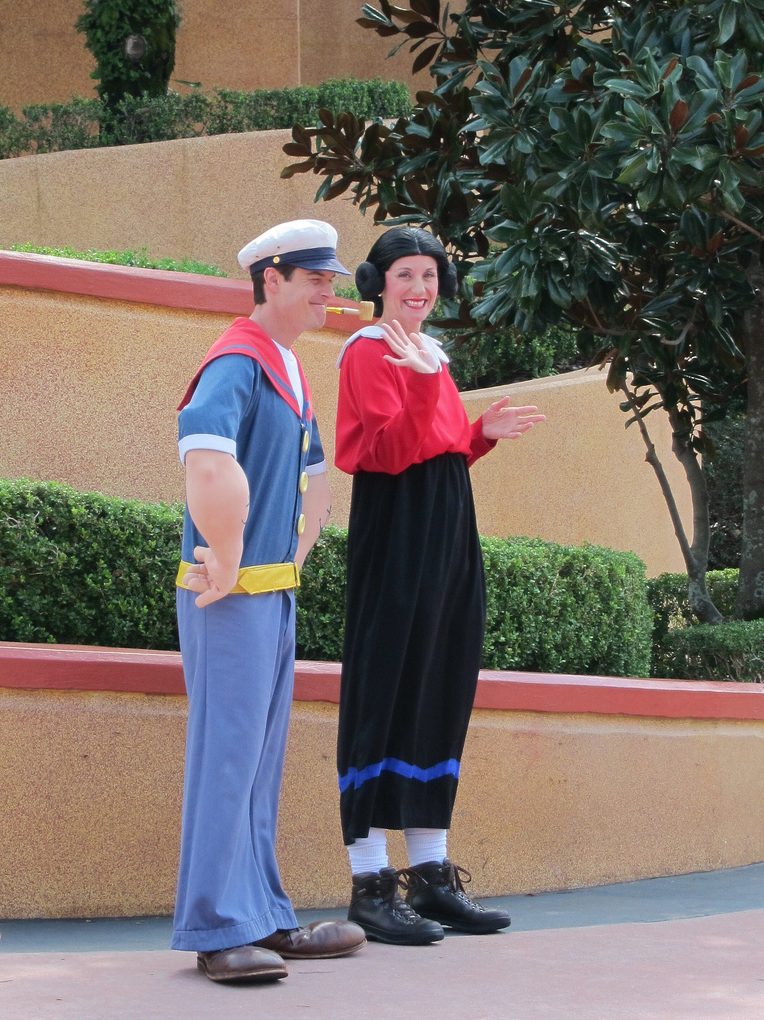 As a fan of the first movie (and it's an euphemism) I expected Jurassic Park River Adventure very much. Well the attraction is in a TERRIBLE state. Seriously, Universal should be ashamed of that. Every animatronic seems to suffer from Parkinson disease, and like many other attractions in IOA, you can see some electric cables here or a technical booth there. At that point, we start to realize that we're actually in 'Islands Of Approximately'.
In the wonderful Wizarding World of Harry Potter land (that you can discover here) the double inverted coaster Dragon Challenge is intense and nervous just like you want it to be. And like everybody, we deplore the decision to stop launching both  trains at the same time just because in 15 years of operation, one rider has been injured by some projectile from the other running train. Ok it probably happened a few more times, but still. This coaster has lost its luster and what made it especially unique and interesting.
Poseidon's Fury: a queue line that completely stopped moving for more that 30 minutes, with no information or employee to tell you if there's something wrong or anything. Since we encounted a similar problem earlier on Hollywood Rip Ride Rockit for 60 (sixty!!) minutes, we decided to leave the queue – so as many other people did. So the generalized amateurism of Universal made us miss one of their hit attractions – we didn't find a moment to give it another try. But I have to say the outside scenography is breathtaking.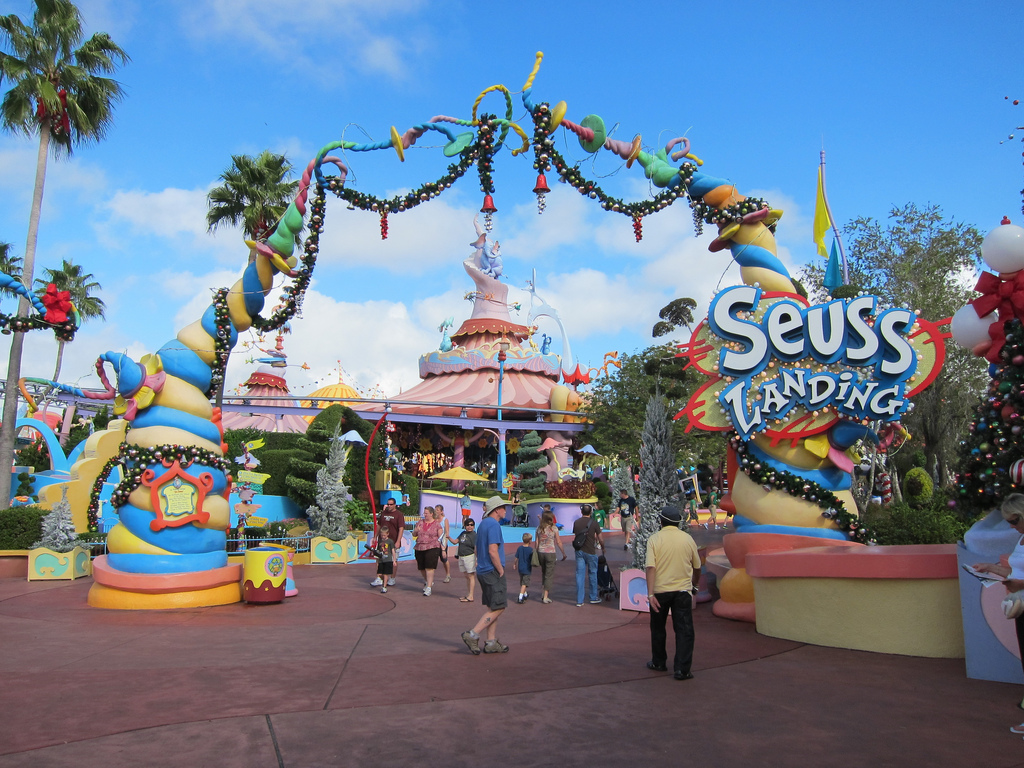 As European adults, we are not exactly in the demographic target of the Seuss Landing area. Once again, this land suffers from the same problem than Toon Lagoon and Marvel Superhero Island: a weak art direction, poorly executed theming and a real lack of maintenance. Who the hell got the idea of covering every ground of the land with paint – perfect to crack under the Florida sun. Such a mess… The Cat in the Hat dark ride shares the same artistic imperfections but at least it was in perfect condition, something very rare in Islands of Adventure. I assume it just got back from rehabilitation.
Let's have a quick look on Port of Entry. Basically this is kind of an odd mixture of fantastico-aventuro-ethnic influences, pretty similar to Phantasialand's Wuze Town/Winjas land in Germany. Not exactly my favorite thing.
As I said, we mostly suffered from a lack of time in the Studios park. We really had to jump from attraction to attraction before the Halloween Horror Nights start in the late afternoon. The Hollywood Rip Ride Rockit coaster is badly integrated to the park landscaping and poorly operated by the employees: they completely stopped the attraction during 30 minutes (added to 30 minutes of wait) just to bring one more train on the track! But it's terrific once your ride it. Everyone can choose his favorite music track and the sensations are intense but very smooth. It was pretty awesome to ride such a great coaster while listening to Daft Punk.
Twister is… No, actually nobody cares about Twister. Even the people who created it apparently, as well as the suits who think such a dated license and special effects fantasy show are still relevant in 2013. By the way, Universal Studios is full of dated franchises : Twister, Beetlejuice, Blue Brothers… One word: Awkward.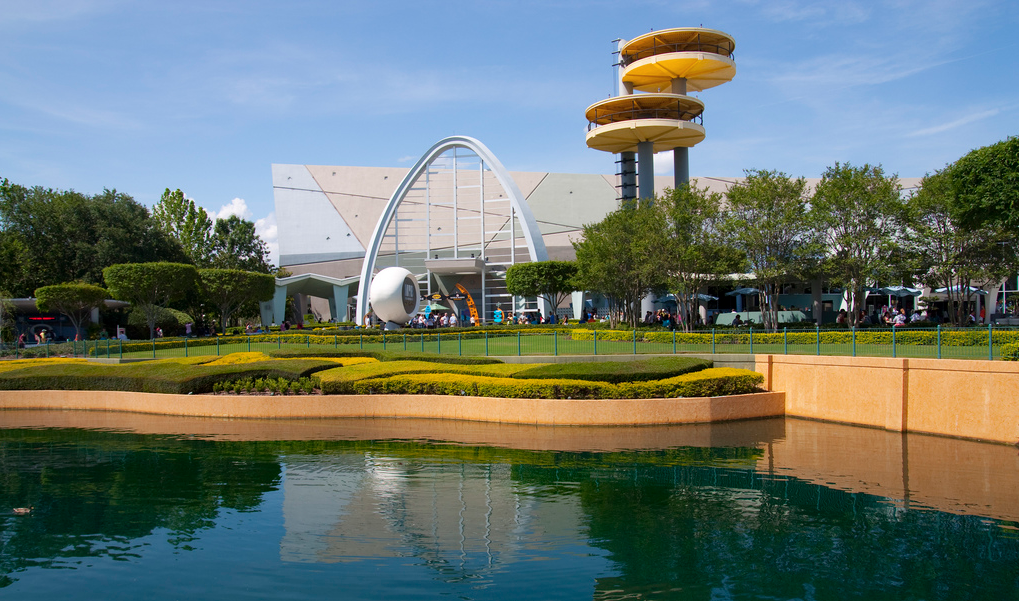 Revenge of the Mummy is an indoor coaster with a dark ride section. Theming is neat, sensations are good and special effects are very powerful. On the other side, decoration in the coaster section looks cheap (flat boards cutouts again).
We didn't had the chance to try Jaws, demolished for the construction of Harry Potter's Gringotts coaster and Diagon Alley. That brings us to Men In Black Alien Attack, an interactive dark ride I've heard so many high praise about it that I found it 'fine'. But I have to say I loved the retro futuristic architecture of the building inspired by the 1964 New York's World Fair.
About the Simpsons Ride, I really don't get why it's such an appreciated attraction. I have to admit the dialogs are hilarious by making fun of theme parks clichés, and it's pretty decent for what is just a revamp of the old Back To The Future ride. But the overall decoration is mediocre (flat board cutouts once again, yay!)  Also, why the heck did they make an all CGI movie from a cartoon in good old, flat, 2D, hand drawn animation? It didn't look like the Simpsons show I know and love for so long! I know it's a 3D movie, but I think it would have looked much better by keeping the original 2D look of the cartoon and converting in in 3D layer by layer.
I'm not saying that the parks of Universal Orlando are crap, don't get me wrong. I just think it's wrong to expect the same quality level of Disney on design, maintenance and customer service in general. Both parks are very complete and IOA even has a couple of attractions that really dominate the entire amusement park industry. In the meantime, I think it's time for Universal to start being more professional and maintain the excellent quality level they raised on Harry Potter, in order to stop being in this constant 'just about' state. Meanwhile, Disney is late on state of the art technologies on their new rides. However, if high end theming and customer service are important factors for me, attractions are always the major argument to attract people in your park. In this particular field, since the opening of Islands of adventure and even more since Harry Potter, Universal Orlando is taking the lead. Don't count on me to feel sorry for Disney: Universal deserves its success. Even better, it enhances competition in the industry, and the real winner will be you : the consumer.
Credits: link to the source under every picture.
___________________________________________________________
Suivez le Parc-O-Rama sur Facebook et Twitter ou via notre fil RSS .
Follow Parc-O-Rama on Facebook and Twitter or via our RSS feed .