JUMP TO ENGLISH TEXT : CLICK HERE !
Nous y voilà! Après deux ans de construction et des travaux retardés de deux ans en raison d'un blocage des banques à qui Disneyland Paris devait de l'argent, une zone entièrement consacrée au film Ratatouille des studios Disney•Pixar a enfin ouvert ses portes au public dans le parc Walt Disney Studios. Pour l'occasion, j'ai eu la chance d'être invité à découvrir tout cela en avant première, avec une cinquantaine de blogueurs et sites web. J'espère que vous avez faim car le Contrôle Qualité au menu du jour s'annonce copieux. Tellement copieux que nous allons le diviser en deux parties. 1ère partie : l'attraction. 2ème partie : le land Place de Rémy et le restaurant Bistrot Chez Rémy ainsi que l'impact sur les WDSP (à lire ici!). A table!
L'investissement est composé d'une attraction de grande envergure 'E-Ticket', d'un restaurant service à table et d'une zone thématique. Le budget total n'a pas été révélé par Disney, mais le chiffre de 150 à 200 millions d'euro circule depuis un bon moment.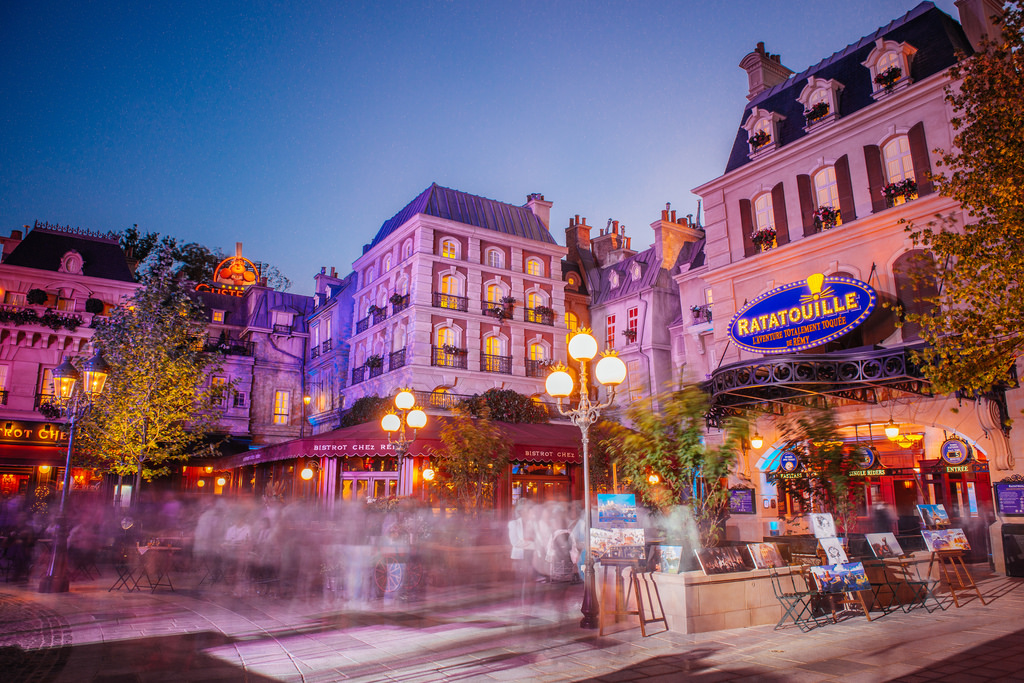 Commençons par ce qui intéresse tout le monde : l'attraction. "Ratatouille – L'Aventure Totalement Toquée de Rémy" est un dark-ride familial dont la promesse est de réduire les visiteurs à la taille d'un rat. Un grand bâtiment haussmannien, donc typiquement parisien, accueille les visiteurs par une entrée qui rappelle celle d'un grand théatre. Juste au dessus, le joli logo de l'attraction a pourtant évité le pire de justesse. Beth Clapperton, Art Director Walt Disney Imagineering sur le projet Ratatouille confirme lors de la présentation matinale : "On a changé le logo car on ne l'aimait pas". On est d'accord.
Entrons dans la file d'attente, qui propose une file standby classique, une file Fastpass et une file single rider. Les jours de forte affluence, les visiteurs passeront le gros de l'attente sous un abri type halles parisiennes. La décoration y est sommaire mais très jolie et les références aux films sont amusantes. Cependant, les zig-zag et la configuration rappelle les longues et ennuyeuses et longues et douloureuses heures passées à attendre sous les taules ondulées de Crush's Coaster. Heureusement, on y passera moins de temps puisqu'à un costaud débit de 1800 personnes/heure, la capacité de Ratatouille ne fait qu'une bouchée des ridicules 895 personnes/heure de Crush's Coaster.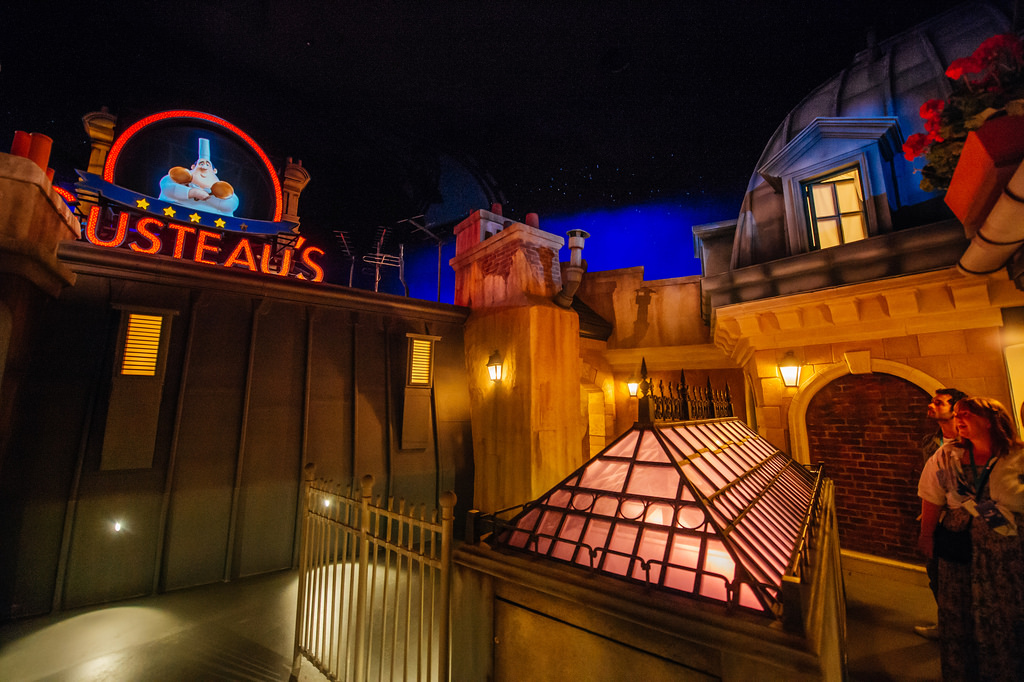 Mais c'est une fois que la file revient dans le bâtiment principal que les choses sérieuses commencent vraiment. Nous voilà maintenant sur les toits de Paris, en pleine nuit. Au dessus de nos têtes trône l'enseigne de Gusteau. Un Gusteau remarquablement animé qui prend vie à intervalles réguliers pour partager sa sagesse ou faire une petite blague. On y entend en bruit de fond l'animation de la Ville Lumière : voitures, chiens qui aboient, ou encore quelques passages du Festin, le thème du film chanté par Camille. Le temps d'attraper une paire de lunettes 3D et la file débouche dans la scène qui m'a le plus ébloui par son ambiance paisible et feutrée : l'embarquement. Désormais, nous sommes réduits à la taille d'un rat et les décors y sont énormes. Une version tout en douceur du Festin réorchestrée par Michael Giacchino berce ici l'embarquement des passagers dans les 'Ratmobiles' qui dans un étonnant ballet partent discrètement par groupes de trois dans l'attraction. J'aurais pu passer des heures à regarder cette scène. Les véhicules donc, qui se déplacent sans rail, ont été conçus en même temps que ceux de Mystic Manor. Malheureusement, Disneyland Paris n'a pas eu droit au même traitement question design. Le look embarrassant des véhicules de Ratatouille est une véritable énigme tant il tranche avec la direction artistique impeccable de l'ensemble de l'attraction. Mais au delà de l'apparence chelou, les véhicules sont d'une précision et d'une douceur surprenante. Mes co-passagers et moi-même étions particulièrement jaloux de leurs créneaux parfaits!
Nos trois Ratmobiles quittent discrètement l'embarquement et glissent tout doucement sur les toits de Paris. Un vrai moment de grâce, rarissime dans les attractions de parcs. Dans le ciel, Gusteau nous invite à le suivre, et nous entrons dans la première (et gigantesque) salle cinématique. Je ne vais pas faire le détail scène par scène, mais les Ratmobiles suivent Rémy dans les cuisines du restaurant Gusteau's jusqu'à ce qu'ils soient découverts par le méchant Chef Skinner qui s'occupera évidemment de nous faire passer un sale quart d'heure. S'en suit une course poursuite infernale qui passera par la chambre froide, la salle à manger, les cuisines ou encore entre les murs du restaurant, soit une sorte de condensé des scènes clé du film. Le tableau que je trouve le plus spectaculaire est la course entre les murs du restaurant, qui est justement la seule scène ou les Ratmobiles se séparent, chacune devant leur propre écran.
Techniquement, les véhicules passent d'un écran géant à un autre et des décors surdimensionnés se chargent de faire les transitions. Les médias et décors sont magnifiques, réalistes et fidèles au film original, mais un plus d'interaction entre les films et les décors aurait été bienvenue. Il y en a (les roues du chariot, Linguini qui lève la nappe…) mais il faut parfois ouvrir l'œil pour les apercevoir. Le bénéfice : cela permet de découvrir de nouveaux détails à chaque fois, ce qui fait toujours plaisir. Et des surprises cachées, il y en a mais je ne vous les révélerai pas! Détail intéressant : les véhicules ne prennent jamais la même place devant les écrans.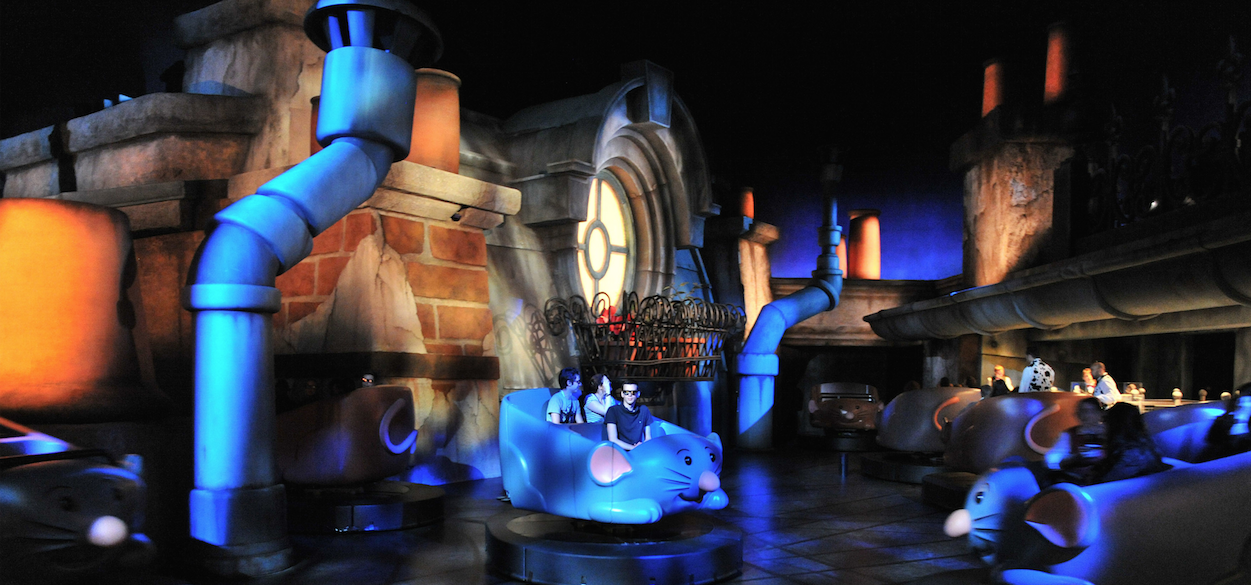 Puisque la comparaison avec The Amazing Adventures of Spiderman (Universal's Islands of Adventure) semble inévitable, je pense que les écrans sont mieux fondus dans les décors et par conséquent se 'répondent' mieux chez Universal. En conséquence, l'Aventure Totalement Toquée de Rémy est moins déboussolant et immersif que Spider-man, où il est parfois difficile de dissocier le vrai (décors en dur) du faux (films). Comme les voitures se déplacent par groupes de trois, la distorsion de la perspective dans les films selon le point de vue du spectateur (principe appelé 'Squinching' par Universal) pose problème dans une ou deux scènes : l'image se déforme dès que la première Ratmobile se déplace alors que les deux autres sont toujours immobiles devant l'écran. Oups! Espérons que ces petites erreurs seront réparées prochainement car les Imagineers Beth Clapperton et Bjorn Heerwagen ont expliqué que quelques détails devaient encore être peaufinés.
Dans l'ensemble sur le plan technique, l'attraction utilise une armada de technologies dernier-cri, mais dont l'association crée pas mal d'imperfections. Par exemple les lunettes Dolby 3D fonctionnent à merveille face aux écrans, mais elles ont le défaut de décomposer le spectre 'naturel' de la lumière. Résultat, l'éclairage semble clignoter du rouge au vert dans les scènes en décors physiques. La vitesse et les mouvements limités des véhicules sans rail n'était peut-être pas le meilleur choix pour faire croire à une course de rats. Le fait de voir constamment  le sol et le bord des écrans fait que l'on a jamais l'impression d'être immergé au coeur de l'action mais bien devant un écran, dans une voiturette. Résultat, Ratatouille est à des années lumières de la qualité d'immersion époustouflante de Spider-Man, une attraction pourtant âgée de 15 ans, et dont les certains concepteurs travaillent maintenant pour le compte Walt Disney Imagineering. C'est assez étonnant – et décevant – parce que  tous les ingrédients étaient bel et bien sur la table pour éviter les gros défauts de Ratatouille – L'Aventure Totalement Toquée de Remy.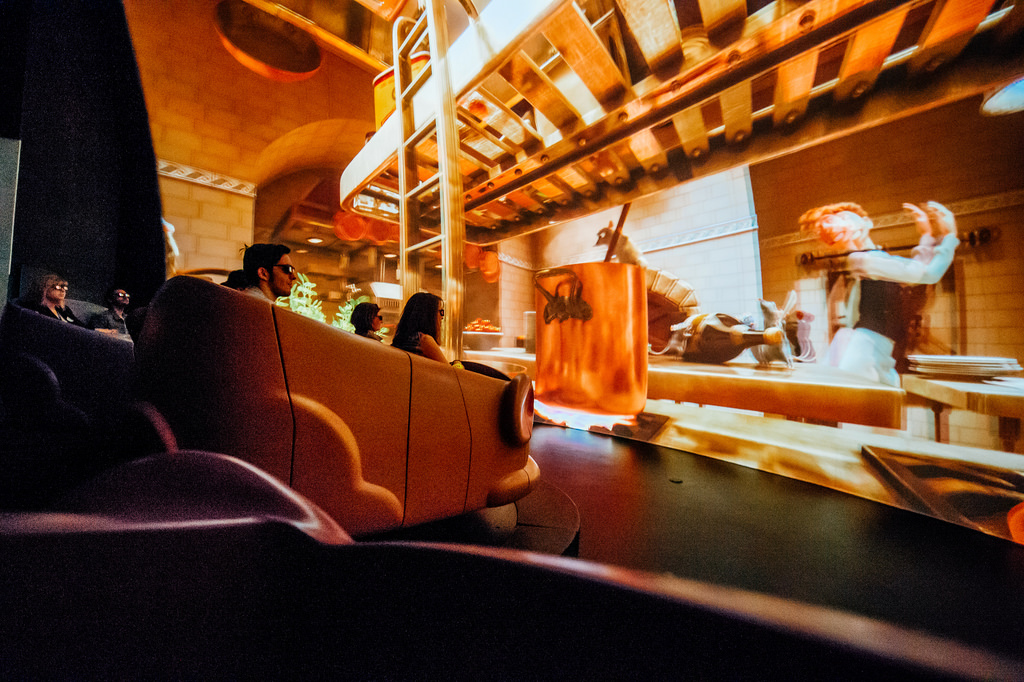 Par contre, mettons un terme à l'objet de la controverse : Ratatouille est une attraction familiale, dans un parc familial qui manquait d'un grand dark-ride familial. Dans ce contexte, si vous cherchez des sensations fortes qui vous retournent comme une crêpe, vous serez probablement déçus. On se rappellera que certaines des plus grandes attractions de DLP (voire du monde tant qu'on y est) sont entièrement dépourvues de sensations, et cela n'a jamais posé problème à qui que ce soit (coucou les Pirates, coucou Mélanie Ravenswood!) Si certaines technologies utilisées sur Ratatouille sont effectivement semblables à celles de Spiderman, la cible de ces attractions est tellement différente qu'il serait peut-être plus opportun de comparer le nouveau bébé des WDSP à Pooh's Hunny Hunt ou Mystic Manor… si l'on tient absolument à tout vouloir comparer.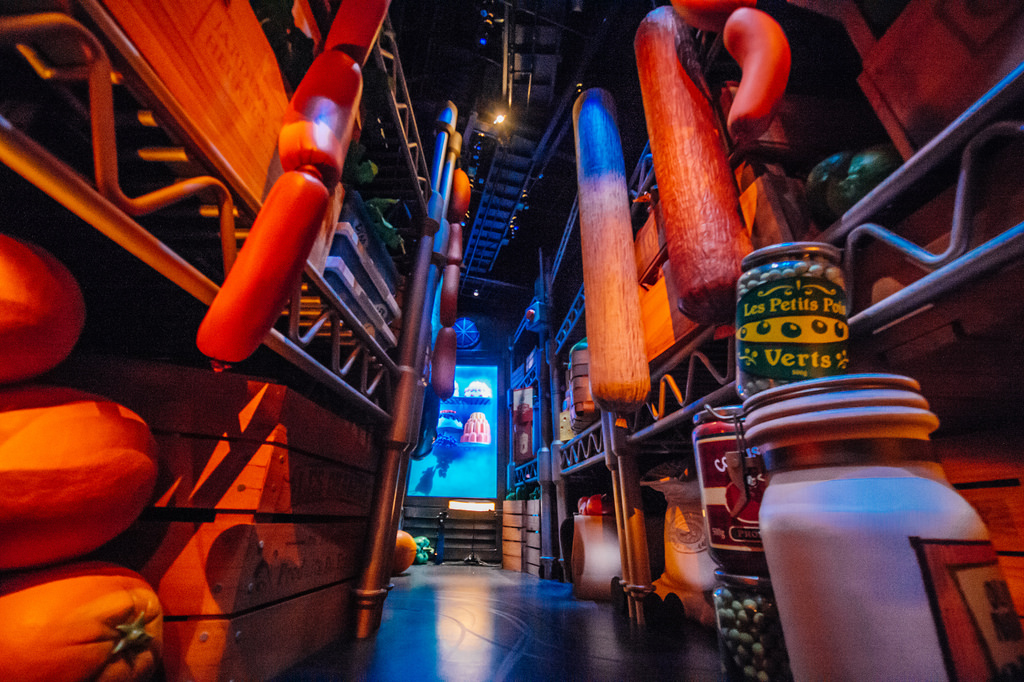 La 3D est gérée avec finesse sur l'ensemble des scènes cinématiques. Pas de surenchère de projectiles envoyés au visage des passagers – il y en a bien-sûr, mais l'effet stéréoscopique n'est pas exagéré en permanence comme les parcs en ont encore trop souvent l'habitude. Ici, la 3D sert surtout à l'immersion générale pour accentuer le réalisme, un peu à la manière des films Gravity et Avatar. On notera aussi quelques effets sensoriels qui ne renouvellent pas forcément le genre, mais qui sont utilisés efficacement.
En conclusion, Ratatouille – L'aventure Totalement Toquée de Rémy est un dark-ride contemporain hybride à la thématisation soignée et saupoudré de déceptions techniques. Si l'absence d'audio-animatroniques élaborés chagrinera certains, ce sera néanmoins un atout de taille au niveau de la maintenance dans le contexte actuel de Disneyland Paris : voyez comme après six ans d'activité, la Tour de la Terreur est toujours dans un état impeccable.
Que cela plaise ou non,  les franchises (cinéma ou autres) sont devenues le nerf de la guerre des parcs. Et il faut saluer le choix de DLP d'avoir basé une attraction de cette ampleur sur un des plus excellents films Pixar, et non sur le plus juteux en terme de produits dérivés (coucou Cars Land!) Etant inspirée d'un film, l'attraction est évidemment moins surprenante qu'un Mystic Manor puisque nous sommes déjà familiers avec les personnages et l'environnement, mais en tant que tels, la direction artistique est sans faille et l'ambiance générale qui se dégage de l'attraction est simplement magnifique. Ce qui est d'ailleurs un tour de force remarquable puisque le principe des décors surdimensionnés est de loin le poncif le plus éculé de l'industrie des parcs à thèmes et le résultat est souvent très bas de gamme. Même dans les parcs Disney, les zones surdimensionnées type A Bugs Land ou Toy Story Playland n'ont jamais produit un résultat aussi charmant que Ratatouille aux WDSP.
Dans un parc aussi incomplet et baclé, L'aventure Totalement Toquée de Rémy installe un standard de qualité encore jamais atteint aux Walt Disney Studios. Pas même avec les différents ajouts et placemakings: si géniale soit-elle, la Tour de la Terreur a été placée n'importe comment sur le plan du parc. A l'inverse, Ratatouille offre une attraction d'aussi bonne facture où l'immersion totale commence dès l'extérieur, sans aucune intrusion visuelle ou presque. Soit comme dans un vrai parc Disney. En-fin! Espérons que Ratatouille ne soit que le premier pas d'une nouvelle ère pour les Walt Disney Studios. Et que la présence du PDG de Disney Bob Iger et du Directeur Parks & Resorts Tom staggs pour couper le ruban ne soit pas anodine…

1. L'ambiance générale
La scénographie progressive de la Place de Rémy à la zone d'embarquement sur les toits de Paris, accompagnée par la superbe musique de Michael Giacchino est un remarquable. L'atmosphère douce et élégante qui se dégage de l'attraction est réellement unique en son genre.
2. Les véhicules sans rail
C'est inexplicable, je suis amoureux de cette technologie. Je pourrais passer des heures à contempler le gracieux et silencieux ballet des Ratmobiles. Lancés par groupes de trois dans l'attraction, cette technologie offre des possibilités créatives uniques.
3. La dimension XXL
Qui a dit que la taille ne comptait pas? La grandeur des dômes/écrans est vertigineuse et produire des décors surdimensionnés sans que cela ait l'air cheap n'était pas gagné d'avance! Thumbs up !

1. Le mix écrans-décors
Certaines salles ne sont qu'un grand écran. Les formes et tailles d'écrans sont variés, mais l'attraction gagnerait en immersion s'ils étaient mieux intégrés dans les décors – notamment si le sol était hors du champ de vision.
2. Le design des Ratmobiles.
Pourquoi cette forme chelou qui sort totalement du cadre du film et de l'attraction? D'où cela sort-il ? Je veux comprendre !
3. Le nom 'Ratatouille – l'Aventure Totalement Toquée de Rémy'.
Le titre à rallonge, le jeu de mot… Une si belle attraction mérite tellement mieux que cette pirouette de prof de français.
De ratez pas la seconde partie de ce Contrôle Qualité spécial Ratatouille, ne manquez pas la playlist vidéo ci-dessous, et replongez-vous une dernière fois dans sa construction et tous les détails de conception sur cette page!
* * *
Here we are! After two years of construction and a delay of two other years because of a financial blocking from the banks whom Disneyland Paris owed money, a new area entirely dedicated to the Disney•Pixar movie Ratatouille finally opened to the public in the Walt Disney Studios park. For that special occasion, I've been invited amongst fifty other bloggers and websites to discover it before it officially opens. I hope you're hungry because today's menu is rich. So rich that we'll cut it in two parts : Part 1: the attraction. Part 2 : the area, the restaurant and the impact on the WDSP (yours to read here). Bon appétit!
The investment consists of a large 'E-Ticket' attraction, a table service restaurant and thematic area. Disney has not revealed the total budget, but the figure of 150 million euros has been around for quite a long time.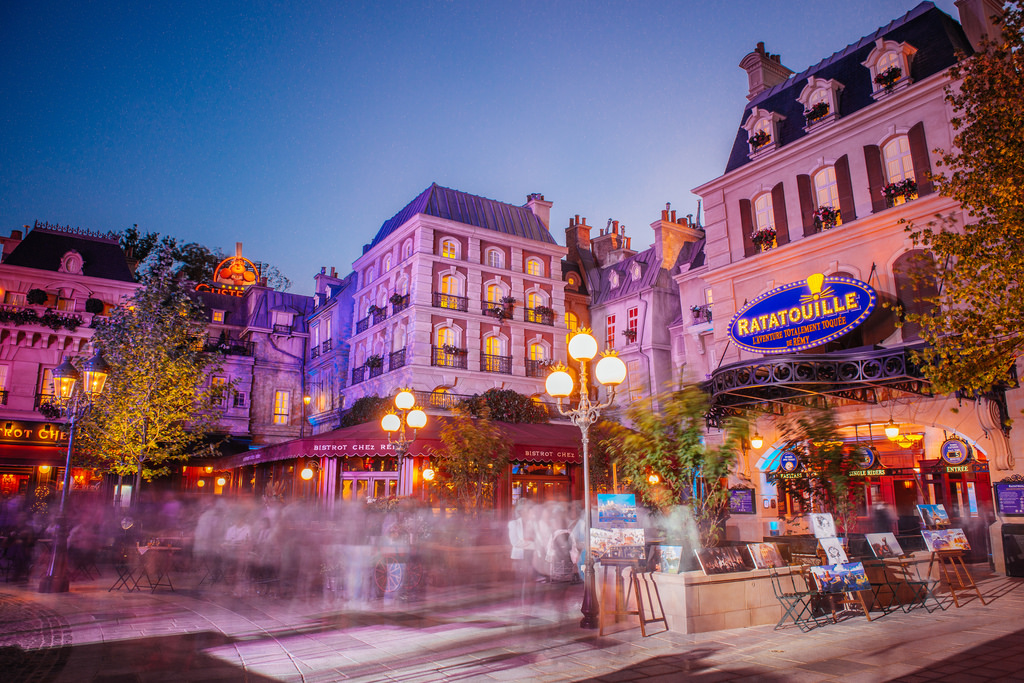 Let's start with what most people care about: the attraction. "Ratatouille – The Adventure" is a family oriented dark-ride that promises to reduce the visitors to the size of a rat. A typically Parisian Haussmann-style building welcomes the visitors through a large entrance that is reminiscent of an old theater. Right above, the ugly initial logo of the attraction has been changed very recently for a much more beautiful one. "We just did not like the logo initially planned." says Beth Clapperton, Walt Disney Imagineering Art Director on the Ratatouille project. Of course we agree!
Now let's enter the queue shall we? Actually there are three of them: a classic standby queue, a Fastpass queue and a single rider queue. On busy days, visitors will spend most of the waiting under a Parisian-style covered market. The decoration is simple but very nice and the many references to the movie are fun. However, the zig-zag configuration reminds the long and painful and long and and boring hours of waiting under Crush's Coaster's corrugated galvanized iron. Fortunately, we'll spend less time in there thanks to a healthy capacity of 1800 people / hour. Pretty far from Crush's Coaster's ridiculous 895 people / hour, right?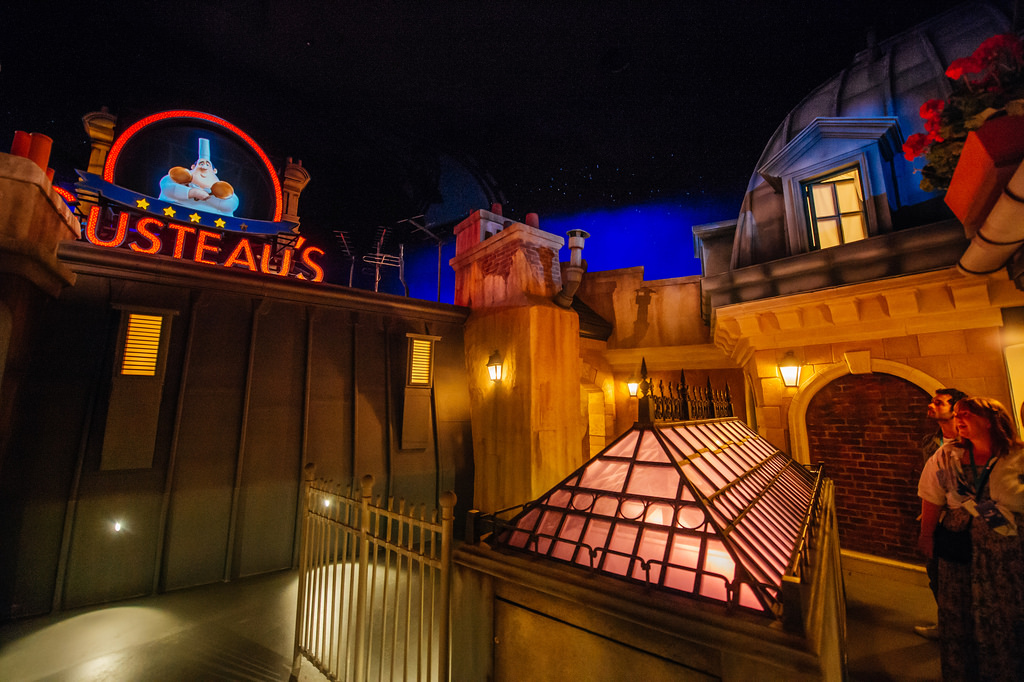 But the serious stuff really starts when the queue line comes back into the main building. Here we are for the first time on the rooftops of Paris, at night. Above our heads stands the famous Gusteau's sign. He comes to life every now and then to share his wisdom or make a little joke. In the background you can hear the buzz of the City of Lights: cars, barking dogs, and even a few bits of Le Festin, the movie's theme song by French singer Camille. It's now time to grab our 3D glasses and the queue line leads us to the scene that dazzled me the most thanks to its incredibly peaceful and cozy atmosphere: the loading area. Also we are  now shrunk to the size of a rat and the sets are massive. A gentle version of Le Festin re-orchestrated by Michael Giacchino is played as passengers board the 'Ratmobiles' which, in an amazing kind sort of ballet, quietly leave the station to the attraction three by three. I could have been watching this scene for hours. These trackless vehicles have been designed at the same time as those from Mystic Manor. Unfortunately, Disneyland Paris did not get the same luck with the design of the cars. The embarrassing look of Ratatouille's vehicles is a real conundrum as it contrasts so much with the flawless art direction of the entire attraction. But beside the weird look, the movements of the vehicles are surprisingly smooth and precise. My co-passengers and I were especially jealous of their perfect parallel park!
Our three Ratmobiles now peacefully leave the loading area and gently glide over the rooftops of Paris. A true moment of grace, very rare in amusement parks. Up in the sky, Gusteau invites us to follow him, then we enter the first (and huge) cinematic room. I'm not going to detail the ride scene by scene, but basically, the Ratmobiles follow Remy in the kitchen of Gusteau's restaurant until evil Chef Skinner sees him – and us! Obviously we're in huge trouble. What follows is a hellish chase that passes through the cold room, dining room, kitchen and between the walls of the restaurant, which is kind of a summary of the film's key moments. The scene I find the most spectacular is the race between the walls of the restaurant, which is precisely the only scene where the three Ratmobiles separate, each in front of a different screen.
Technically, the vehicles move from one giant screen to another and oversized sets are mainly used for the transitions. Media and theming are beautiful, realistic and faithful to the original film, but more interaction between the movie sequences and the scenery would have been welcome. Don't get me wrong, there are some of them (the trolley wheels, Linguini raising the tablecloth …), but you may need to look very carefully to see them. Benefit : you discover new details you haven't seen before every time you ride the attraction. Plus, there are several easter eggs but I won't tell you what and where there are! Interesting detail: the vehicles never take the same place in front of the screens.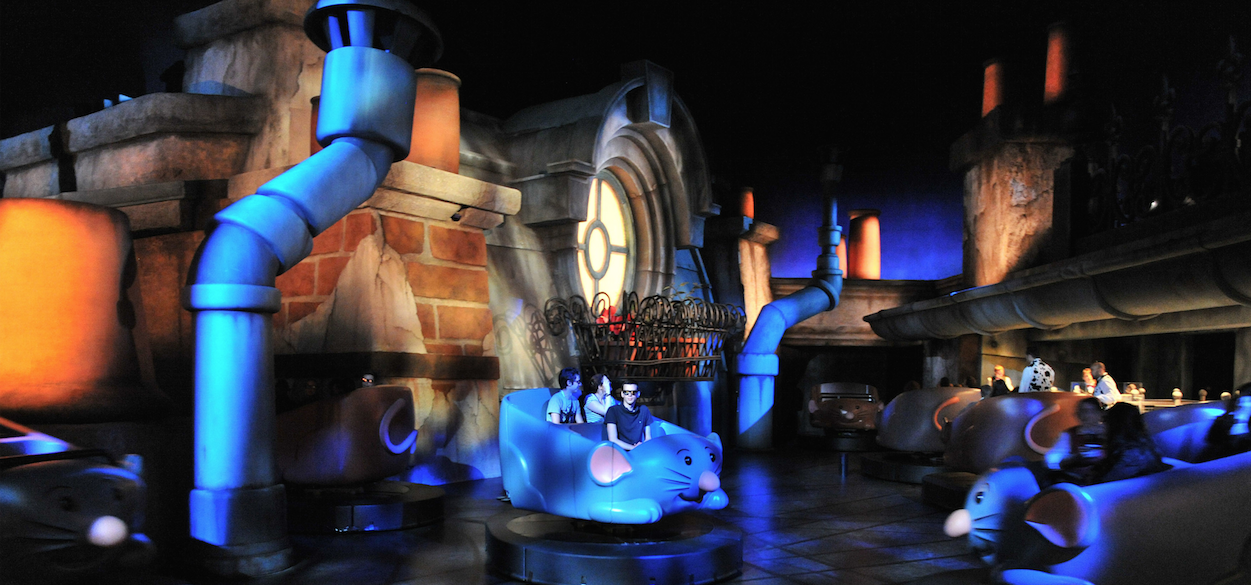 Since the comparison with The Amazing Adventures of Spiderman (Universal's Islands of Adventure) seems inevitable, I think the screens are better blended into the scenery, therefore both interact better with each other at Universal. Consequently, Ratatouille – The Adventure is slightly less disorienting and immersive than Spider-man, where it is sometimes difficult to realize what's true (physical scenery) and what's not (3D movie sequences). Also, as the cars move in groups of three, the distortion of perspective in films sequences to match the passenger's point of view (concept called 'Squinching' by Universal) is a problem in a couple of scenes: the image starts to be distorted as the first Ratmobile moves on, while the the two others are still immobile in front of the screen. Whoopsie! Hopefully these small errors will be fixed soon as Imagineers Beth Clapperton and Bjorn Heerwagen explained that some details still need adjustment and fine-tuning.
From a technical perspective, the attraction uses a fleet of cutting-edge technologies, but their combination creates a lot of imperfections. For instance, Dolby 3D glasses work wonderfully in front of the screens, but these have the disadvantage of splitting the spectrum of light. As a result, the lighting seems to flash from red to green in the scenes featuring physical props and theming. With their limited speed and movements, trackless vehicles were probably not the best choice to make believe you're experiencing a chase as a rat. Constantly seeing the floor and the edges of the screens has the effect that you never feel truly immersed into the action but just in front of a a screen, in a cart. Accordingly, Ratatouille is far, far away from the stunning immersion quality of Spider-Man, a 15 years older attraction, whose several main designers have now work for Walt Disney Imagineering.   This is quite questioning – and disappointing – because all the ingredients were on the table to avoid the many flaws of Ratatouille – the adventure.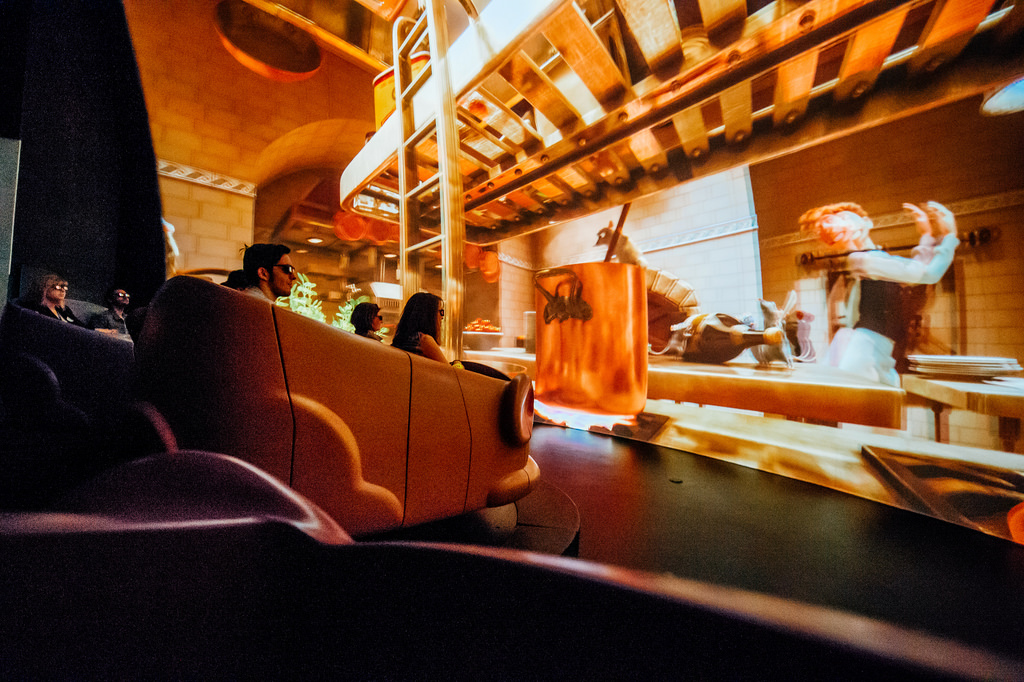 Now, let's get rid of the big controversy: Ratatouille is a family-oriented attraction in a family-oriented park that lacked a large family-oriented dark-ride. In this context, if you want thrills that challenge your stomach, you probably will be disappointed. I think it's the right moment to remind that some of the greatest attractions of DLP (and maybe the whole world for that matter) are completely thrill-free, and this has never been a problem for anyone (Hi Pirates, Hi Melanie Ravenswood!) If several technologies used on Ratatouille are actually similar to Spiderman, the target of these attractions is so different that it might be more appropriate to compare WDSP's new toy to Pooh's Hunny Hunt or Mystic Manor … if you really need to compare everything.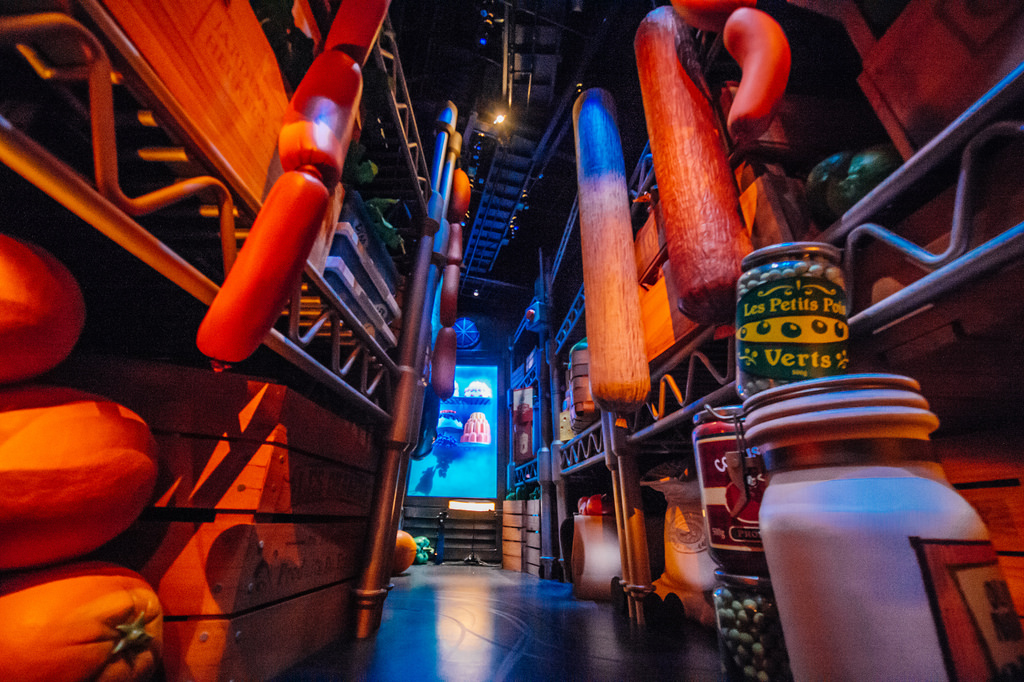 3D is greatly handled on all movie sequences. Not too many projectiles are sent to the face of the passengers – of course there are a few, but the stereoscopic effect is not overused, like theme parks still usually do. Here, 3D is primarily used for general immersion in order to enhance realism, a bit like the Gravity and Avatar movies. Also, there are a few sensory effects that are not especially breakthroughs, but these are very efficiently used.
In conclusion, Ratatouille – The Adventure is a contemporary and hybrid kind of dark-ride with a really neat theming and several technological deceptions. If the absence of audio-animatronics will make some of us sad, nevertheless it will be an important asset for maintenance in the current context of Disneyland Paris: see how after six years, The Twilight Zone – Tower of Terror's show is still in perfect condition.
You may like it or not, (movie) franchises – also called IP : Intellectual Properties – have become the key of the amusement park industry. In this context we must warmly welcome the choice of basing a DLP attraction of this scale on one of the most brilliant movies Pixar ever made, instead of picking the most profitable in terms of merchandise (Hi Cars Land!) As it is inspired by a film, the attraction is obviously less surprising that Mystic Manor for instance, since the characters and the environment are already familiar to us, but in itself, the art direction is flawless and the overall ambiance of attraction is simply wonderful. This is also a remarkable tour de force because oversized props are by far the most overused cliché of the amusement park industry and the result is awfully low end most of the time. Even in Disney parks, oversized lands like A Bugs Land or Toy Story Playland have never delivered such a charming result as Ratatouille does in the WDSP.
In a park as sloppy and incomplete, Ratatouille – The Adventure sets a quality standard never reached before in the Walt Disney Studios park. Not even with the various additions and placemakings: as amazing as it is, Tower of Terror has been outstandingly poorly  located on the park map. Conversely, the Ratatouille attraction is just as good (yet in very different ways) but the immersion begins from the outside, with almost no visual intrusion. Just like you are in a true Disney park. Finally! Hopefully Ratatouille is only the first step of a new era for the Walt Disney Studios. And hopefully, the presence of Disney CEO Bob Iger and Parks & Resorts chairman Tom Staggs to cut the ribbon was not just a coincidence…

1. The overall atmosphere
The scenography build-up from the Place de Rémy to the boarding area over the rooftops of Paris, accompanied by the beautiful music of Michael Giacchino is fantastic. The gentle and elegant feeling that emanates from the attraction really is unique.
2. Trackless vehicles
I just cannot explain: I'm in love with this technology. I could spend hours contemplating the graceful and silent ballet of the Ratmobiles. Dispatched in groups of three in the attraction, this technology provides unique creative possibilities.
3. Oversized dimensions
Who said size does not matter? The size of domes/screens is staggering and creating oversized theming without making it look cheap and tacky certainly was a tough challenge since no one succeeded at it before. Thumbs up!

1. Screens-scenery mix
Several scenes are just a giant screen. Screens shapes and sizes vary a lot, but the attraction would be even more immersive if they were better integrated into the scenery – especially if the floor was out of sight.
2. Ratmobile design
Why this weird shape that completely clashes with the design of the film and attraction? Where does it comes from? I'd like to understand!
3. French name 'Ratatouille – l'Aventure Totalement Toquée de Rémy'.
The long title, the pun… (in French, 'Toqué' means 'crazy' but it's also how the French call a chef's hat)
Such a beautiful attraction deserves a much better name than this French teacher fantasy.
Don't miss the second part of this Ratatouille Quality Control review and the video playlist above, feel free to catch up one last time with its construction and all conception details on this page.
Pictures : Le Parcorama, Kris Van De Sande – EndoreExpress, Disneyland Paris
Videos : DLP Guide, CafeFantasia, DLP Welcome, Disneyland Paris