Pour fêter dignement ses 20 ans, en plus d'une saison anniversaire et du spectacle Disney Dreams, Disneyland Paris offre à ses fans un joli cadeau : un livre.
Contrairement aux parcs Disney américains, la bibliothèque du passionné de Disneyland Paris est relativement vide. Il y a ceux publiés par des éditeurs indépendants et n'ayant de fait aucun compte à rendre à Disney, aucune obligation d' «oublier» certaines affaires peu reluisantes. Dans cette catégorie, un livre est de loin au dessus de la mêlée : Disney et la France de l'historien Sébastien Roffat. L'auteur y retrace toute la conception de Disneyland Paris avec beaucoup de précision et de documentation.
À l'opposé il y a les livres édités par Disney (ou dont les équipes de DLP ont pris part à l'écriture ou à la commande du livre). Dans ce rayon, on retrouve par exemple EuroDisney – Le Guide, que l'on trouve aisément sur Ebay en français, anglais et allemand, ou la référence du genre : Disneyland Paris – De l'esquisse à la création. Ce livre publié en 2002 à l'occasion des 10 ans de DLP propose un tour complet de la destination sous l'angle de la direction artistique du Resort. Richement détaillée, cette bible vient d'être rééditée par l'un des deux co-auteurs – Alain Littaye – et est disponible sur son site Disney And More. Il y a de la pub pour l'ouvrage à peu près sur chaque page de ce fameux blog, vous pouvez difficilement passer à côté.
Le nouveau livre Disneyland Paris – 20 ans de rêve est quant à lui édité par Disneyland Paris. Il a été rédigé par une petite équipe de fans et propose un album souvenir illustré des 20 premières années de Disneyland Paris. On y trouve évidemment les incontournables passages sur la conception et les nouvelles attractions, mais aussi tout ce qui fait la vie du Resort et dont aucun bouquin n'a parlé jusqu'à présent: les animations éphémères, les saisons thématiques, les happenings, les grands moments, les inaugurations et même les campagnes de communication. C'est donc un éventail varié et inattendu de thèmes développés qui rend ce livre complémentaire et non redondant avec De l'Esquisse à la Création.
Ce nouveau livre propose en outre une grande sélection de photos et documents allant des visuels de presse traditionnels à de rares photos des équipes du Resort, des premiers billets d'entrée au programme du gala d'ouverture en 1992, des badges collector en tous genres aux concept arts de projets avortés. La magnifique esquisse de ce qui deviendra 10 ans plus tard les immondes Walt Disney Studios peut donner (encore plus) d'envies de donner quelques baffes bien méritées à Michael Eisner, vous êtes prévenus.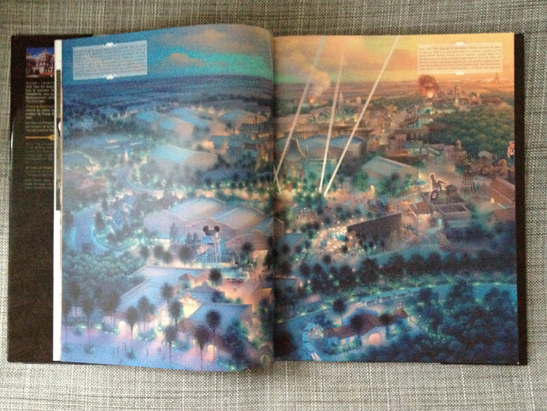 À ce propos, je me demandais récemment si on ne commençait pas avoir fait le tour des photos et concept arts des archives de Disneyland Paris, et je ravi de constater qu'il n'en est rien. Le livre propose une belle brochette de documents inédits.
Autre élément très appréciable : le ton utilisé. Il s'agit bien de fans qui s'adressent à des fans. On sent que les auteurs ont tablé sur le fait que leur lectorat a une base de connaissance établie sur le sujet, ce qui leur permet d'aller parfois plus dans le détail, ou de se passer d'explications éventuellement nécessaires aux novices. Ce qui toutefois n'empêchera pas ceux-ci de comprendre pleinement le livre. Et le cas échéant, on est en 2012 : Google n'est plus seulement un service mais un réflexe généralisé.
Un détail m'a positivement étonné : bien que le livre soit édité par Disney, les auteurs parlent assez librement d' aspects que la Walt Disney Company prend habituellement soin d'éviter au nom de la Magie. Attention, je n'ai pas dit qu'il était écrit noir sur blanc que DLP faisait l'aveu de la dette abyssale d'EuroDisney ou du fiasco artistique des Walt Disney Studios. Mais des passages abordent l'incendie ravageur survenu au Sequoia Lodge ou les difficultés rencontrées à comprendre les attentes et différences culturelles européennes. Par contre, on ne parle jamais d'échec financier de DLP mais bien d' 'une conjoncture économique difficile'. Genre.
A vrai dire, un des quelques bémols que je trouverais à ce bouquin est sa mise en page très chargée. Cela est vraisemblablement dû à la quantité de documents et photos, mais à choisir, j'aurais préféré payer un peu plus cher pour plus de pages avec plus d'espaces pour de plus grandes photos.
Toujours est-il que ce bouquin est tout-à-fait appréciable et recommandable, et comme un écart de 10 ans semble désormais ponctuer chaque sortie d'ouvrage illustré et détaillé sur Disneyland Paris, ce serait plutôt bête de se priver, non?
Disneyland Paris – 20 Ans de Rêves est en vente au prix de 49.99€ dans certaines boutiques de Disneyland Paris ou disponible en ligne sur commande à l'adresse suivante :  dlp.mail.order(at)disney.com .
Merci Maryse. Oh mais de rien Pierre, à la semaine prochaine!
To celebrate its 20th birthday, besides a special anniversary season and the night time show Disney Dreams, Disneyland Paris has a pretty nice gift in store for the fans : a book.
Unlike the US Disney Parks, the Disneyland Paris fan library is quite empty. There are those released by independant publishing companies, which don't have to report to Disney and have no obligation to mask any embarrassing topic. In this category, there is one book above all the others : Disney et la France, written by french historian Sebastien Roffat. He puts the whole conception of EuroDisney in the spotlight very precisely with a lot of documentation. On the other hand, there are books published or commissioned by Disney (or whose DLP teams took part in the writing process). On that range, you can find this EuroDisney Guidebook from 92 that you can easilly find on Ebay in French, English or Dutch, and the one book you can't miss if you're passionate about DLP : Disneyland Paris – From Sketch to Reality. This book was released to celebrate DLP's 10th anniversary in 2002 and provides a complete tour of the Resort from the perspective of its art direction. Very detailed, this bible has just been re-edited by one of its two co-authors – Alain Littaye – and you can purchase it on his website Disney And More. You can hardly miss it, there is advertising for this book almost on every page of this great blog.
This new book Disneyland Paris – 20 Years of Dreams has been published by Disneyland Paris. It has been written by a small team of DLP fans and offers an illustrated souvenir album of the 20 first years of Disneyland Paris. You'll find some classic conception and new attractions stories, but essentially everything that makes Disneyland Paris everyday life that no book talked about yet : ephemeral animations, thematical years, happenings, events, highlights and even advertising campaigns. As you can see, this large and eclectic panel of topics makes this book a great addition to your collection, and it's not redundant at all with From Sketch to Reality book.
This new book also provides a wide selection of pics and documents from advertising visuals to the very first access tickets, from the opening ceremony programme leaflet to rare pictures of the DLP crew, from commemorative buttons to concept arts of aborded projetcs. The splendid rendering of what would become the filthy Walt Disney Studios 10 years later will probably give you (more) desire to give a few slaps in the face of Michael Eisner (to see above).
About that, lately I was wondering if there were still unpublished pictures and concept arts of the EuroDisney conception in the Walt Disney Imagineering archives left for us fans to discover. And I'm more than glad to see I was wrong. This book offers quite a vast selection of never-seen-before documents.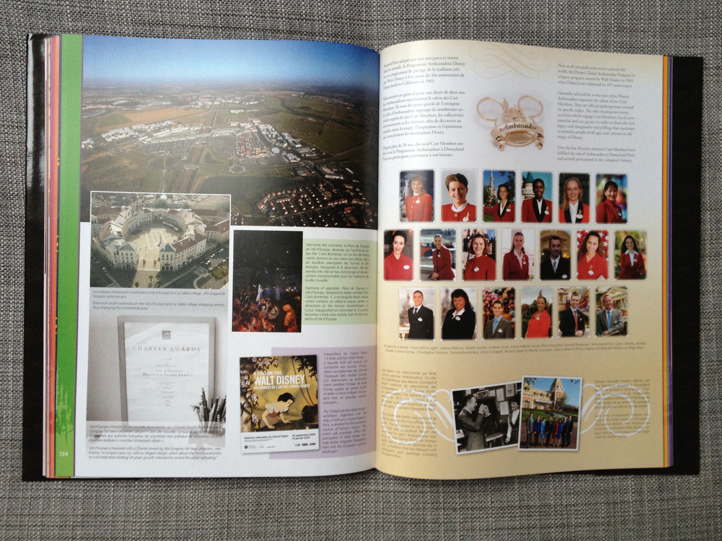 Also, the tone they used to write the book is pretty cool since it's really about fans talking to other fans. You can feel they had in mind that readers would have a common knowledge base, which allowed them to go deeper, or to skip some unnecessary explanation that newbies could need. But this won't prevent the non-fans to fully understand the book. And if it's necessary : it's 2012. Google is not just a service anymore but a global reflex.
I was surprised (in a good way) by this : although the book was published by Disney, the authors talk quite freely about stuff that The Walt Disney Company usually likes to avoid or mask in the name of Magic. But don't get me wrong : you won't read DLP publicly admitting its insanely huge debt or claiming the Walt Disney Studios park is an artistic fiasco. But some parts deal with the disastrous fire that occurred at the Sequoia Lodge hotel or their issues to understand Europe's cultural differences and expectations. Of course they don't talk about DLP's financial failure, but instead of 'though economic conditions'. *rolling eyes*
To say the truth, one of the few downsides of this book is its overloaded layout, in my opinion. I guess it's because of the amount of documents and pictures they wanted to show, but I would rather have a more expansive book with more pages for more space for larger pics.
Anyways, this book is definitely a must have for your DLP library, and since there is apparently a gap of 10 years between every illustrated and detailed book about Disneyland Paris, do not hesitate any longer to buy it!
You can purchase Disneyland Paris – 20 Years of Dreams for 49.99€ in a selection of boutiques at Disneyland Paris, or by ordering it online via dlp.mail.order(at)disney.com .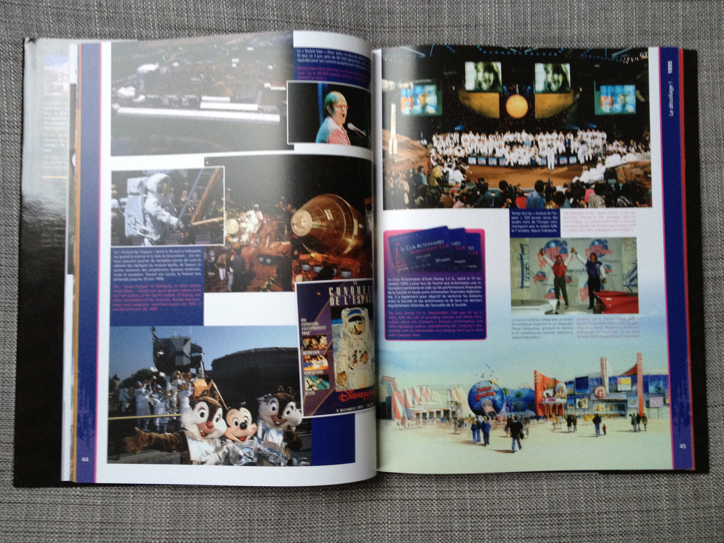 _______________________________________________________________________
Suivez le Parc-O-Rama sur Facebook , Twitter  et Google + ou via notre fil RSS .
Follow Parc-O-Rama on Facebook , Twitter and Google + or our RSS feed .