Aujourd'hui nous sommes le 12 avril 2012. EuroDisney ouvrait ses tourniquets au public il y a 20 ans, jour pour jour. Disneyland Paris compte bien-sûr fêter l'événement en grandes pompes afin de booster sa fréquentation et son chiffre d'affaires. Nous allons ici passer en revue les nouveautés prévues pour cette saison anniversaire. Ayant eu le privilège d'être invité à les découvrir dans les meilleures conditions lors du press event, je tâcherai néanmoins de rester impartial. C'est parti !
DISNEY DREAMS
Disney Dreams est un tout nouveau spectacle nocturne de grande envergure. Comme il s'agit de l'attraction majeure de cette saison anniversaire, nous lui avons consacré un Contrôle Qualité exclusif. Je vous invite donc vivement à y jeter un œil par ici (lisez : rendez-vous sur cette page immédiatement!!)
LA MAGIE DISNEY EN PARADE
Il s'agit de la parade « Once Upon  A Dream » lancée pour les 15 ans de Disneyland paris, légèrement remaniée. Autant le dire tout de suite, je ne suis pas friand de parades, ce qui ne m'a jamais empêché de reconnaître que la parade des 15 ans est de très bonne facture, remplie de chars créatifs et réalisés avec soin. Les aménagements opérés cette année sont :
– Une nouvelle bande son remplaçant Just Like We Dreamed It. Au premier abord, Magic Everywhere sonne très eurodance pas très subtile (pléonasme) dont raffole Tokyo Disneyland, mais je dois bien admettre l'efficacité catchy de cette chanson une fois utilisée dans le contexte d'une parade. Par contre, fini les arrêts : la parade défile d'une traite et la musique est diffusée en boucle durant une vingtaine de minutes, ce qui rend la chanson un touuuuut petit peu indigeste.
– De nouveaux costumes de magiciens pour les personnages.
– La suppression du char des méchants. Très très dommage, c'était justement ce char là que j'aurai sauvé.
– Le réaménagement du premier et dernier char. Sur le premier, c'est une bonne chose d'avoir viré cette lune et ce soleil flippants. Mais ce qui est sensé représenter le château de DLP fait un peu cheap. Les rochers du dernier char ont quant-à-eux été repeints en bleu. Un choix un peu criard que je ne comprends pas trop. Je devine qu'un rocher bleu avec des paillettes est plus Magique qu'un rocher couleur roche. En outre, les balais de Fantasia y ont été ajoutés sur une idée de Steve 'Dreams' Davison.
LE TRAIN DISNEY DU 20ème ANNIVERSAIRE
Attention, sujet sensible. Le train des personnages est nouveau chaque année depuis 2007. Un coup de peinture aux couleurs de la campagne de pub annuelle et c'est reparti pour un tour, 3 fois par jour ! Comprenons-nous, je ne critique pas du tout l'existence de cette animation qui répond à une demande d'un public toujours plus demandeur en personnages. Comme l'expliquait l'Imagineer/Show Director Katy Harris lors de la présentation dédiée aux sites de fans (en vidéo plus bas), ce Train des Personnages vite est devenu un favori des visiteurs. C'est spécialement la raison pour laquelle je me demande pourquoi ils n'en font pas un design abouti et définitif afin de faire de cette animation une icône du parc comme une parade peut l'être. Est-ce que ce happening doit forcément arborer au forcing les couleurs et logos d'une campagne de marketing ? Pour utiliser le jargon, je ne trouve pas ça très Magique pour le coup. Mais au vu de la vitesse à laquelle le Train Disney du 20ème Anniversaire a été expédié durant la présentation, on peut imaginer le malaise qui doit régner en interne entre les créatifs et les costard-cravate sur le sujet. Ou alors ils savent ce que la sphère des fans pense de ce train et n'ont pas voulu s'épancher dessus. Surtout que le design de cette année fait mal aux yeux. Je suis presque curieux de savoir comment ils feront plus tape-à-l'œil l'an prochain.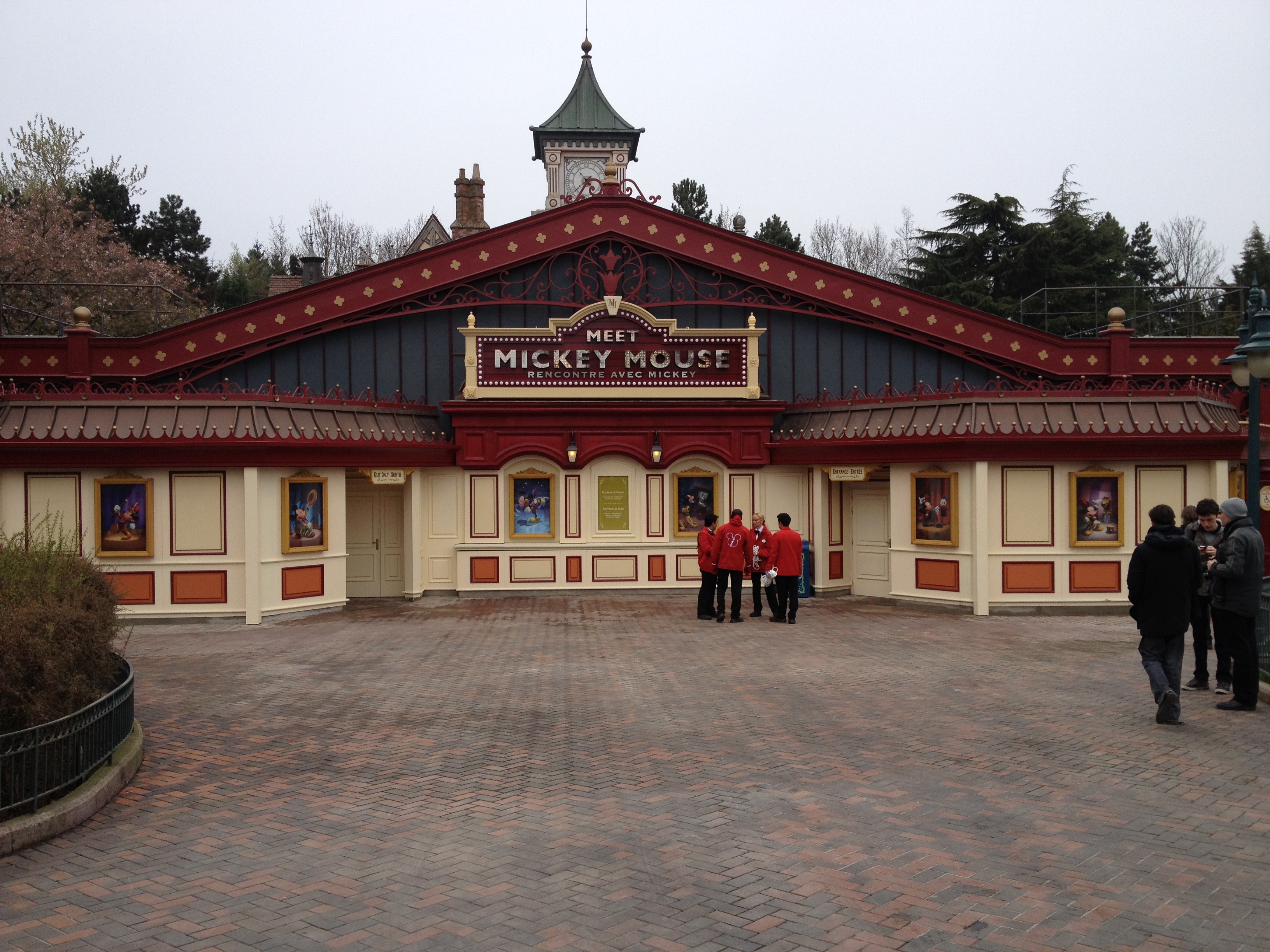 MEET MICKEY
Qui n'est jamais revenu de DLP en réalisant sur le chemin du retour qu'il n'avait pas croisé le maitre des lieux ? Toujours pour répondre à une demande croissante de rencontres avec les personnages, Disneyland Paris va inaugurer en mai prochain un espace de rencontre spécialement dédié à Mickey Mouse dont nous avons eu le privilège d'effectuer une visite du chantier – une opportunité rarissime chez Disney. Dans les grandes lignes, il s'agit de la même expérience que celle ouverte l'an dernier à Disney World dont je vous avais déjà parlé. Le but est de rendre votre rencontre avec Mickey plus confortable et intimiste. Voilà une belle idée. Installé dans l'ancien Fantasy Festival Stage, Meet Mickey propose aux visiteurs de faire la file dans une magnifique salle de cinéma de style victorien. Le grand écran diffusera des cartoons classiques de Mickey Mouse pour vous faire patienter jusqu'à ce que vous passiez dans les coulisses du théâtre où vous pourrez rencontrer Mickey dans sa loge. Nos hôtes ne nous préciseront pas de combien de loges dispose le lieu, prétextant qu' « il n'y a qu'un seul Mickey, donc une seule loge », mais il doit y en avoir deux ou trois au total.
Le soin apporté au détail et aux matériaux choisis (bois, or, faux-mais-très ressemblant marbre, moquette joliment dessinée…) est très appréciable et plus globalement assez rassurant sur la direction prise actuellement par Imagineering et le management de Disneyland Paris. En bonus, les fans hardcore les plus attentifs trouveront une série de références et clins d'oeil aux productions et parcs Disney tout au long des décors. L'ensemble semble vraiment de qualité, sur la forme comme sur le fond : l'attraction est accessible de A à Z par les personnes en fauteuil roulant (y compris les espaces réservés aux employés) et un travail de fond a été fait pour rendre les installations eco-friendly, notamment en supprimant intégralement toute ampoule à filament au profit du LED (ce qui représente un tout petit anachronisme sur l'enseigne dont les ampoules sans filament sortent du contexte victorien). Les visiteurs pourront utiliser leur propre appareil photo, ou se faire tirer le portrait par un Cast Member et acheter la photo à la sortie.
Détail dommage : la loge de Mickey est vraiment très jolie et fourmille de détails, mais c'est devant un simple rideau rouge que vous prendrez la pose avec Mickey. N'oubliez donc pas de mitrailler les décors avec votre appareil lors de votre passage.
REHABILITATIONS
Ce n'est pas sur le programme officiel, mais c'est suffisamment important à mes yeux pour l'y ajouter. Depuis plus d'un an maintenant, la direction de Disneyland Paris a entamé un chantier titanesque de réhabilitations de ses installations. En 20 ans, beaucoup d'entre elles avaient mal vécu l'épreuve du temps. Et la situation financière perpétuellement compliquée de DLP a rendu  les réhabilitations cosmétiques régulières très difficile à mettre en place. Pourtant, celles-ci sont indispensables pour maintenir les parcs en bon état compte tenu du climat tantôt humide, tantôt glacial de Marne-la-Vallée. Après le Château de la Belle au Bois Dormant, le Molly Brown, les facades de Main Street USA et le Colonel Hathi Pizza Outpost (pour ne citer qu'eux) c'est maintenant au tour du Labyrinthe d'Alice, du Nautilus, du Galion du Capitaine Crochet, du passage reliant Main Street à Adventureland et de l'esplanade entre les deux parcs de rouvrir leurs portes après des mois de réhabilitations intensives. Bien sûr, certaines rénovations ont été faites au finish pour être prêtes pour le presse vent du 20ème anniversaire, mais les faits sont là : le parc Disneyland a rarement été en si bon état général depuis 1992, et il faut féliciter les équipes de Philippe Gas (PDG d'EuroDisney) d'avoir trouvé les moyens de rendre au parc sa superbe, son aspect impeccable qui constitue en partie, la signature des parcs Disney.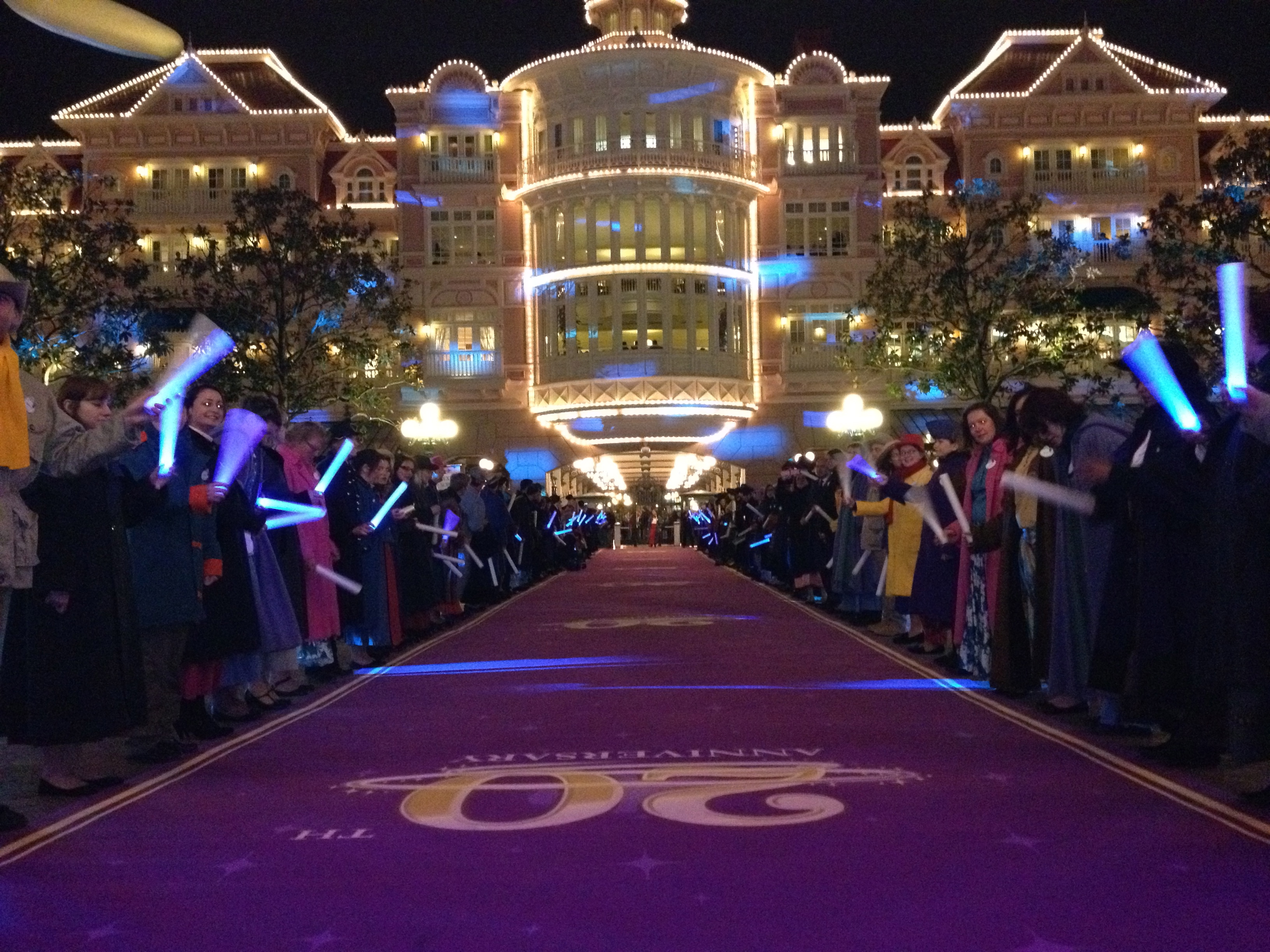 Vous l'aurez compris, Disneyland Paris fête son 20ème anniversaire la tête haute. S'il y a peu de chances de voir un jour le montage financier d'EuroDisney évoluer pour permettre à la société d'être rentable, la direction actuelle semble en tout cas faire de bons choix et trouver les moyens de financer de nouvelles attractions et réhabilitations.
Les nouveautés des 20 ans, comme les investissements des dernières années (Tower of Terror, Toy Story Playland, Toon Studio), malgré certains défauts, donnent un sentiment global de retour de la qualité propre à la conception de DLP.
En cela, on peut se dire que les années les plus sombres de DLP sont peut-être derrière nous. A 20 ans, Disneyland Paris continue d'apprendre de ses erreurs passées et entre dans l'âge adulte sur son 31. En 20 ans, Disneyland Paris a trouvé son public et le Tchernobyl Culturel annoncé par les élites de l'intelligentsia française n'a pas eu lieu.
Et si le futur réservait à Disneyland Paris les meilleurs jours de son histoire ?
Bon anniversaire Disneyland Paris!
Je tiens à remercier le service communication de Disneyland Paris et plus particulièrement Mathias pour son invitation et son accueil chaleureux durant ce press event.
UPDATE : 
Il y avait tant de choses à dire sur cet anniversaire que j'en ai oublié une partie au passage.
Je commence par le positif. Disneyland Paris a joliment décoré Main Street USA pour les 20 ans du parc. Drapeaux or et jaune ornent la zone, et une belle structure dédiée aux 20 ans a été posée sur Main Street Station là où se succèdent les moches logos des célébrations annuelles venues de nulle part depuis 5 ans. Je n'aurais cependant pas poussé le vice jusqu'à repeindre certains piliers de la gare en doré, mais c'est bien la première fois que ce symbole est joliment désigné. En bonus, Main Street a reçu une update de sa bande son matinale. Elle nous vient directement de Disneyland, Californie, et intègre de jolies réinterpétations ragtime des BO de Up (Married Life) et Hello Dolly (Put On Your Sunday Clothes, que l'on a aussi pu entendre dans Wall-E).
Passons au moins drôle. Disney Dreams nécessitant d'être présenté lorsqu'il fait nuit, le Parc Disneyland a été contraint d'élargir ses horaires d'ouverture plus tard le soir, même hors haute saison. Si c'est en soi une excellent nouvelle, le revers de la médaille est beaucoup moins reluisant. Parce qu'ouvrir plus tard coûte de l'argent et que les finances de DLP sont condamnées à faire la gueule, Disney a choisi de fermer la plupart des points de restauration après 20h pour faire des économies sur le personnel. Idem sur certaines attractions dont les horaires sont/seront réduits aléatoirement (une heure par ci le matin, deux heures par là le soir) comme cela s'est déjà vu ces dernières années. Je suppose qu'ils ont quand-même fait le calcul avant, mais entre 20h et la fermeture du parc aux alentours de 22h, les visiteurs ont faim, ce qui représente un sacré manque à gagner pour DLP.
Mais QUAND est-ce que la Walt Disney Company se décidera-t-elle enfin à revoir le montage financier de Disneyland Paris pour lui permettre de gagner de l'argent?!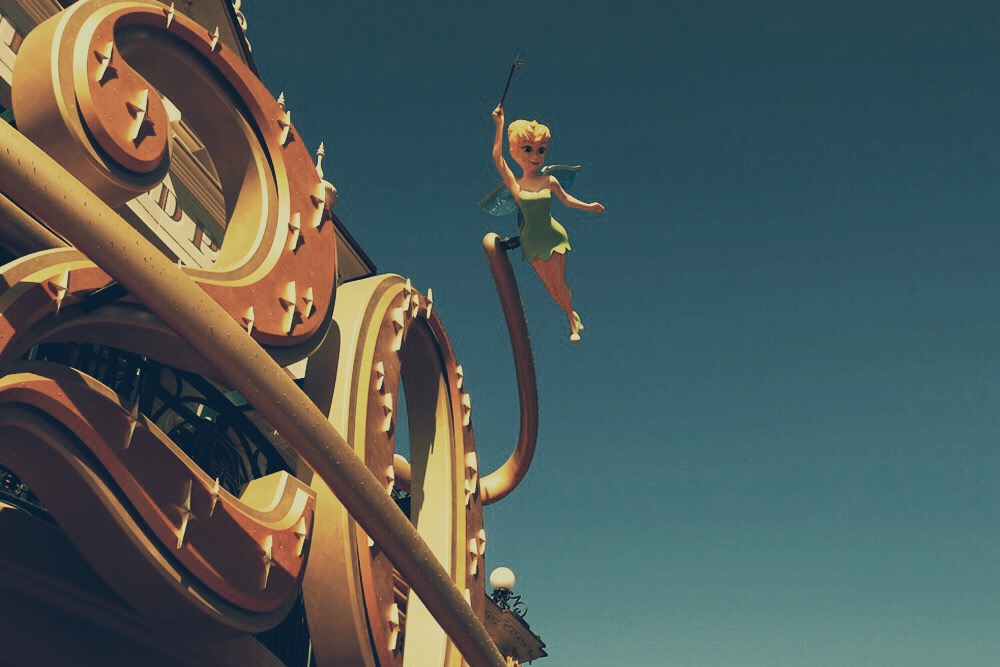 Today it's April 12 2012. EuroDisney opened its turnstiles for the first time just 20 years from now. Disneyland Paris will of course celebrate that important date to boost the attendance and sales. Here, we're going to review all the stuff DLP has in store for us to enjoy for this anniversary season. I had the great privilege of being invited to discover those things during last week's press event, but I swear, I'll do my best to stay neutral. Everybody ready? Well, let's get going!
DISNEY DREAMS
 Disney Dreams is a new large-scale nightly show. As it happens to be the major attraction of this birthday year, I dedicated a whole Contrôle Qualité just for this breathtaking night-time spectacular! So I warmly encourage you to check it out on this page (read : go to that damn page immediately!!)
DISNEY MAGIC ON PARADE
 This is actually a slight revamp of Disneyland Paris 15th anniversary parade "Once Upon A Dream". I should say here that I'm not huge fan of parades, but I always thought this parade was very nicely done, with many creative and carefully designed floats. Anyway this year's changes are:
 – A new soundtrack to replace Just Like We Dreamed It. The first time I heard "Magic Everywhere", it reminded me of the not so subtle eurodance (pleonasm) that Tokyo Disneyland loves so much. But in the meantime, I have to admit that this very catchy song does a pretty good job in the context of a Disney parade. On the other side, there is no more show stops. The parade now runs in one go while the music loop goes on and on and on during 20 long minutes. Which can easily gives you nausea, you're warned.
 – New magician costumes for the main characters.
 – The villains float was removed. A very sad decision since it's precisely the one float that I would have saved.
 – First and last floats were redesigned. The first got rid of these weird looking moon and sun, which is good news. To replace them, there is now a DLP castle tower mockup that looks pretty fake. Also, the rockwork of the last float has been repainted in glittering blue. A garish choice I don't quite understand. I guess it's supposed to look more Magical that way. They've also putted Fantasia broomsticks on both sides of the float, an idea suggested by Steve 'Dreams' Davison.
THE 20th ANNIVERSARY DISNEY CHARACTER EXPRESS
 Attention, touchy topic. The Disney Character Express is new every year since 2007. They just put some fresh paint and a few logos from the yearly marketing campaign of Disneyland Paris, and the train is good to go. Again. And again. And again. But don't get me wrong. I don't criticize the existence of this animation that answers the public demand for more characters in the park. Imagineer/Show Director Katy Harris explained it during the presentation dedicated to Disney fan websites: this animation quickly became a guest favorite in DLP. But this particular point is why I can't stop wondering why they don't try to give this animation a proper and definitive design in order to make it a true Disneyland Paris icon, just like a parade can be. Does this happening necessarily have to be linked with the colors and logos of the annual advertising campaign? To use a familiar word of them, I don't think this makes this train more Magical. Judging by the little amount of time DLP Imagineers gave to this year's Character Express during the presentation, you can imagine the creative minds and the suits do not agree on that subject. Or maybe they just know what the fandom thinks about it and they preferred not to spent too much time talking about it. Especially since this year's color scheme of the train could literally make your eyes melt. For that reason, I'm almost curious to discover what they'll come up with next year.
MEET MICKEY
 Have you ever happened to realize on your way home from DLP that you didn't even see Mickey Mouse? To answer a constantly growing demand for more characters, Disneyland Paris will open next may a special meet'n'greet area entirely dedicated to the Mouse. Disney gave us the rare opportunity to visit the (still under construction) location. Basically, this is exactly the same kind of experience that the one which opened last summer at Walt Disney World. The idea is to make your encounter with Mickey more intimate and cozy. Brilliant idea! 'Meet Mickey' took over the Fantasy Festival Stage to make it a marvelous Victorian style movie theater. A big screen will show Mickey Mouse classic cartoons while you're waiting in line until you reach the (fake) backstage area where you'll finally be able to meet the Boss in his own magician dressing room. Our host of the tour didn't want to tell us how many of these rooms are in the building, because "there's only one Mickey Mouse". But other sources told us there are two or three of them. The attention to detail and material choice (wood, gold, fake-but-very-similar marble, beautiful carpet pattern design…) is very significant here and really makes you feel that the decisions made by DLP's current management and Imagineering go in the right direction these days. Plus, die-hard Disney fans will notice a bunch of hidden references to Disney parks and productions in the building theming. The whole area really seems quality made. Even things you can't see have been done the right way: the whole attraction is accessible to wheel chair users and the installations are eco-friendly, thanks to the replacement of every filament light bulb with LED (which makes an unfortunate anachronism on the supposedly Victorian facade sign). Guest will have the choice to use their own cameras, or to buy the photo a Cast Member will take in case you don't have one.
 There is just one weird thing: Mickey's dressing room is absolutely gorgeous and is filled with nice details and jokes, but you'll strike a pose with the Mouse in front of a red curtain of some kind. So don't forget to shoot the surroundings as well before you meet Mickey.
REHABILITATIONS
It's not on the official program, but I think it should. Because that's important stuff in my opinion. For more than one year now, the Disneyland Paris management teams started a massive rehabilitation program. After 20 years, many buildings and props suffered a lot of Paris wet and cold weather conditions. Lots of things looked very tired to say the least. And the perpetually complicate finances of DLP made the frequency of cosmetic rehabilitations almost impossible. But the thing is, rehabs are absolutely crucial to maintain the park in good condition. After Sleeping Beauty Castle, the Molly Brown riverboat, Main Street USA facades and colonel Hathi's Pizza Outpost (to name a few), now Alice's Curious Labyrinth, the Nautilus, Captain Hook's Ship, the path joining Main Street to Adventureland and the esplanade in front of both parks have been completely renovated. Of course some of these works have been done especially before the press event but that's a fact: Disneyland Paris never looked so good since 1992, and COE Philippe Gas and his teams should be congratulated for finding the money needed to make the park dazzling again, which is a major part of the Disney parks signature.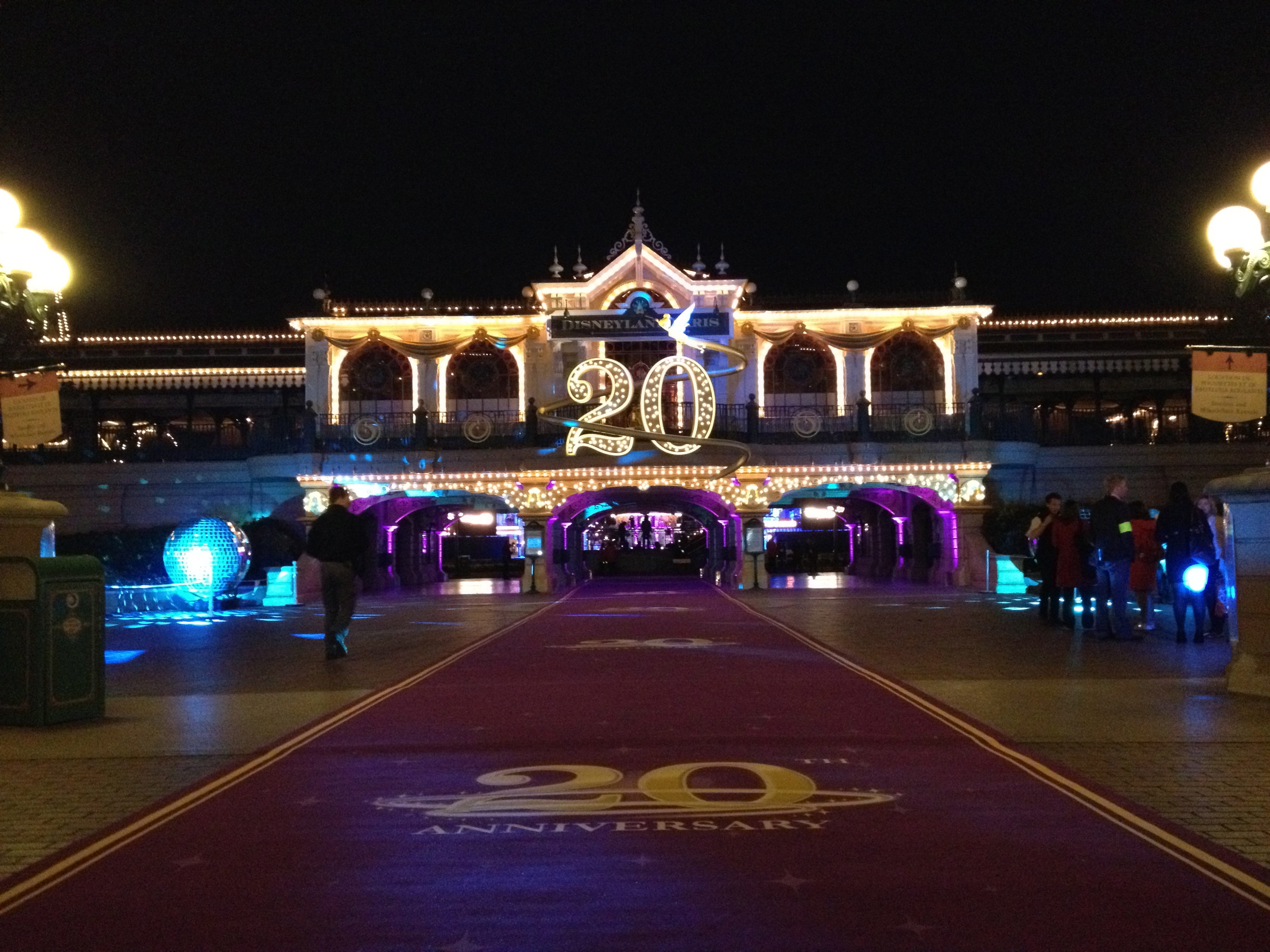 So you get it right, Disneyland Paris proudly celebrates its 20th birthday. If there are not many chances to see the financial montage of Disneyland Paris change to allow the operating company to make profit, the current management seems to take the right decisions and find ways to fund new attractions and rehabilitations. This year's new additions as well as those from the last years (Tower of Terror, Toy Story Playland, Toon Studio), while they may have fails, can make you feel the return of quality in Disneyland Paris.
Maybe the darkest hours of DLP are behind us ? At the age of 20, Disneyland Paris keeps learning of past mistakes and enters adulthood dressed to the nine. In 20 years Disneyland paris found his audience and the Cultural Chernobyl predicted by French elites did not happen.
What if the brightest days of DLP were actually ahead of us?
Happy birthday Disneyland Paris!
I'd like to thank Disneyland Paris press service and especially Mathias for his invitation and kind presence during the press event.
UPDATE:
There were so many things to tell about this anniversary that I forgot some of them.
First, some positive things. Disneyland Paris did a great job on the Main Street 20th birtday decorations. Gold and yellow flags make the area shine very nicely and a beautiful sign took place on Main Street Station to replace those ugly ones from the past five years obsolete annual celebrations. I wouldn't probably have painted in gold some of the Station pilars but I have to say this is the first time this sign is so beautifully designed. Also, Main Street USA  got a pleasant birthday gift : a new background music for the morning. This new soundtrack comes from Disneyland, Anaheim, where it runs since a few weeks from now. It includes some nice ragtime reorchastrated versions of the OST from Up (Married Life) and Hello Dolly (Put On Your Sunday Clothes, also heard in Pixar's Wall-E).
Now the negative stuff. Because Disney Dreams need to be presented at night, DLP had to expand its opening times on the evening, even off peak season. Which is basically an excellent news. But on the other hand, late openings cost a lot of extra money, and DLP fincances are perpetually down. So Disney decided to simply close most of the restaurants and catering points after 8PM to save money on staff. Same thing on several attractions with reduced opening windows (a couple of hours here on the morning, a couple of hours there on the evening) as they already did over recent years. I guess they know what they're doing but between 8PM and the park's closing around 10PM, people will (and already are) starving, which creates a huge shortfall for DLP.
WHEN the hell will The Walt Disney Company finally change the financial package of Disneyland Paris, in order for the Resort to make profit?!
Photo: copyright Parc-O-Rama and Disneyland Paris.
Video : DlrpMagic!
_______________________________________________________________________
Suivez le Parc-O-Rama sur Facebook , Twitter  et Google + ou via notre fil RSS .
Follow Parc-O-Rama on Facebook , Twitter and Google + or our RSS feed .