JUMP TO ENGLISH TEXT : CLICK HERE !
Disneyland Paris et Phantasialand ne sont pas les seuls pois lourds européens à avoir ouvert une grande attraction en 2014. Après des mois de construction et une inauguration plusieurs fois retardée, Europa Park a finalement ouvert les portes d'Arthur au Royaume des Minimoys à la mi-juillet. Je suis allé le tester la semaine dernière, et comme ma dernière visite dans ce mastodonte des parcs remonte à huit ans, je ferai en plus un débrief express des grandes attractions qui y ont éclos entre-temps. Qualitätskontrolle !
La nouvelle zone Arthur au Royaume des Minimoys se compose principalement d'un grand pavillon dans lequel on trouve pas mal de choses. De petites attractions pour enfants, une zone de jeux, des stands de restauration, et surtout Arthur, une attraction hybride moitié dark-ride moitié coaster. Les trains sont constitués de trois wagons rotatifs suspendus pour quatre personnes. Vu de l'extérieur, le bâtiment est joliment intégré à la végétation malgré sa grande taille. Le dôme et les murs extérieurs du bâtiment sont recouverts d'un mur végétal. Il faudra encore un peu de temps avant que les plantes couvrent toute la surface, mais j'aime vraiment bien cette technique : désormais courante dans l'architecture contemporaine mais encore très rare dans les parcs. Cela donne beaucoup de fraicheur et une certaine modernité à l'ensemble. Par contre, ce qui serait bien, c'est que toutes les surfaces visibles du hall soient couvertes de végétation. Certaines parties ont été laissées en taule (peut-être pour copier le style architectural des Walt Disney Studios ?) grossièrement couverte par un poster géant d'Arthur et c'est bien vilain.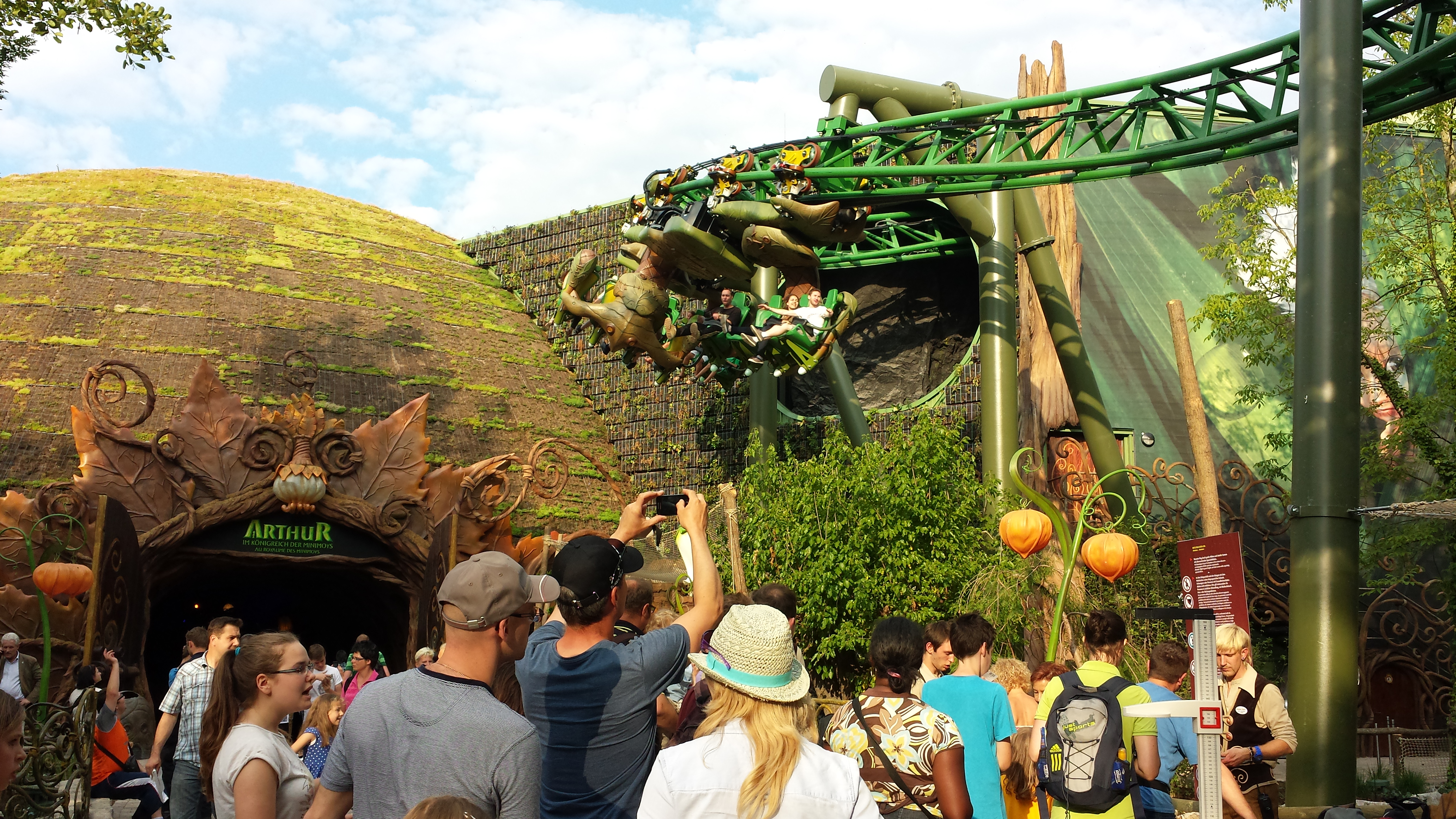 Entrons dans le hall, où se trouve l'entrée de la file d'Arthur. Comme dans Ratatouille – L'aventure Totalement Mal Nommée de Rémy, nous voilà rétrécis à la taille d'un rat minimoy. Ces lilliputiens construisent leur habitat avec ce qu'ils trouvent dans la nature : feuilles mortes géantes, boutons géants etc. Autant le dire tout de suite, je ne suis pas fan de la direction artistique des films dont s'inspire cette zone. Cela dit, la thématisation intérieure et extérieure du hall est réalisée avec soin.
La file d'attente est sommairement décorée mais ennuyeuse à souhait : une succession de pièces 'parc à bœufs' (cachées!) dont Europa Park raffole. Les murs sont thématisés comme si nous étions dans une cabane de feuilles mortes et des écrans expliquent qui sont les personnages du film. Les quelques éléments de thématisation intérieure sont gratifiés de matériel technique laissés à la vue des visiteurs, comme ce très bel arbre… à même lequel sont fixés de vilains spots d'éclairage. Il faut croire que designers et ingénieurs ne se sont pas adressé la parole durant la création de l'attraction. La salle d'embarquement est la plus belle pièce de la file d'attente, et peut-être aussi de l'attraction (tiens, ça me rappelle Ratatouille). Cette scène est notre premier contact réel avec une scénographie poussée. Mais de nombreux éléments techniques sont tellement visibles (comme ce rétroprojecteur suspendu en plein milieu de la gare) qu'il est difficile d'être complètement immergé.
Montons dans un wagon et c'est parti. Sans faire le détail scène par scène, le train nous emporte devant des décors et animatronics inspirés des films. Un passage purement roller coaster serpente à l'extérieur et à l'intérieur du grand hall d'entrée, pour moi le meilleur moment de l'attraction tant la vue est surprenante et la rotation des wagons parfaitement calibrée. L'audio embarqué est très bien géré également. Le ride system est d'une souplesse et d'un confort inouï, c'est prometteur pour l'avenir de ce type d'attraction. Par contre, les effets de chaque scène s'activent au moment où le wagon du milieu passe devant. Et comme la plupart des scènes sont plus petites que la longueur du train, votre expérience est clairement amoindrie si vous n'êtes pas dans le wagon central.
Arthur souffre également des problèmes habituels de scénographie d'Europa Park. La direction artistique propose quelques bonnes idées (des miroirs sous nos pieds dans une scène) mais l'exécution est globalement peu soignée et laisse plein de défauts et de matériel technique à vue du spectateur. Comme ce grand animatronique d'un rat qui sort d'une boite de conserve : mal géré, l'éclairage met aussi toute la structure mécanique dans la lumière et nous pouvons voir qu'il ne s'agit en fait que de la face avant d'un rat. Oups. On croise aussi des écrans de cinéma plantés en plein milieu des décors sans aucun souci d'intégration. En parlant d'écran, celui qui constitue la première scène de l'attraction est un beau gâchis également. Un grand écran de projection longe la voie sur des dizaines de mètres et une séquence filmée suit chaque wagon du train durant sa progression. En tournant la tête vers le wagon qui vous suit, vous pouvez ainsi apercevoir la même séquence que celle qui vous fait face, mais avec 5 secondes de retard et une vilaine transition entre votre séquence et celle du wagon voisin. Pourquoi ne pas avoir simplement créé une projection taillée sur mesure à l'impressionnante dimension de l'écran afin d'éviter ces défauts, ce qui aurait, en plus, offert une scène d'introduction plus impressionnante techniquement?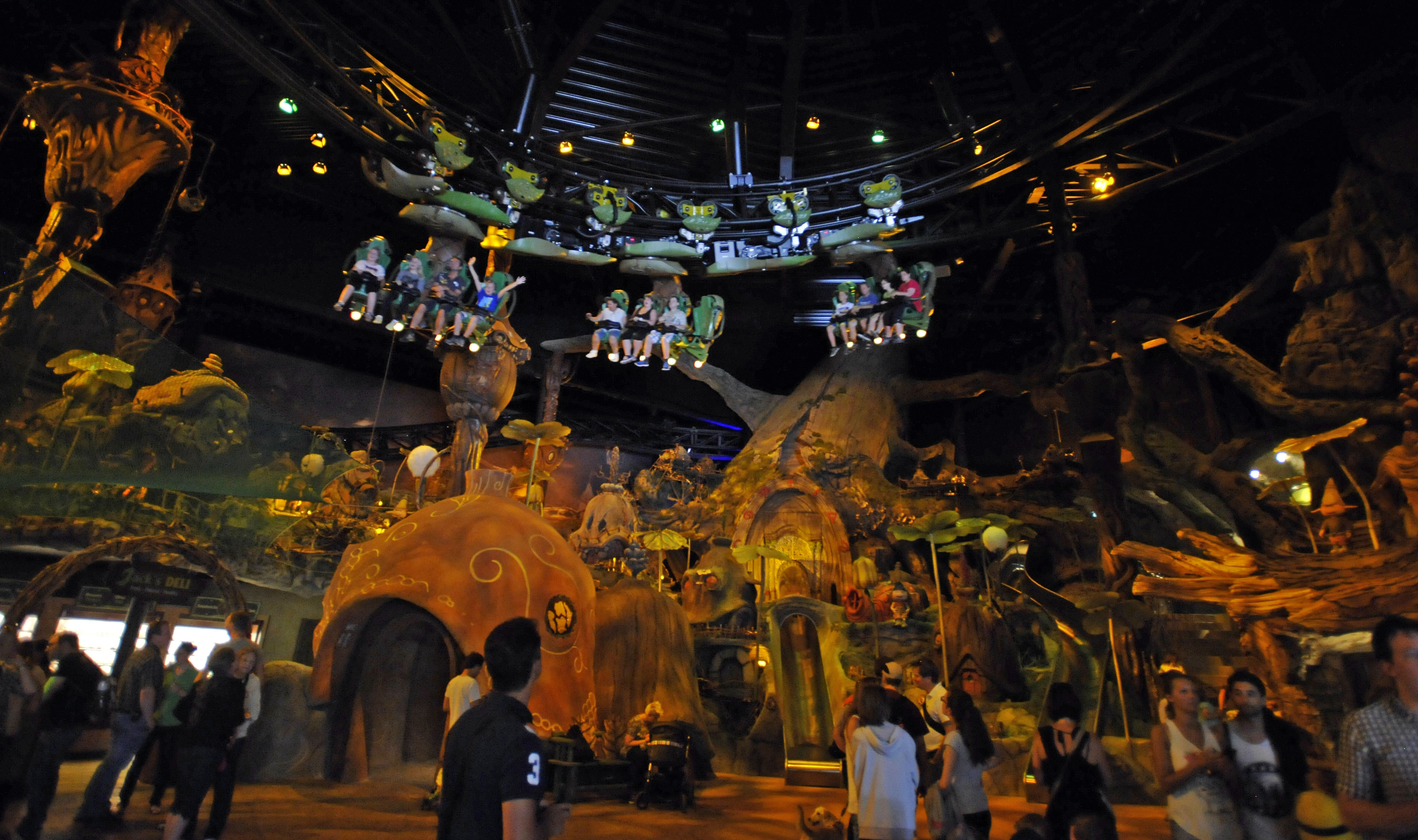 La scène finale nous confronte avec le grand méchant de l'histoire, mais ils ont eu l'idée de le miniaturiser pour faire comme s'il était loin de nous. Moi qui m'attendais à un grand climax,  j'ai trouvé ce choix plutôt décevant. C'est aussi la scène interactive où chaque passager doit appuyer sur un bouton placé sur la barre de sécurité. Il y a effectivement des trucs qui se déclenchent (éclairages, video mapping, fumée etc.) mais comme il se passe ce type d'effets dans toutes les scènes, sans explication donnée, il est difficile de comprendre ce qu'active vraiment notre pression sur le bouton.
En outre, avec Arthur, Europa Park se lance dans la course aux franchises cinéma. Une première qui tranche avec le concept d'origine où chaque land représente un pays d'Europe, mais on sait aussi que la notion de cohérence est flexible à l'envi à Europa Park (Coucou Hotel Bell Rock inspiré de la Nouvelle Angleterre ! Coucou Zone africaine ! Coucou Forêt Enchantée de Grimm pompée à Efteling ! Coucou Spaceship Earth Eurosat dans le quartier français ! Coucou…)
photos : Coasterrider
La question que je me pose est la suivante : un parc à la fréquentation au top et en aussi bonne santé financière a-t-il vraiment besoin de franchises ? Que deviendra cette zone Arthur et les Minimoys dans 5, 10, 20 ans ? Europa Park et Europa Corp, le propriétaire d'Arthur, ont-ils l'ambition de faire vivre cette licence dans la durée ? Après, il est vrai que de mauvais films peuvent faire d'excellentes attractions (coucou Transformers! coucou Radiator springs Racers!), et que la bonne qualité d'une attraction basée sur une mauvaise franchise peut suffire à la pérennité du manège. On peut toutefois se demander pourquoi Europa Park a choisi Arthur comme licence. Peut-être pour cibler clairement le marché français ? (Arthur et les Minimoys sont des films français)
En conclusion, je ne dirais pas qu'Arthur est une mauvaise attraction – loin de là. De toutes façons, la médiocrité habituelle des décors des dark-rides d'Europa Park ne semble pas avoir d'emprise sur leur popularité. Donc je ne vois pas pourquoi Arthur n'attitrerait plus les visiteurs une fois passé l'effet de nouveauté. Mais afin d'éviter autant défauts sur d'aussi grands projets, Europa Park devrait peut-être songer à confier intégralement la direction artistique de ses attractions scénographiques à des bureaux de design dont c'est le cœur de métier comme Sally Corporation, Joravision, Forrec, Thinkwell ou encore Falcon's Treehouse. Si les décors sont foireux, le ride-system quant à lui et vraiment impeccable et vaut le détour. Alors ne boudons pas notre plaisir avec Arthur, car tant qu'aucun autre parc n'aura utilisé ce nouveau type de coaster scénographique avec de meilleurs décors, Europa Park détient malgré tout une attraction littéralement unique en son genre. Littéralement.

Le ride-system
Confortable et sensationnel, le prototype de Mack Rides a de beaux jours devant lui pour le futur des attractions scénographiques.
Le débit
Costaud, il ne fera qu'une bouchée des 5 millions de visiteurs annuels du parc.
L'architecture
L'extérieur tout en végétal est très rafraichissant dans un parc ; l'intérieur est plein de vie grâce au coaster qui en fait le tour dans les airs. Les sections extérieures du coaster apportent également un dynamisme bienvenu à la file d'attente.

La thématisation…
… des scènes de l'attraction pour être précis. Il est grand temps qu'un parc aussi important et rentable qu'Europa Park fasse enfin des efforts là dessus. Un ride system performant, c'est bien mais ce n'est pas tout.
Le choix de la licence
Arthur et les Minimoys, franchement, ça craint. Et je ne crois pas que cela restera pertinent très longtemps. Voilà, c'est dit.
La file d'attente "parc à boeufs"
Zig-zags à volonté et pas grand chose pour s'occuper. Un curieux pas en arrière après les efforts entrepris sur la montagne russe en bois Wodan.
Bonus 
Débriefs express en rafale sur les attractions que j'ai faites pour la première fois
Blue Fire (2009) : Le premier mega coaster de Mack Rides est impeccable. Sensations, bonnes accélérations, inversions, sans jamais compromettre le confort des passagers. Pas de harnais sur les épaules, juste une barre de sécurité sur les cuisses pour une sensation de liberté stupéfiante dans les inversions, en particulier la dernière.
La Forêt Enchantée (2011) : Disney n'est plus le seul parc à se faire copier par Europa Park avec un sens du détail très perturbant. Désormais Efteling y passe aussi… mais avec le goût douteux propre à Europa Park. Sérieusement, certains décors ressemblent à des visions cauchemardesques. Vite, fuyons !
Wodan Timburcoaster (2012) : Un wooden coaster féroce signé Great Coasters International. Tellement féroce que c'en est parfois inconfortable. C'est peut-être dû à sa superficie très compacte ? Wodan propose néanmoins de belles idées : de beaux décors dans la file et l'embarquement et un tonitruant passage du train à toute allure dans la gare. Mais à choisir, je préfère Joris en de Draak, du même constructeur, à Efteling.
Plus généralement, Europa Park ne semble pas prêt de lâcher ses mauvaises habitudes : copier sans honte ce que font d'autres parcs et une direction artistique éternellement hasardeuse. Mais l'opérationnel, la gestion des flux de visiteurs et la nourriture sont épatants. Les buffets sont délicieux et offrent une variété presque doublée comparé à Disneyland Paris – à des tarifs bien moins élevés. Les petites attentions et cadeaux gratuits qui ont existé à Marne-la-Vallée existent toujours à Europa Park. (Coucou le sympathique livre de photos du parc à l'arrivée à l'hôtel !) C'est tellement agréable de visiter un parc qui ne donne pas l'impression d'être en permanence à deux doigts de faire faillite. Peut-être que Disneyland Paris l'emporte sur le design, mais Europa Park l'emporte sur à peu près tout le reste ces temps-ci. Sérieusement, passez un week-end à Europa Park et vous comprendrez pourquoi Disneyland Paris a tant de mal à attirer le marché allemand.
Photos : Coasterrider
Disneyland Paris and Phantasialand are not the only European theme parks that have opened a large-scale attraction in 2014. After months of construction and a repeatedly delayed opening, Europa Park finally opened the doors of Arthur and the Kingdom of Invisibles last July. I had the chance to discover it last week, and because my last visit to this great park was eight years ago, I also will make a couple of express reviews of the amazing attractions that I have not tried before. Qualitätskontrolle! 
The new Arthur and the Invisibles area mainly consists of a large pavilion-style building inside of which you can find a lot of things. A couple of kiddie rides, a thematic playground, food stands, and of course Arthur – The Ride, a hybrid type of attraction: half a dark-ride; half a rollercoaster. The trains are made of of three rotating cars for four persons, hanging from a rail above our heads. As seen from the outside, the building is nicely integrated with the surrounding forest, despite its large size. The dome and the exterior walls of the building are covered with greenery. It will take some time before the plants cover the entire surface, but I really like this technique, which has become quite common in contemporary architecture but it's still pretty rare in amusement parks. It gives a fresh modern feel to this new mini-land. By cons, it would be nice if all visible sides of the hall were covered with vegetation. Some parts were left in corrugated iron (perhaps to copy the amazing architectural style of the Walt Disney Studios park?) approximately covered with a giant poster of Arthur and it's ugly.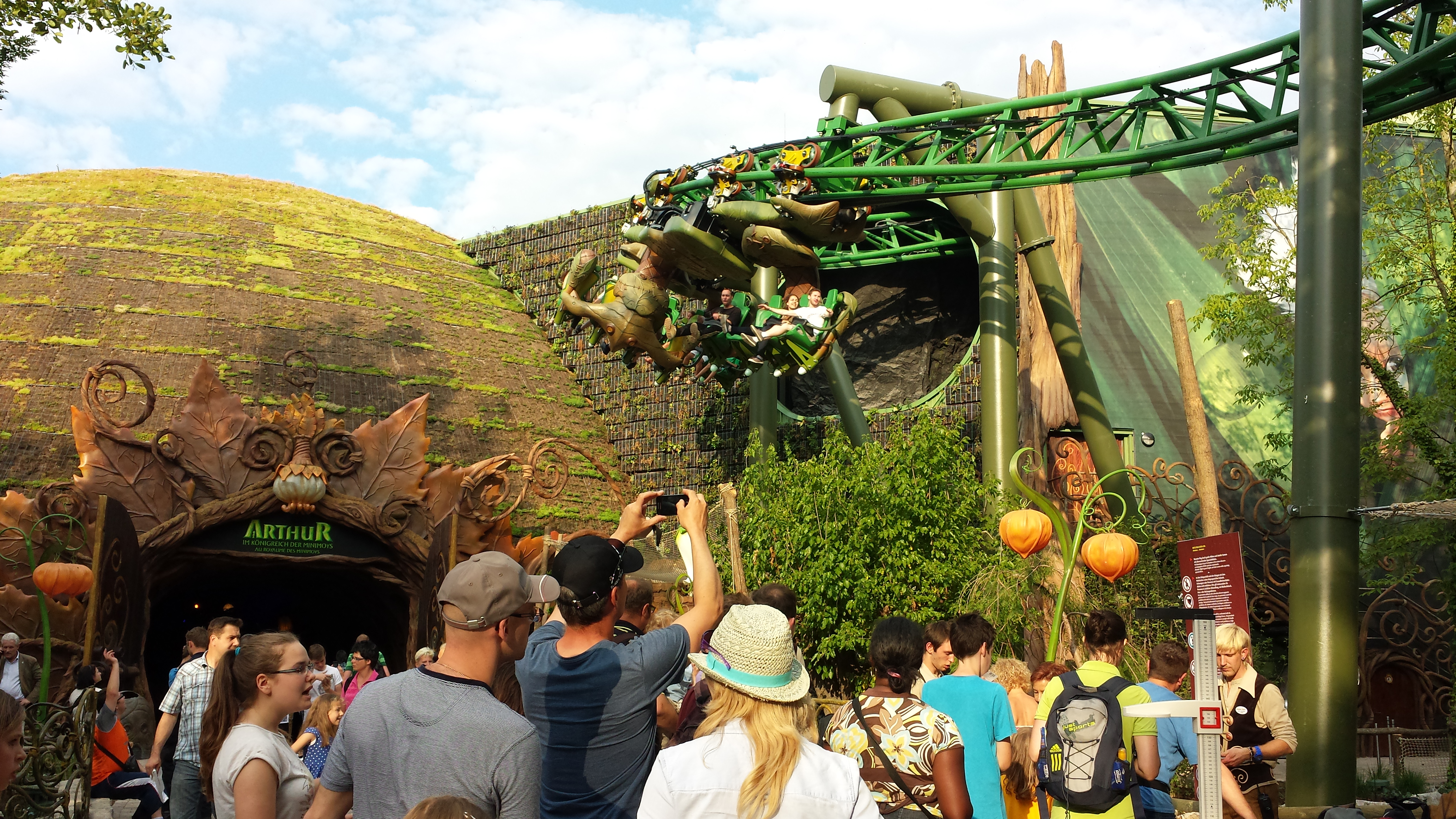 Let's step into the pavilion, where we can enter the queue for Arthur – The Ride. As in Ratatouille – The Adventure, we are shrunk to the size of a rat an Invisible. These lilliputian creatures build their home with what they find in the wild: giant leaves, giant buttons etc. I should say that I'm not a fan of the art direction of the films that inspired this area. But at least, the interior and exterior theming of the hall has been carefully executed.
The queue is roughly themed but it's boring as hell: it's basically a succession of  (hidden!) switchback rooms. A massive deal-breaker to me.  The walls are themed as if we were in a hut made of leaves and a couple of screens explain who the characters from the film are. The few elements of interior theming are unfortunately packed with technical equipment visible to the visitors, like, for instance,  this beautiful tree … on which are fixed countless ugly spotlights. It feels like designers and engineers haven't spoken to each other during the conception of the attraction. The boarding area is the most beautiful room in the queue, and also, perhaps of the entire attraction (well, it reminds me Ratatouille). This scene is our first real contact with rich theming and decoration. But many technical elements are so visible that it is difficult to completely forget you're in an amusement park (for instance this video projector hanging from the ceiling in the middle of the station).
Now it's time to ride Arthur – The Ride! I'm not going to describe it scene after scene but the train takes you to various sets and animatronics inspired by the movies. A pure roller coaster portion winds outside and inside the hall, which was for me the highlight of the attraction because the view is amazing and the rotation of the cars is perfectly mastered. The onboard audio is also very well used and adds a lot during the outside section. The ride system is incredibly smooth and comfortable; it is very promising for the future of this type of attraction. On the other hand, the special effects of each scene are activated when to match the central car position. And because most of the scenes are actually smaller than the length of the train, your experience is clearly diminished if you are not in the central car. 
Arthur also suffers from Europa Park's usual design issues. The art direction has some good ideas (mirrors under your feet in a scene), but the overall execution is sloppy and leaves plenty of flaws and technical equipment visible to the rider. There is this large rat animatronic that comes out of a tin can: the lighting also puts all the mechanical structure in light and we can see that it is in fact only the front half a rat. Whoopsie! It also features a movie screen putted right in the middle of a thematic scene without any care for integration. It's just there. Speaking of screens, the one in the very first scene of the attraction is messy as well. A large projection screen along the way shows cinematic sequences that follow each car of the train to face the riders. If you turn your head to the car on your left, you can see the same movie sequence with a 5 second delay and an ugly transition between your sequence and the neighbor car. Why not just create a large-scale projection tailored to the big size of the screen to avoid these flaws, which would, in addition, offer a more impressive opening scene?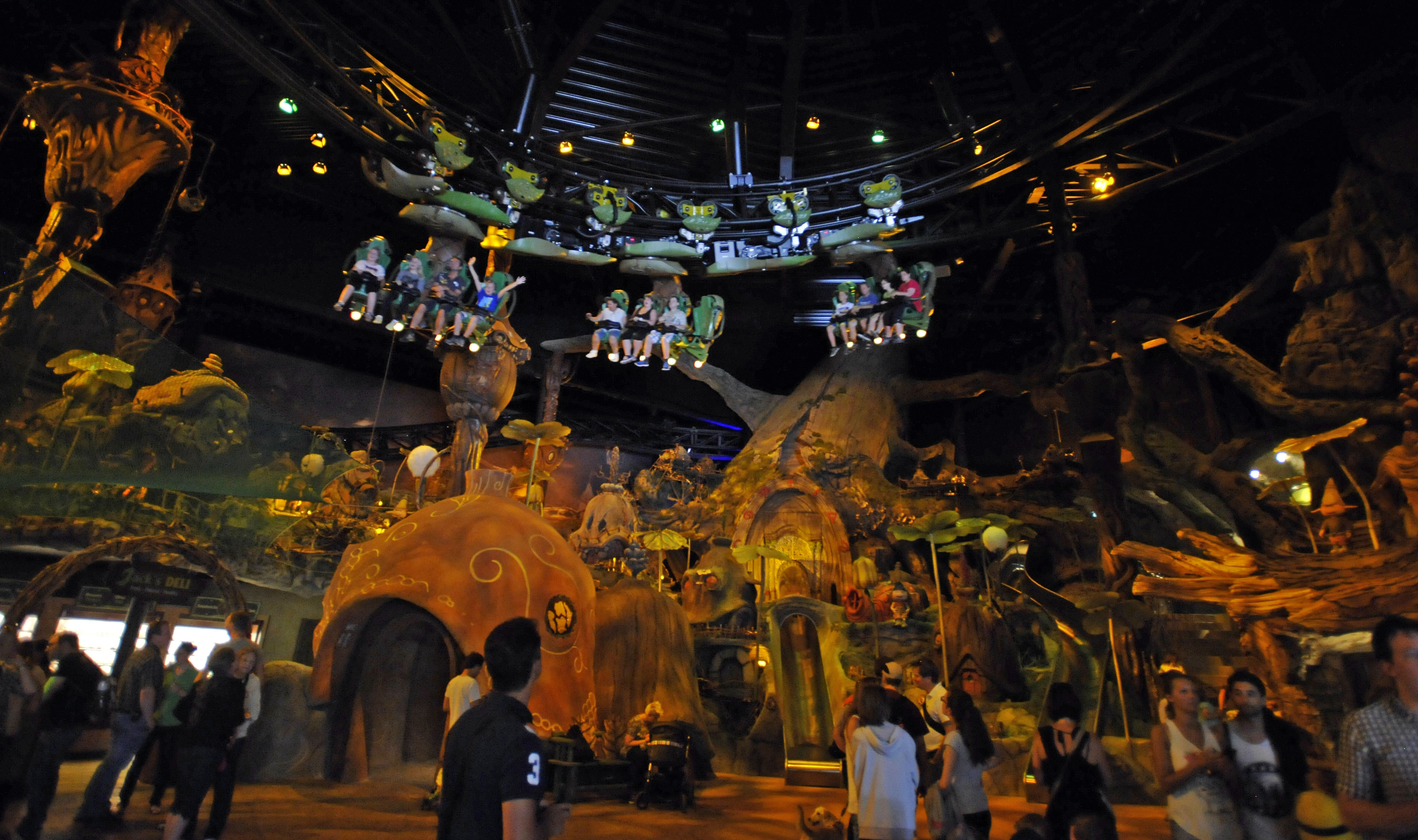 The last scene finally reveals the villain of the story, but they had the idea to make it smaller, to make it look like he's far away from you. Which could have been a dramatic grand reveal turned into a disappointment. This scene also features interaction: each rider has to press a button on the safety lap bar. Then a few thgings are activated (lights, video mapping, smoke etc.) but such effects happen in many scenes of the attraction. Without any explanation, it is hard to understand what our pressure on the button actually activates.
Moreover, Arthur – The Ride is the very first franchise-based attraction of Europa Park. This move clashes with the original concept of the park where each land depicts a European country, but we also know that the notion of consistency is very flexible at Europa Park (Hi Hotel Bell Rock inspired by New England! Hi African Area! Hi Grimm's Enchanted Forest shamelessly copied from Efteling! Hi Spaceship Earth, I mean Eurosat in the French Area! Hi…)
photos : Coasterrider
Question: does a park with staggering attendance numbers and in such great financial health really needs franchise-based attractions? What will this Arthur and the Invisibles area become in 5, 10, 20 years? Do Europa Park and Europa Corp, the owner of Arthur, have the ambition to keep this license alive over time? On the other hand it is also true that bad movies can make excellent attractions (Hi Transformers! Hi Radiator Springs Racers!), and the good quality of an attraction based on a bad franchise can keep up with the sustainability of the ride. Is it the case for Arthur? One may wonder why Europa Park chose Arthur and the Invisibles to make an franchise-based attraction. Perhaps to clearly target the French market? (Arthur and the Invisibles are French movies)
In conclusion, I would not say that Arthur is a terrible attraction – it's not. The usual mediocrity of Europa Park's dark ride theming seems to have no impact on their popularity. So I do not see why Arthur would not attract crowds anymore in the long term. But in order to avoid so many flaws on large-scale projects, Maybe Europa Park should consider hiring companies specialized in theme park scenery design as Sally Corporation, Joravision, Forrec, Thinkwell or Falcon's Treehouse. So yes, the sets are poorly designed but the ride-system is really outstanding and worth seeing. And as long as no other park has used this new type of scenic rollercoaster with better decors, Europa Park's newest attraction really is unique. Literally.

Ride system
Comfortable and thrilling, this prototype from Mack Rides has a bright future ahead in the field of scenic attractions.
Throuhgput
The solid hourly capacity will swallow Europa Park's 5 million annual visitors in a flash!
Architecture
Greenery walls are still pretty new for theme parks; the interior is full of life with the rollercoaster that goes around in the air. The outer portions of the coaster also provide a lot of dynamism to the queue.

Theming…
… inside the ride to be precise. I think it's time that such an important and profitable park as Europa Park finally raises the bar on theming quality. The ride system is amazing, but dark-rides need a greater attention to detail… and good taste.
Franchise choice
I'm sorry to say that but Arthur and the Invisibles sucks. And don't think it will remain relevant forever. There, I said it.
Switchbacks
These are big no-no. Arthur's queuing area is a curious step backwards after the efforts made on the Wodan wooden coaster's queue.
Bonus
Express reviews of attractions that I haven't tried before 
Blue Fire (2009): The first mega coaster of Mack Rides is top-notch. Thrills, good acceleration, inversions, without compromising comfort. No harness on the shoulders, just a safety lap bar for an amazing feeling of freedom, especially the last looping.
The Enchanted Forest (2011): Disney is not the only park to be copied by Europa Park with a very embarrassing sense of detail. Efteling now get's Europa Park's signature copycat treatment as well… along with the Europa Park's signature bad taste as well! Seriously, some parts look like nightmarish visions to me. Get me out of here, please!
Wodan Timburcoaster (2012): A powerful wooden coaster from Great Coasters International. So powerful actually that it's sometimes uncomfortable. This may be due to its very compact surface? However Wodan has great ideas: beautiful settings in the queue and loading station as well as a thunderous passing train rushing into the station. But if I had to choose, I prefer Efteling's Joris en de Draak, from the same manufacturer.
More generally, Europa Park does not seem ready to get rid of its bad habits: shamelessly copying what do other parks do and this constant random art direction. But the operations, crowd management and food are outstanding. Buffets are delicious and offer twice the amount of variety and quantity compared to Disneyland Paris – for MUCH less money. Small perks & freebies that used to exist in DLP still exist in Europa Park. Its nice to feel that the park you visit isn't always on the edge of bankruptcy. (Hi lovely free book filled with nice pictures of the park when we check in at the hotel!) Maybe Disneyland Paris wins on design, but Europa Park wins on almost everything else these days. Seriously, spend a weekend at Europa Park you'll understand why Disneyland Paris is having such a hard time attracting German visitors.
Pictures : CoasterRider